Design | Fredrik Mattson 2002-2022
Innovation C by Fredrik Mattson remains the true pioneer among multifunctional furniture. A striking graphic design asking to have its possible functions unmasked. Sit straight or use that arm as a backrest. Or let it support an iPad, a book, and a bunch of documents. Swivel around to take in the views. Twenty years after the successful launch at the Milan Furniture Fair, Innovation C is now dressed up all monochrome for its 20-year anniversary. The multifunctional chair was born among business people at Arlanda, the Stockholm airport hub. Fredrik Mattson, still a design student, saw how the still novel laptop was perched precariously on knees, backrests and such. New ways of working begged for new furniture typologies, and Innovation C became the answer. Today, two decades later, when we live and work with our digital devices everywhere, every time of the day, the true reference among multifunctional furniture designs is even more relevant.
You will find us together with the monochrome 20-year anniversary version of Innovation C at Salone del Mobile in Milan, where we also take the opportunity to bring this year's news and a not yet shown product world premiere!

When: 7-12 June

Where: Pavilion 16, Stand C27
A story of Innovation
'There was no end to the queue in Milan for our premiere at the Furniture Fair in 2002.' remembers Johan Lindau, CEO and design manager at Blå Station. 'Everybody wanted to try out Innovation C, and having their photos taken.'
Innovation C was born when the students at Konstfack, the University of Arts, Crafts and Design in Stockholm, got an assignment to create furniture for the extension of Arlanda Airport. Fredrik Mattson didn't approve of all the restrictions presented in the brief and hastily left the school for the airport. What do business people do between flights? 'They spent the waiting time working on laptops, this novelty that just had emerged,' says Fredrik Mattson who hadn't yet finished his Master, 'but there was no suitable furniture at hand.'

Johan Lindau was intrigued when all the projects from Konstfack were presented at the student exhibition at Stockholm Furniture Fair. His eyes were fixed on that strangely shaped furniture piece resembling the letter C. A swivel base of stainless steel made out of a column and footplate. But the student at hand was not the designer; Fredrik Mattson didn't care being present at the opening. Johan Lindau asked the student at hand to send Fredrik a message: have you lost it, or are you a genius?
'Fredrik left the workbench and took a cab to the fair, he arrived in his woodworking attire with his trousers full of sawdust,' says Johan Lindau with a big smile, 'He explained how you could sit, relax, and work on his design, and at the same time swivel around to check the departure times. I was fascinated, this was a completely new furniture typology, we had to show it in Milan right away!'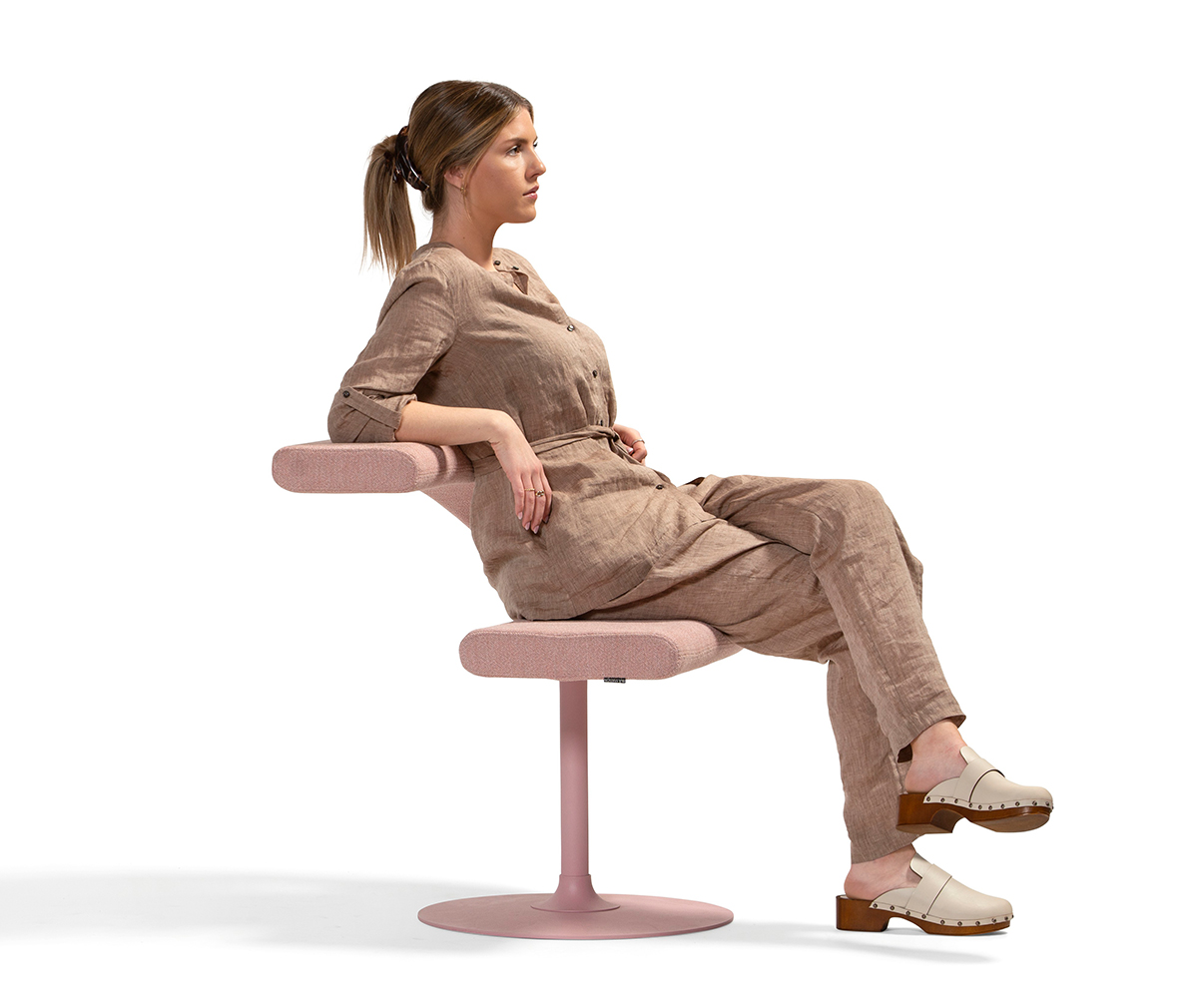 Being of the same fierce character and both with innovation as their goal, Fredrik Mattson and Johan Lindau bonded together. They fully agreed on the state of Swedish design around the millennium shift: straight, clean, honest and quite boring. Who needs yet another chair? Another table? Design is supposed to be more than just function, it is about communication, to adopt an international approach triggered by contemporary challenges. Redesigning old typologies is not the future, but inventing new ones.
Fredrik Mattson's first award was presented by the Princess Lilian while the press raved about Innovation C. Twenty years later, Innovation C remains the original multifunctional furniture piece for the urban nomad and the causal workplace of the future: an upholstered chair, a bookrest, a chaise lounge covered with lush fabric or leather, a working space. An all-in-one solution now dressed up in monochrome outfit for the 20-year anniversary.


Blå Station AB. Box 1OO.
296 22 Åhus Sweden
Tel: +46 (O)44 3000331.
Fax: +46 (O)44 241214
e-mail: mimi@blastation.se
www.blastation.se