A chair in form-pressed wood veneer, as simple and self-evident in its expression as if it has always existed, and yet completely new and never seen before.
Lucky is both closed and open, horizontal and vertical.
Neat yet simultaneously substantial, and low enough to be pushed beneath a desk. Lucky is the archetypal chair, providing a correct sitting position and almost ritualistic in its exact forms. Traditional, straightforward materials such as stained, form-pressed oak plywood meet a leather or fabric-covered padded seat and back. Generously evident in all its simplicity, the monochrome colour scheme underlines a stringent and classical expression.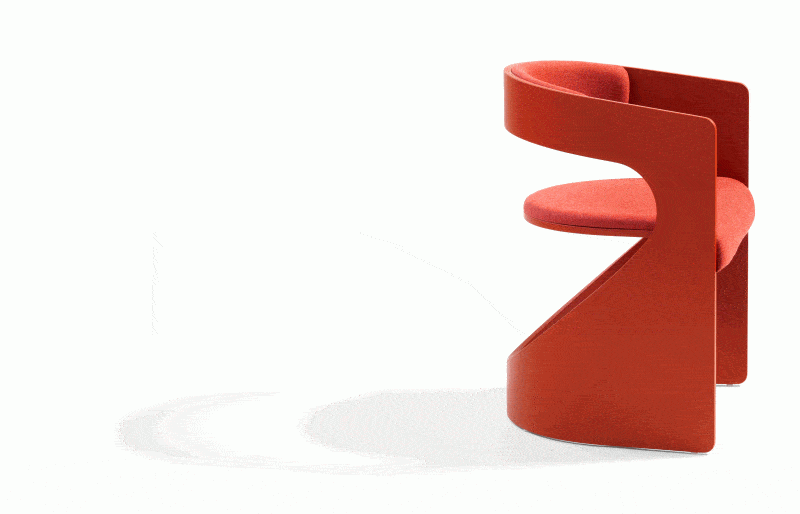 'I experimented with plywood in the RCA's workshop when I studied in London eight years ago, and I was fascinated above all by its flexibility', says Luka Stepan.
'If I can mount the seat in the right way at the front, then I can achieve an entirely different flexibility than with a little padding.'
Johan Lindau met Luka last year when he exhibited for the first time at Salone Satellite, the Milan Furniture Fair's stage for young designers. 'It would be a breach of my duty as a producer and design manager to always go with the stars of design, and I love to browse the work of unknown designers', says Johan Lindau. 'And I was attracted by the Nordic expression in Luka's chair.'
'Even though I'm from Slovenia', says Luka. 'We also have a tradition of working with limited resources. You have to be clever and investigate the full potential of the material. As a designer I also appreciate restricting myself to tight parameters. That's where you find alternative solutions.'
Design Luka Stepan 2017


Blå Station AB. Box 1OO.
296 22 Åhus Sweden
Tel: +46 (O)44 3000331.
Fax: +46 (O)44 241214
e-mail: mimi@blastation.se
www.blastation.se
Spara
Spara