After a three-year break, the Stockholm Furniture Fair is back again. Nola is back too, and this year we're skipping a traditional stand to create an urban oasis in the Greenhouse, where we'll showcase products from our range.
Visitors to the fair are welcome to visit the Greenhouse and sit down at Nola's
Use Långbordet for meetings, conversations or a coffee, or take care of business in the Work Lounge or at our Work Desk. Greenhouse Talks will also take place in the bar, featuring topics such as the office of the future, landscape architecture and sustainable product development.
The Greenhouse Bar by Nola offers us a new way of participating in the fair. Instead of building a traditional stand and exhibiting products, we're creating a welcoming meeting place, open to everyone, illustrating our ambition to bring people together. Afterwards, the products used in the Greenhouse Bar will be resold and gain a new life in other venues.
The bar interior was designed by Anki Gneib and Mia Cullin. The Greenhouse initiative is special to Nola, as it was here that Nola's founder Agneta Stake first met many of the designers and collaborators we still work with today. This year, Agneta will be one of five mentors for the Greenhouse mentoring programme.
See you in the Greenhouse Bar by Nola.

Nola Stockholm
Nola Industrier AB, Box 17701, Repslagargatan 15b, 118 93 Stockholm
T: 08-702 1960, F: 08-702 1962, headoffice@nola.se
Nola Malmö
Nola Industrier AB, Neptunigatan 74, 211 18 Malmö
T: 040-17 11 90, F: 040-12 75 45, offert@nola.se, order@nola.se
More news from Nola: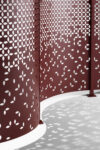 Space Partition – New Product! Design Nina Jobs Space is a flexible partition system designed …