Eero Koivisto was born in 1958 in Karlstad, Sweden.
Eero is part of the Swedish design partnership / architect trio
claesson koivisto rune (together with Mårten Claesson and Ola Rune),
founded in 1995. They design interiors and architecture, as well
as products. on the list of completed architectural projects are:
the Swedish Ambassador's residence in Berlin, Ingegerd Råman house
and studio, Kjell a Nordström residence, Sony Music Headquarters
Stockholm, One Happy Cloud restaurant, Gucci Stockholm,
Louis Vuitton Stockholm, Scandinavian Airlines Euroshop, Asplund shop.
current projects include a new privately funded house of culture in
central Kyoto. furniture designs are produced by companies such
as Asplund, Boffi, Cappellini, David design, Dune, E&Y, Offecct,
Swedese among others.
Eero Koivisto has held the position as artistic leader at the
university college of arts, crafts and design in Stockholm.
He is a lecturer and has spoken at Université de Montréal & Toronto
University, Canada; Universad de Americas, Architecture Puebla, Mexico;
University of Stockholm; The Stockholm Business School of Economics,
The School of Colour, Trondheim Architects' Association, Norway
and many more.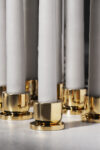 Bijou Candlestick The Candlestick Bijou is designed by the internationally successful design studio Claesson Koivisto …