Claesson Koivisto Rune present their first exhibition of artwork and the European premiere of 'Claesson Koivisto Rune – Faciem. In search of the essence of the grid' at Galleri Fagerstedt in Stockholm, January 10th – February 9th.
The exhibition was previously shown at Gallery 360° in Tokyo,  October 2017, Sfera Gallery in Kyoto, January 2018 and the inde / jacobs gallery in Marfa, May 2018.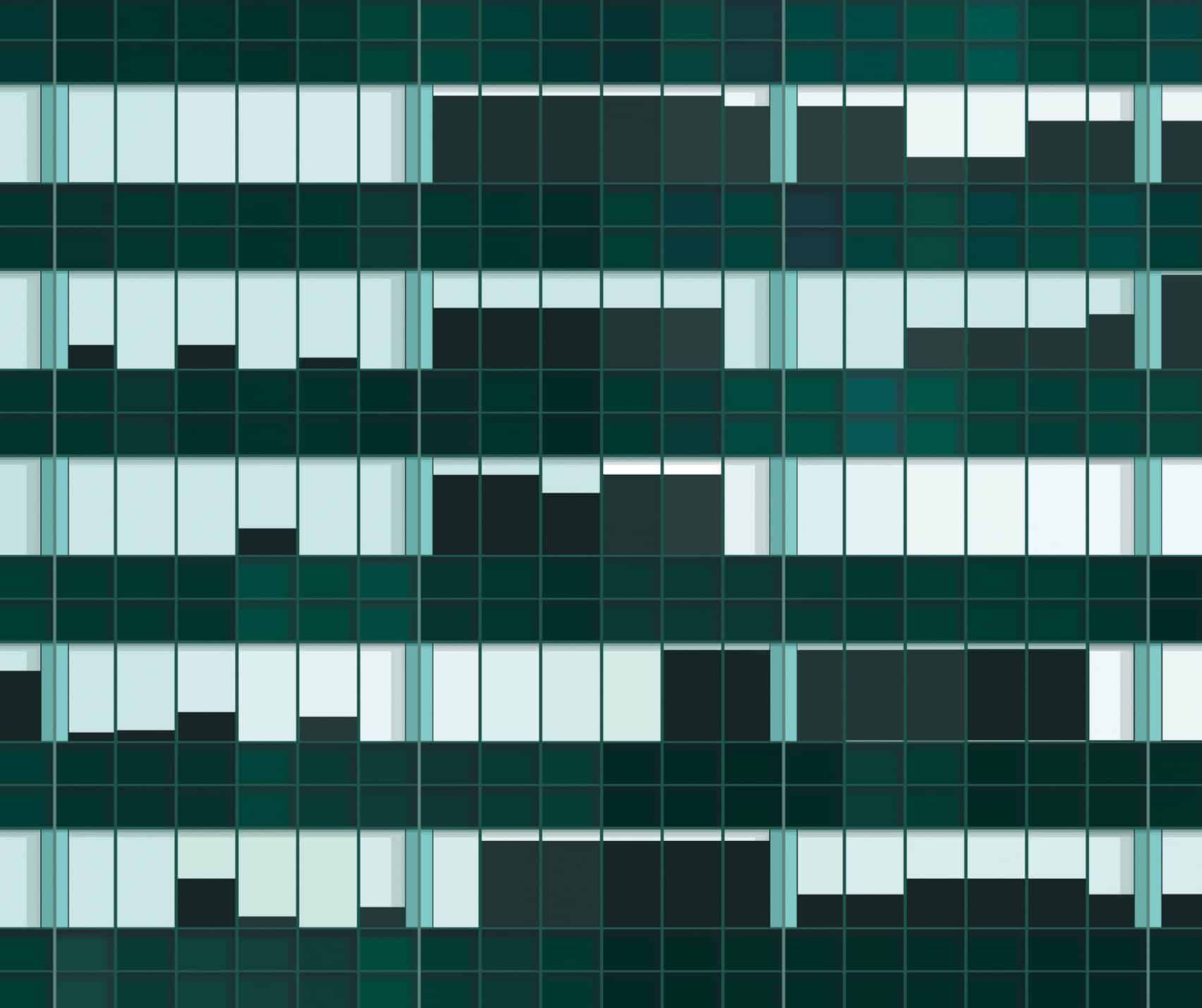 Claesson Koivisto Rune, "Faciem No. 6" (2017) Archival Print.  Lever House / Skidmore, Owings, Merrilll, Bunshaft
In addition to the limited edition of a numbered series of 12 archival prints this exhibition will also include Bibliothèque, a unique, sculptural object – winner of ´Design of the Year' at the Danish Design Awards 2018.  Bibliothèque is a collaboration with Asplund and Kvadrat / Really, and has previously only been shown in Milan, April 2018.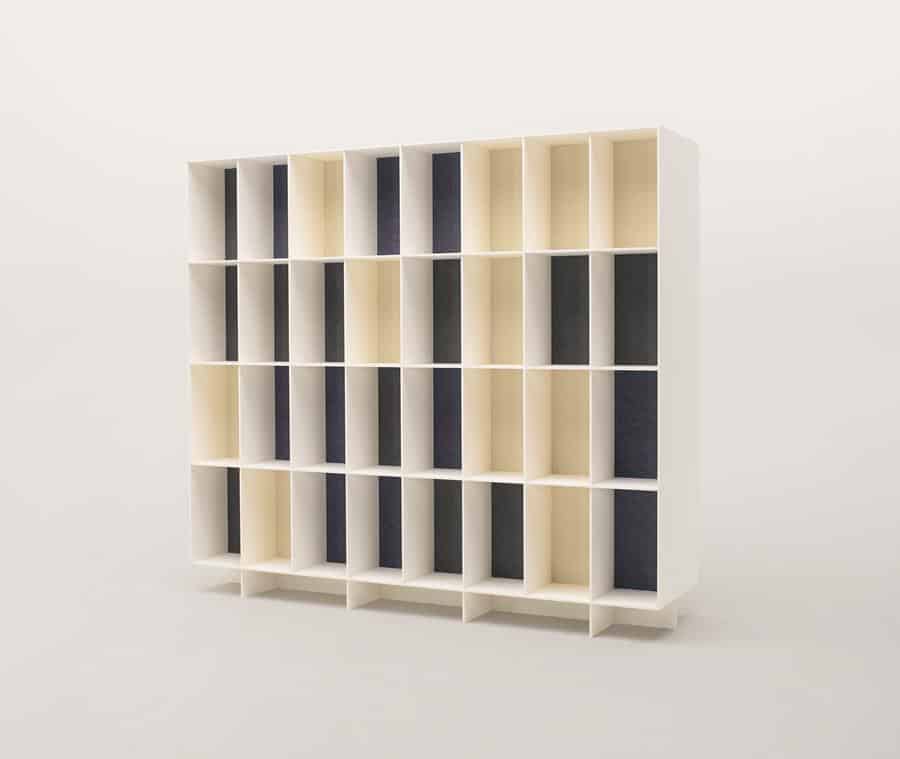 Claesson Koivisto Rune, Bibliothèque (2018)
The artworks featured in Faciem are derived from the architects'/artists' passion, discussions, research and experience of architecture after close to a quarter of a century in the profession.
The architects/artists have selected and interpreted what they consider to be the twelve best skyscraper façades. Abstracting them in to something other than architecture.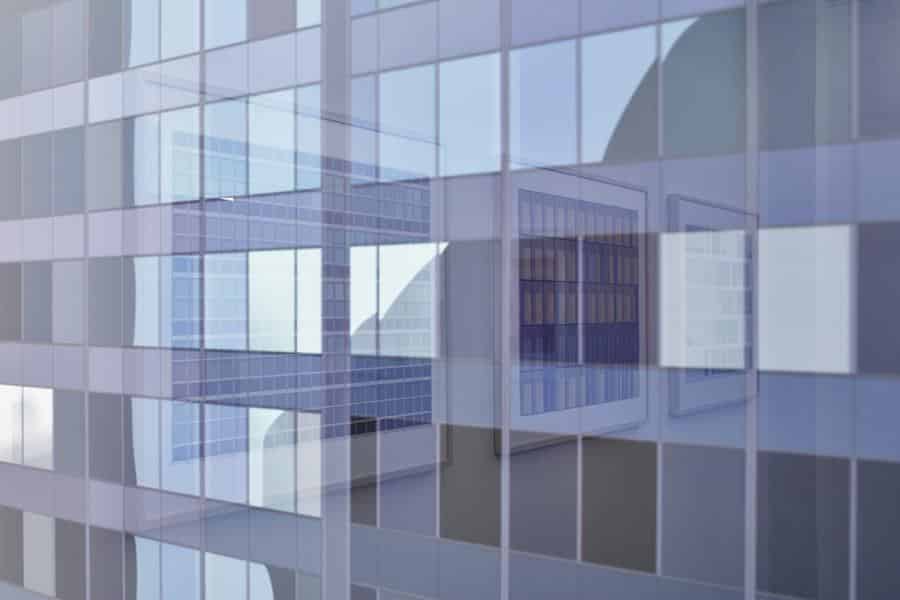 Detail of "Faciem No. 8" (2017) Archival Print. Sears Tower / Skidmore, Owings, Merrill
From the accompanying book – Claesson Koivisto Rune. Faciem:
"Architecture is not art and art is not architecture. But it is possible to find art in architecture and architecture in art. Or put in another way: It's easy to imagine that architects Mies van der Rohe or Oscar Niemeyer would have been influenced by the works of artists Agnes Martin or Carl Andre. Or, indeed, the other way around."

"The grid is all about repetition, proportions and artistic sensibility. The face of the skyscraper is its façade. This is something other than that which it is typically recognized for: its awe-inspiring height and poise."

Claesson Koivisto Rune, "Faciem No. 12" (2017) Archival Print. Continental Center III / Graham, Anderson, Probst, White
FACIEM
CLAESSON KOIVISTO RUNE
In search of the essence of the grid
January 10th – February 9th, 2019
Galleri Fagerstedt
Hälsingegatan 18, Stockholm
Opening hours:
Wednesday 13:00 – 17:00
Thursday 12:00 – 17:00
Friday 13:00 – 17:00
Saturday 12:00 – 16:00
Opening Reception: January 10th 16:00 – 20:00
Artist talk: February 2nd 14:00
Cocktail: February 7th 16:00–20:00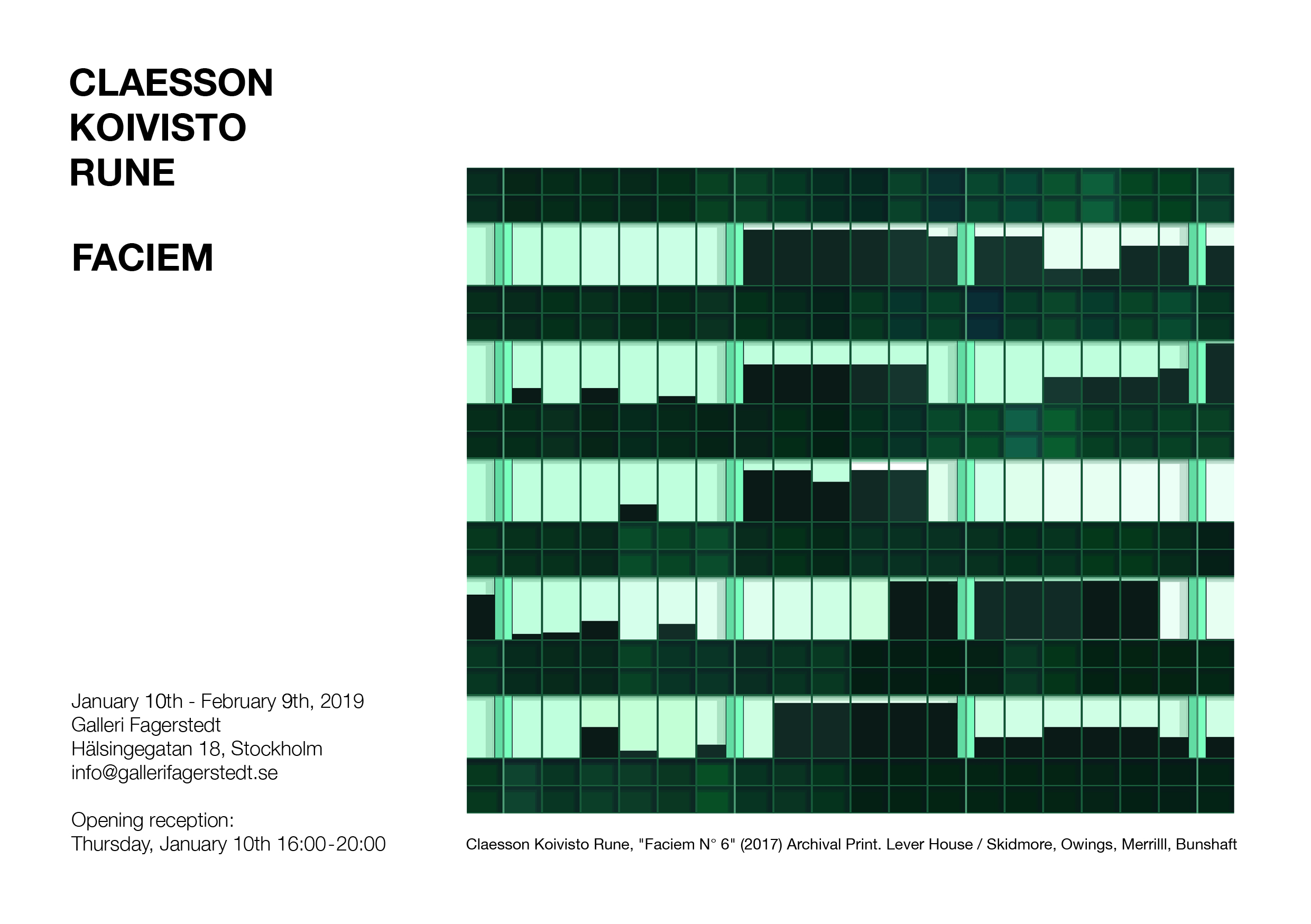 For more information about the exhibition please contact:
Galleri Fagerstedt
Tel. (+46) 70 628 78 85
info@gallerifagerstedt.se or visit the website: http://gallerifagerstedt.se/ 

Biography
Claesson Koivisto Rune is a Swedish architectural partnership, founded in Stockholm in 1995, by Mårten Claesson, Eero Koivisto and Ola Rune. It started as an architectural firm, but has since become an internationally-acclaimed, multi-disciplinary office with an equal emphasis on both architecture and design.