Hans J. Wegner (1914–2007) is among the greatest of furniture designers. And he must also have been one of the most productive, since we today can count more than 1000 models. His designs have been described as 'timeless', 'everlasting', 'perfect to the fullest extent of what is possible', and 'free from passing trends'.
There are many reasons for the quality of Wegner's furniture. The most important is probably his craftmanlike, pragmatic approach to his trade. He always evaluates the practical aspect in the design process by setting up a number of strict rules, dictating the process of giving shape – is this even possible?
These rules may not allow for the wild free inspiration, but it demands a creative interaction between the potential of the material and the process of design. As Henrik Most writes in his article on Wegner: 'The biggest freedom stems from the most severe strictness'. In the dialogue between material and creativity, Wegner surpasses most of his peers.
HANS J. WEGNER with PP Møbler
Hans J. Wegner always loved stopping by our workshop. Here, he could sense the professional connection between designer and craftsman, and feel the pride and respect for craft and design.
In return, Wegner has provided the workshop with exciting and difficult tasks, because he sensed the uncompromising demand to quality and the commitment to experiment with the material. For Wegner, the attitude meant that he could go further with each design than before.
In the period between 1960 and 1968, many of Wegner's prototypes were developed at PP Møbler before going into production at Johannes Hansen and Erik Jørgensen et. al.
In 1968-69, the cooperation was intensified as Wegner draws the first models for PP Møbler to produce. This was not only an important event for PP Møbler. It also meant that Wegner could continue his exploration of wood's possibilities in terms of shape and construction.
Today, PP Møbler produces a wide selection of Wegner's furniture. Most of these are chairs. And it is no coincidence that Wegner's chairs often are the most demanding and that PP Møbler now is the workshop producing exactly the Wegner chairs of the most complex construction.
Biography
1914
Hans Jørgensen Wegner is born in Tønder on the 2nd of April, 1914.
1928-32
Wegner enters apprenticeship with Master of Crafts, Stahlberg in Tønder. In his spare time, he carves wooden figures and dreams of becoming a wood carver. At the age of 15, he makes his first chair.
In March 1932, Wegner moves from apprentice to journeyman and dreams of opening his own workshop.
1932-35
Wegner enters military service in Copenhagen. Here, he sees København Snedkerlaug's exhibition and realizes that he needs to improve before setting up shop on his own.
1935
Wegner takes a two-and-a-half month's cabinet making course at Teknologisk Institut and, subsequently, applies for admittance at the School of Arts and Crafts.
1936
Wegner enters the School of Arts and Crafts', specialising in cabinet making. Here he meets and befriends fellow Jutlander, Børge Mogensen.
1938
Wegner has his debut at Snedkerlaugets exhibition with dining table and chairs, and armchairs drawn for Master of Crafts, Ove Lander.
1938
Architects, Arne Jacobsen and Erik Møller set up office in Århus to start the project of building the new town hall. On recommendation of his teacher, O. Mølgaard Nielsen, Wegner is hired to draw furniture for the building and is, therefore, granted one year's leave from his studies. However, his first assignment was to draw the furniture for Nyborg Public Library for Erik Møller and Flemming Lassen. For a period, he is also sent to Nyborg to conduct the building process.
1939
Dining room furniture for Snedkerlaugets exhibition for Master of Crafts, P. Nielsen. Even before finishing his conducting assignment in Nyborg, Wegner is called to Århus for the town hall project.
1939-42
Furniture for Århus Town Hall is completed (produced by I.C.A Nielsen and Planmøbel). Alongside his work in the drawing room, Wegner starts cooperation with Master Woodcutter, Michael Laursen in Århus and Johannes Hansens Møbelsnedkeri in Copenhagen.
1940
Rocking chair for Michael Laursen. The rocking chair is the first Wegner model to go into mass production.
1941
An unbroken row of 26 consecutive appearances at Snedkerlauget's udstillinger is initiated.
Wegner signs with Planmøbel for three series of office furniture.
The office furniture for Planmøbel and Wegner's assignment for Jacobsen and Møller melt together in that the furniture for Planmøbel also end up at Århus Rådhus in slightly different versions.
Wegner sets op drawing office as independent designer in Århus.
1943
Fritz Hansen asks Wegner for suggestions for their bent-wood-production. The results are The Chinese Chairs of which two go into production (FH 4283 and FH 1783 – later as PP 66 at PP Møbler). Wegner continues drawing for Fritz Hansen until the mid fifties.
Børge Mogensen establishes contact between Wegner and FDB.
Wegner gains membership of Akademisk Arkitektforbund (MAA) and Kunstersamfundet.
1944
Wegner designs the children's furniture 'Peter's Chair an Table') and the rocking chair, J16. Both enters production at Tarm Stole- og Møbelfabrik, owned by FDB. Today 'Peter's Chair and Table' is being produced by Carl Hansen and the Rocking Chair by Fredericia Furniture.
Wegner draws and completes the intarsia work on 'The Fish Cabinet' (JH).
1945-46
Wegner and Børge Mogensen cooperates on designing for Snedkerlauget.
1946
Wegner moves to Copenhagen and, thus, closer to Johannes Hansen's workshop and the creative environment where he feels most inspired.
Wegner and Børge Mogensen wins first prize in Magasin du Nord's competition on practical and up-to-date hotel furniture.
1946-51
Wegner becomes a teacher the School for Arts and Crafts and is also employed by Professor, Palle Suenson's drawing office.
1946-48
Furniture for the ship Venus for Palle Suensons Tegnestue.
1946-
Due to the fact that Wegner moves to Copenhagen his cooperation with Johannes Hansen gets closer. Johannes Hansen allows Wegner to make whatever furniture he likes at his workshop, and Wegner becomes close friends with the foreman, Niels Thomsen who starts working at the workshop in 1947. 'The Peacock Chair' from 1947 is the first of many unique pieces of furniture.
1948
Shell Chairs in moulded plywood for MoMAs competition on low-cost furniture.
Chair, table, and sofa in moulded shells for Fritz Hansen
Wegner gets his national break-through with his furniture for Snedkerlauget's exhibition.
Wegner initiates cooperation with Carl Hansen & Søn on light chairs.
1949
'The Round One'/'The Chair' with strawbottom seat, the folding chair, and the three-shells shell chair (all JH). 'The Y-Chair' (CH 24).
Wegner is exhibition architect for Foreningen af Dansk Kunsthåndværk.
1949-52
Furniture designed by Finn Juhl, Børge Mogensen, and Wegner are chosen for the American magazine Interiors who publishes an article in february 1950. Among the chosen furniture are 'The Round One', 'The Peacock Chair', and the tree-shell chair. Soon American costumers start making requests for especially 'The Round One'.
1950
Wegner starts cooperation with further four producers, each with their own specialty: Andreas Tuck (tables), Getama (Furniture with loose cushions), Ry Møbler (cabinets and closets), and A.P. Stolen (upholstery). Simultaniously he designs furniture for Carl Hansen.
1950
Wegner designs the chairs CH22, CH23, and CH25 and the upholstered version of 'The Round One' (JH).
'The Flag Halyard Chair' is designed with no particular producer in mind, but is soon given to Getama. PP Møbler took over the production of 'The Flag Halyard Chair' in 2002.
Wegner is awarded the Grand Prix at the Milano Triennale.
'The Round One' (pp503) is selected by both audience and a professional board as best design on the exhibition 'Good Design' in USA.
1951
Wegner and Finnish Tapio Wirkkala are the first to be awarded 'Lunningsprisen'.
1951
'The Teddy Bear Chair' (AB), 'The Dolphin Chair' (JH) and CH28.
1952
'The Cow Horn Chair' (JH) 'The Sawhorse Chair' (CH29).
Cooperation with C. M. Madsen's factories is initiated due to an increasing demand for light Wegner chairs.
Wegner becomes supervisor of the teaching at the School for Arts and Crafts.
Wegner and his wife take a three-month study trip to USA and Mexico. During the trip, Wegner is offered to have his carpentry-based furniture produced by a high-tech company, but says no.
1953
W1 and W2 (CMM)
'The Valet Chair' (JH)
Wegner receives honorary diploma and gold medal at the Milano Triennale.
1955
Wegner draws the office swivel chair (JH), which is inspired by Professor, Eigil Snorrasons effort to make designers focus on ergonomics. This can be seen in e.g. the chairs low back support.
Wegner receives the Eckersberg medal.
Wegner receives Dansk Købestævnes annual medal.
1956
Inspired by the increase in student hostels, Wegner draws his first bed settee (GE).
1957
Wegner receives the silver medal at the Milano Triennale.
1958
Wegner draws lamps and conference tables (JH) for UNESCO in Paris.
Wegner receives Dansk Snedkerlaugs annual award.
Wegner is appointed Royal Designer for Industry in London, and receives Citation of Merit at the Pratt Institute in New York, USA.
1959
Wegner draws his own holiday home at Hald Strand on Northern Sealand.
The GE290 series of armchairs and sofas.
1960
The Ox Chair (AP)
Wegner receives the International Design Award byt the American Institute of Decorators for Furniture Design.
Wegner receives the Swedish Prins Eugen medal.
1961
The Bull Chair (JH)
1962-65
Builds own house in Gentofte in cooperation with architects, Arne Karlsen and Allan Jessen.
1963
The three-legged shell chair (JH).
1964
Furniture for Tuborg in Hellerup (JH).
Wegner is awarded Københavns Snedkerlaugs annual award.
1965
Wegner draws 'The Little Steel Chair' (JH) for his new house.
CH44-series of chairs and stools.
1966
Snedkerlauget's exhibitions end. At this point, Wegner has entered every year since 1938 except 1940, and has won 24 prizes in the competitions associated with the exhibitions. Approximately half the furniture from these exhibitions go into production.
Wegner receives the International Design Award from The American Institute of Interior Designs, New York, USA.
Wegner becomes a member of IDD, Danish Designers (today MDD).
1967
Rocking chair which can be assembled and taken apart at will (GE).
Over the previous few years, Wegner had experimented with laminated wood and now presents among others, the Hangmat Chair' (GE).
Wegner is awarded Citation of Merit by The American Institute of Interior Designers.
1968
Wegner draws furniture for several student hostels (GE). Among these are Kampsax and Ostenfeld.
Wegner loosens his ties with JH, but is welcomed at another workshop, namely PP Møbler, who has produced wooden frames for AP Stolen's Wegner furniture since 1953.
Wegner starts drawing for PP Møbler and, in the midseventies, PP Møbler takes over a large part of Wegner's table-collection from Andreas Tuck.
1969
Wegner's the first furniture for PP are pp201 and pp203.
Wegner draws furniture for retirement homes.
Wegner's house wins him an award from Gentofte Kommune.
1971
Wegner is awarded Diploma di Collaborazione at the Milano Triennale.
1973
Furniture (GE) and lamps for Hotel Scandinavia.
1974
Furniture for Herlev Hospital (GE).
Wegner rethinks his chair for Børge Mogensens spindle back bench (FH).
1975
Wegner draws furniture for Amagercentret's theatre and cinemas (GE).
Student hostel furniture for Ashdown House at MIT, USA (GE+CMM).
Wegner wins first prize in a competition concerning streetlamps for environments worthy of preservation. His daughter Marianne, who has worked at his studio since 1973, is in on this project. The lamp goes into production two years later after a few revisions.
1976
Butterfly (GE460)
By the end of the 70'ies, Ry Møbler and A.P. Stolen close. JH now takes over production rights for Wegner's upholstered furniture.
1977
Conference tables for Vejle Amtsråd (JH).
Conference tables for Politiken (JH).
Wegner serves as member of Dansk Designråd from 1977-81.
1978
Furniture for Sønderjyllands Amtsråd (JH).
Konference table for Ishøj Byråd (JH).
1979
Lamps (LP) and conference tables (JH) for Industriens Hus.
Conference table for A. P. Møller (JH).
1980
Element sofa GE280
1981
Wegner draws a special chair for the Moa Museum in Japan (PP).
Wegner receives the C.F. Hansen medal.
1982
Dining table pp75
1983
Chairs and tables for the canteen and Sikker Hansen-salen at Politikens Hus (GE).
1984
Rocking chair pp124.
Furniture for Mørdrup church in Espergærde (PP).
Production of the Ox Chair is overtaken by Erik Jørgensen Møbelfabrik.
1985
Conference table Carlsberg in Hong Kong (JH).
Chairs for Salling Ungdomsskole (GE).
In the mid-eighties, Wegner participates in several SE exhibitions, which started in 1983 as a continuation of Snedkerlauget's exhibitions.
1986
Conference table for Apotekerforeningen (PP)
The Circle Chair (PP130) draws a lot of attention at the SE exhibition.
Wegner receives Dansk Designråds design award.
1987
Armchairs PP58 and 68.
1988
Stack and connectable chairs for Koldinghus Slot (JH).
Wegner receives honorary grant from Nationalsbankens Jubilæumsfond.
Wegner receives grant from Ole Haslunds Kunstnerfond.
1989
The Chinese Chair with upholstered seat. (PP56)
1990
Conference chair PP240.
Wegner draws furniture for The Maersk McKinney Møller Centre for Continuing Education in Cambridge, UK (PP and GE).
Conference table for IBM in Lyngby (PP).
The Chair is depicted on stamps.
JH closes and PP takes over the production of many well-known Wegner designs.
1991
Tables for KPMG in Copenhagen (PP).
Fredericia Furniture takes over a number og Wegner models after JH. FF and Wegner have cooperated previously in the mid-seventies and this time, as well as last time, the cooperation lasts a couple of years.
1992
Wegner draws the 'Rødding Chair' (PP93/193) for Rødding Højskole's 150'ieth birthday.
Wegner stops drawing but continues as supervisor for his daughter, who has gradually taken over responsibility for Wegner's furniture.
1993
Tønder water tower is renovated and made into a Wegner museum. The collection consists of 36 Wegner chairs all donated by Hans and Inga Wegner.
Wegner is made honorary member of Akademiet for de Skønne Kunster.
1995
Wegner becomes honorary doctor at the Royal College of Art in London.
Wegner receives The 8th International Design Award in Osaka, Japan.
2004
Wegner celebrates his 90'ieth birthday. 130 of his models are still in production and the demand for his furniture is increasing.
2007
Wegner passes away leaving a remarkable legacy of design and craftsmanship for future generations to enjoy.
(The above only covers a small selection of Wegner's production. He made more than 2500 workshop drawings and sketches for almost 1000 pieces of furniture.)
(The producers mentioned above are the ones to whom the model were drawn, originally. Many models have since then changed to other producers – however, always to one of the above mentioned workshops.)
More Hans J. Wegner on scandinaviandesign: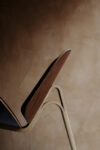 HANS J. WEGNER'S CH07 SHELL CHAIR TURNS 60 CARL HANSEN & SON MARKS THE 60TH ANNIVERSARY …