The two one-of-a-kind specimens are made of Danish ash wood and upholstered in yellow and blue Blans wool designed by Hanne Vedel and inspired by the colours of the Ukrainian flag. The backs are adjustable and the chairs have been specially made for charity by PP Møbler.
Do something Positive for Children in Ukraine
Prompted by the war in Ukraine, PP Møbler has taken the initiative to produce the two special editions of Wegner's tub chair to support children who are victims of the war in their homeland. The chairs have been donated by PP Møbler and the textiles by Kjellerup Væveri. Bruun Rasmussen is making its auction platform available and not charging any fees in connection with the sale. In addition, Marianne and Eva Wegner have waived their claim to resale royalties. This means the auction proceeds will be donated in full to the important work Børns Vilkår is doing for Ukrainian children.
Background to the Master behind the Chair
"Nothing that you make is final!" That was Wegner's assessment in 1992, looking back on a lifetime of furniture art. For him, the perfect piece of furniture was a utopia. This perception was reflected in a special method of working that he followed throughout his life. Many of his pieces served as archetypes, which were later developed as other variations. Therefore, you can see echoes of "Kinastolen" (the Chinese chair) in the "Y Chair", just as the shell design and collapsible furniture became a recurring theme for him. So, Wegner was not afraid to experiment. He considered each attempt a step along the road, and misfires were part of the creative process. He developed his distinctive design as a combination of modern functional shapes and old Danish craftsmanship traditions. The result is a wide range of furniture, full of poetry, dynamism and imagination – and still on the wish list of many design enthusiasts worldwide.
Wegner's story is also the tale of the son of a shoemaker from Tønder. Even as a boy, he carved out figures from wooden blocks, which he picked up from the local carpenter Stahlberg, where he would later learn his trade. After qualifying as a cabinetmaker in his hometown, he moved to Copenhagen in 1935 for his compulsory military service. Here, he visited furniture exhibitions of the Cabinetmakers' Guild. Realising that he needed to upgrade his skills, he enrolled at the furniture design school of the Royal Danish Academy of Fine Arts in 1936. However, before Wegner could complete his training as a furniture designer, he was employed by Erik Møller and Arne Jacobsen in 1938 to design the furniture for the new town hall in Aarhus.
This dual background paved the way for his deep understanding of wood's characteristics and his outstanding sense of design. However, beyond a grasp of aesthetic and craftsmanship principles, he also created his furniture based on in-depth analysis of body postures. Wegner was a leading influence in 1950s design idiom and to this day he is still considered as one of the most distinguished and productive designers in Denmark. Together with his colleague Finn Juhl, he put Danish furniture art on the world map, and the two became the key exponents of "Danish Modern".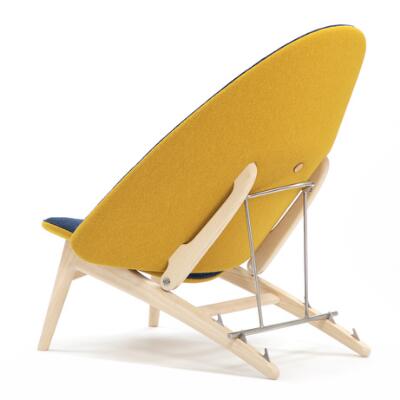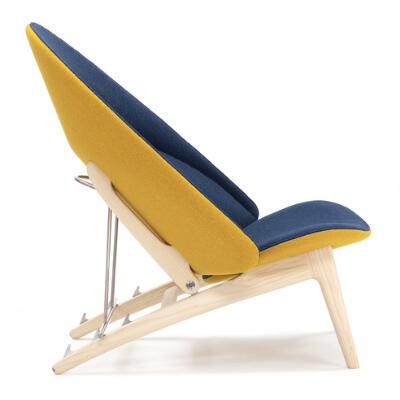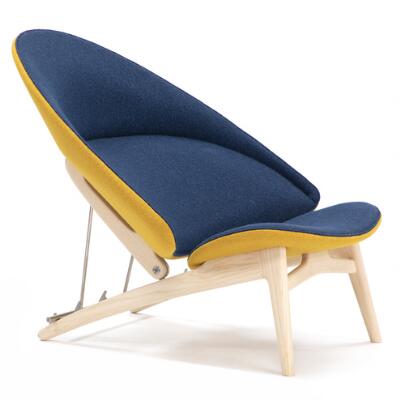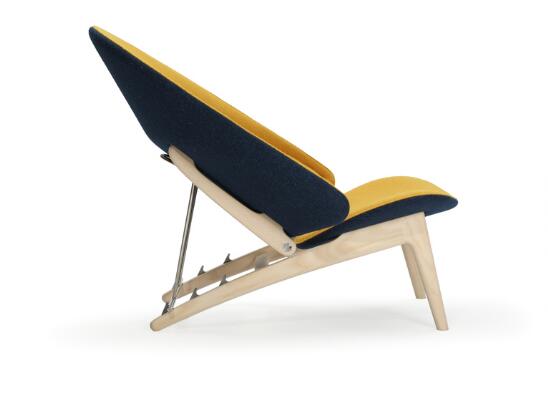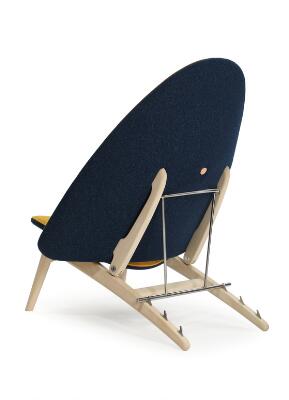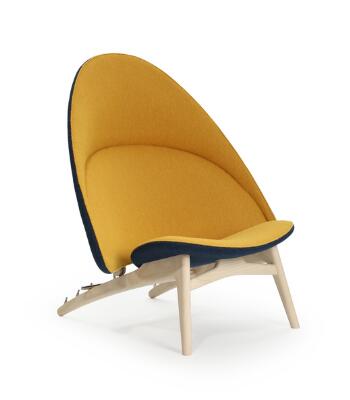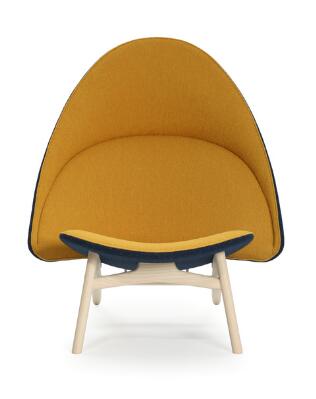 Hans J. Wegner (b. Tønder 1914, d. Gentofte 2007)
"Tub chair". Unique easy chair with Danish ash frame, seat and shell-shaped adjustable back upholstered with yellow/blue Blans wool designed by Hanne Vedel. Movable steel bracket and fittings. Model PP 530. Made and stamped by PP Møbler in 2022.
A group of the PP Møbler employes decided to support the Ukranian children who are fighting for their lives and futures at the moment.
PP Møbler's carpenters and upholsterers made two special versions of the Hans J. Wegner "Tub chair" in their spare time, to support the Ukranian children.
The full amount will go to "Børns Vilkår", who focuses on helping children who are victims of the war in Ukraine.
The model was presented at the Copenhagen Cabinetmakers' 400th Anniversary Exhibition in Forum 16–26th September 1954, stand no. 23.
Literature: Grete Jalk [ed.]: "40 Years of Danish Furniture Design". The Copenhagen Cabinetmakers' Guild Exhibitions 1927–1966, vol. 3, pp. 280–281.
Literature: The Magazine "Møbler" no. 9. 1954, p. 43. Hans J. Wegner sitting here in the chair.
Literature: Johan Møller Nielsen. "Wegner en dansk møbelkunstner", pp. 69–70.

Spara
Spara
Spara
Spara