During his long career, Hans J. Wegner managed to create up to 500 chairs, many of which are part of the Carl Hansen & Son collection. Now his elegant CH78 lounge chair, nicknamed the Mama Bear, is added to Carl Hansen & Son's exclusive collection.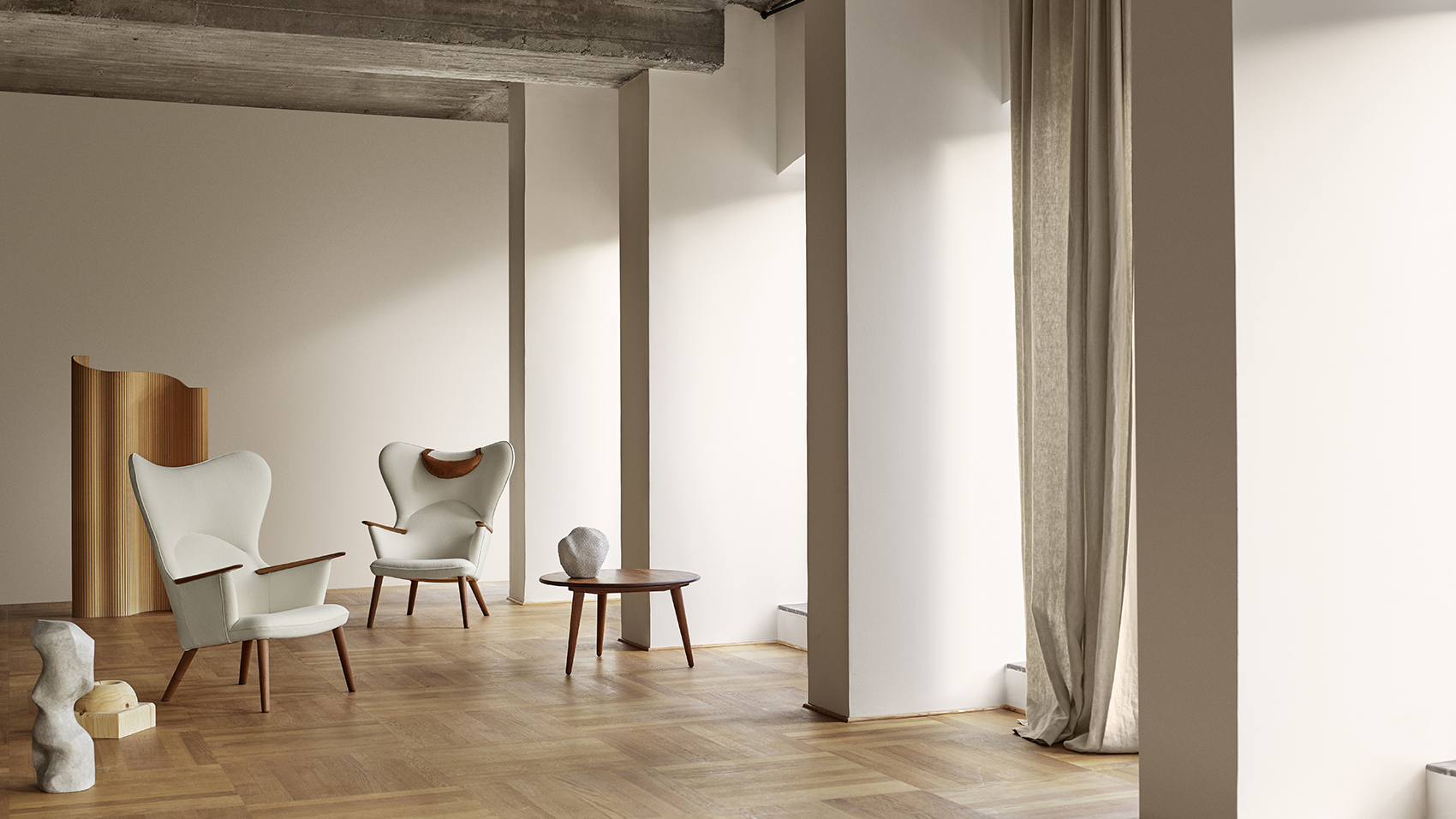 Carl Hansen & Son, who has produced Hans J. Wegner furniture for the past 70 years, presents another chair from the hand of the legendary furniture designer. This time it is the CH78 lounge chair, which was first displayed in 1954 and is still a great example of the furniture designer's intuitive talent for creating organic and inviting shapes that appeal to our senses. CH78 also emphasises Hans J. Wegner's particular ability to combine aesthetics and functionality and create furniture which spoke to the trends and movements of the time and remains relevant today.

The CH78, which was nicknamed Mama Bear, is a light lounge chair with a solid upholstered frame and an organic expression. Its angled legs give the chair a relaxed and stable look, and the upwards-angled arm rests topped with delicately moulded, solid wood add a dynamic and inviting expression. With CH78, Hans J. Wegner created a comfortable chair with a distinctive visual identity, which, despite its lightness, offers a warm embrace.
The lounge chair's inviting expression is further emphasised by the upper part of the curved backrest, giving it the appearance of a wingback chair. A curved stitching in the middle of the backrest helps ensure that the fabric is tightened across the entire surface, thus contributing to the definition of the backrest's vertical profile. The loosely suspended neck pillow's crescent shape interacts with the upper curved edge of the backrest. The cushion can be removed and attached once again as needed.

"The CH78 lounge chair's characteristic expression and lightness fits perfectly into a modern context and, not least, the Carl Hansen & Son collection. It's furthermore a natural next step after having introduced Hans J. Wegner's CH71 lounge chair and CH72 sofa from 1952 back in 2018. Like both of those pieces, CH78 is the embodiment of comfort in a limited space," says Knud Erik Hansen, CEO of Carl Hansen & Son.
"CH78 contains various elegant and refined design elements, just like Hans J. Wegner's other furniture pieces. Hans J. Wegner was an uncompromising furniture designer and craftsman with a rare attention to minuscule details – as well as to dimensions and collections. Initiating the production of one of the master's designs is therefore always met with great enthusiasm from our skilled craftsmen," explains Knud Erik Hansen.
CH78 was created in close collaboration with Hans J. Wegner's daughters, who manage their father's legacy through the company Hans J. Wegner's Design Studio.
"I am pleased that CH78 is now part of Carl Hansen & Son's collection of Hans J. Wegner furniture. The lounge chair, which has a character all of its own, is a good example of my father's pleasure in shaping and designing without losing sight of the importance of ergonomics," says architect Marianne Wegner.