Flowerpot by Verner Panton
In close collaboration with the Panton family, &Tradition welcomes five new, vibrant colours to the Flowerpot range for 2023. Alongside this palette refresh, the Danish design house is also reissuing a Panton original – a 1970s black and white wave pattern.
Pattern Black/White
In an exciting reissue of a Verner Panton original, &Tradition is reintroducing a black and white wave-pattern finish to the collection. According to the Panton family's archives, this retro, hypnotic-style pattern was first used in 1970.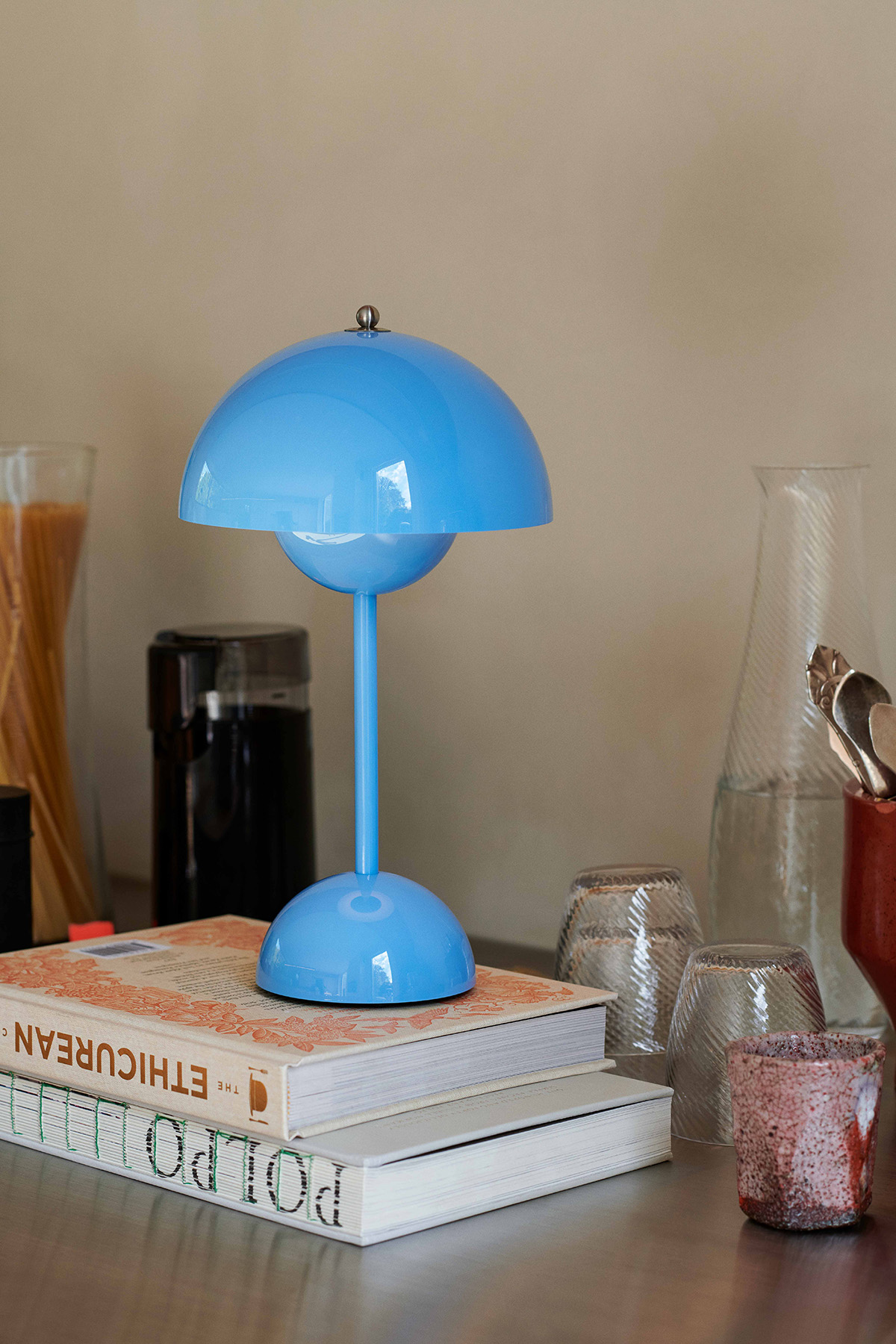 Swim Blue
Swim Blue serves a freshness and provides a cool, aquatic nuance to the Flowerpot range.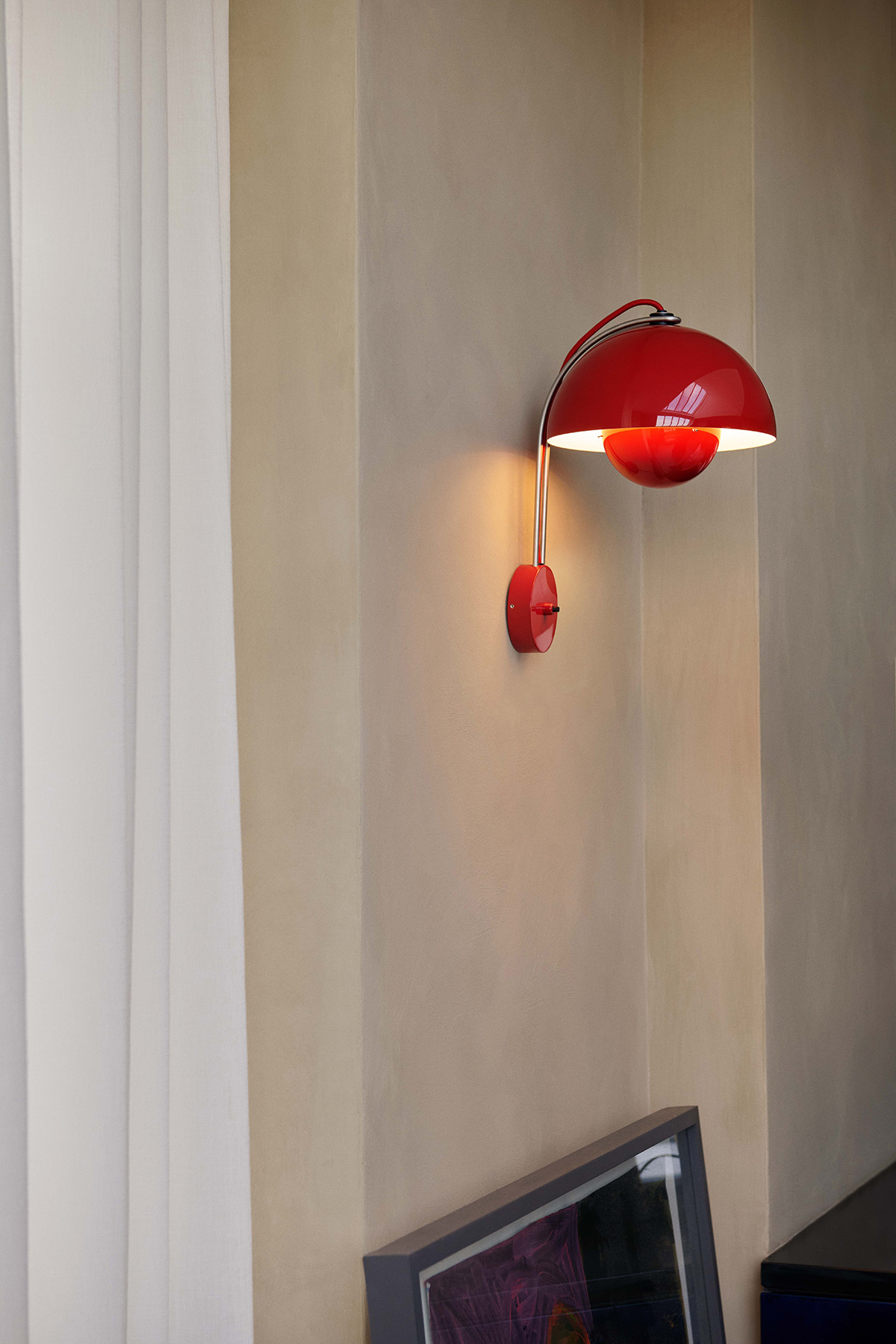 Vermillion Red
Vermillion Red holds a bold and compelling presence, mimicking a classic red lipstick. Informed by the Panton archives and though new to the Flowerpot, the shade was used in an invitation for Panton's 60th birthday party in 1986.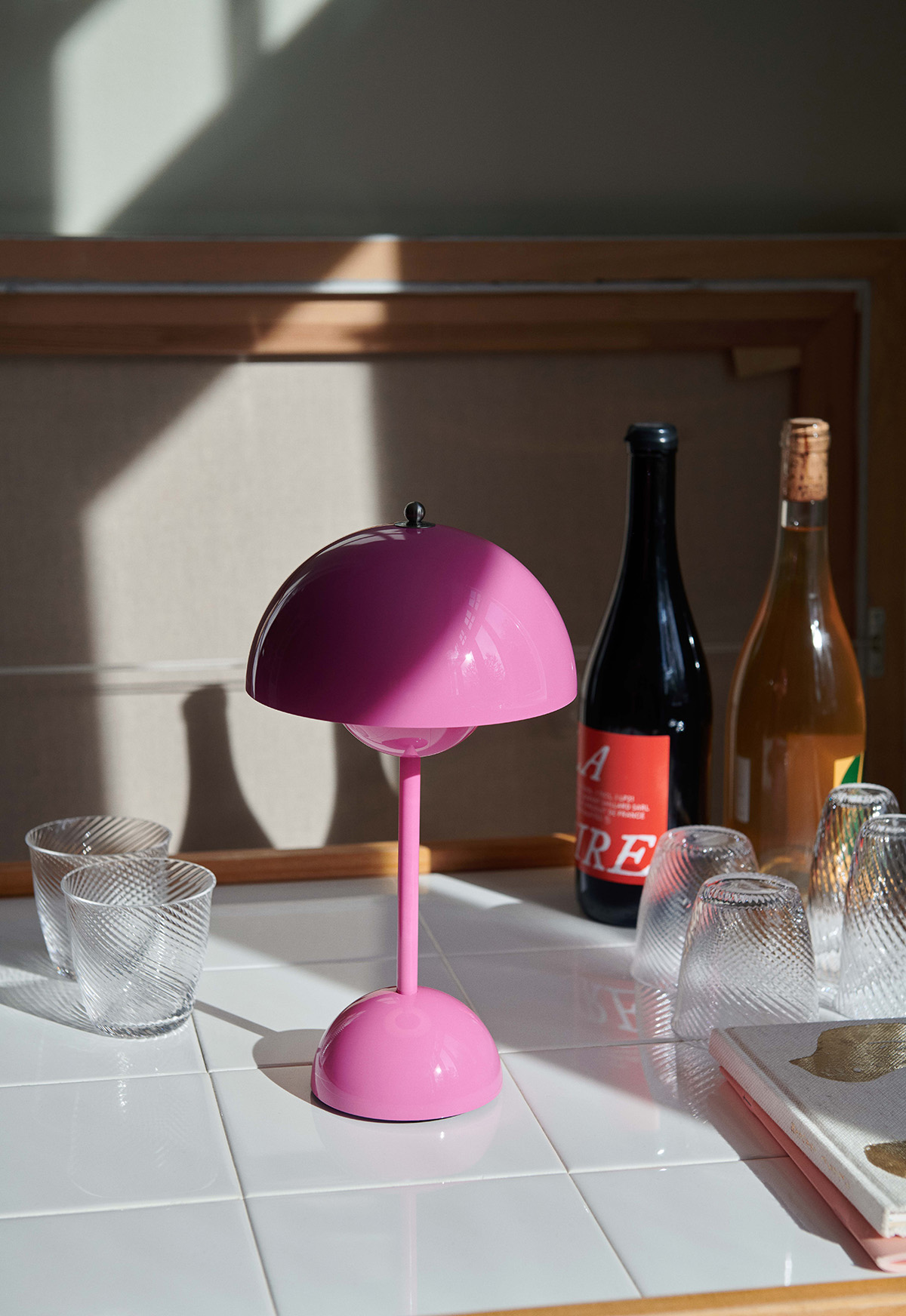 Tangy Pink
Tangy Pink, an exuberant and eye-catching hue, brings a pop of colour to rooms while setting an energetic and optimistic ambience. Similarly to Vermillion Red, the hue was informed by Panton archives.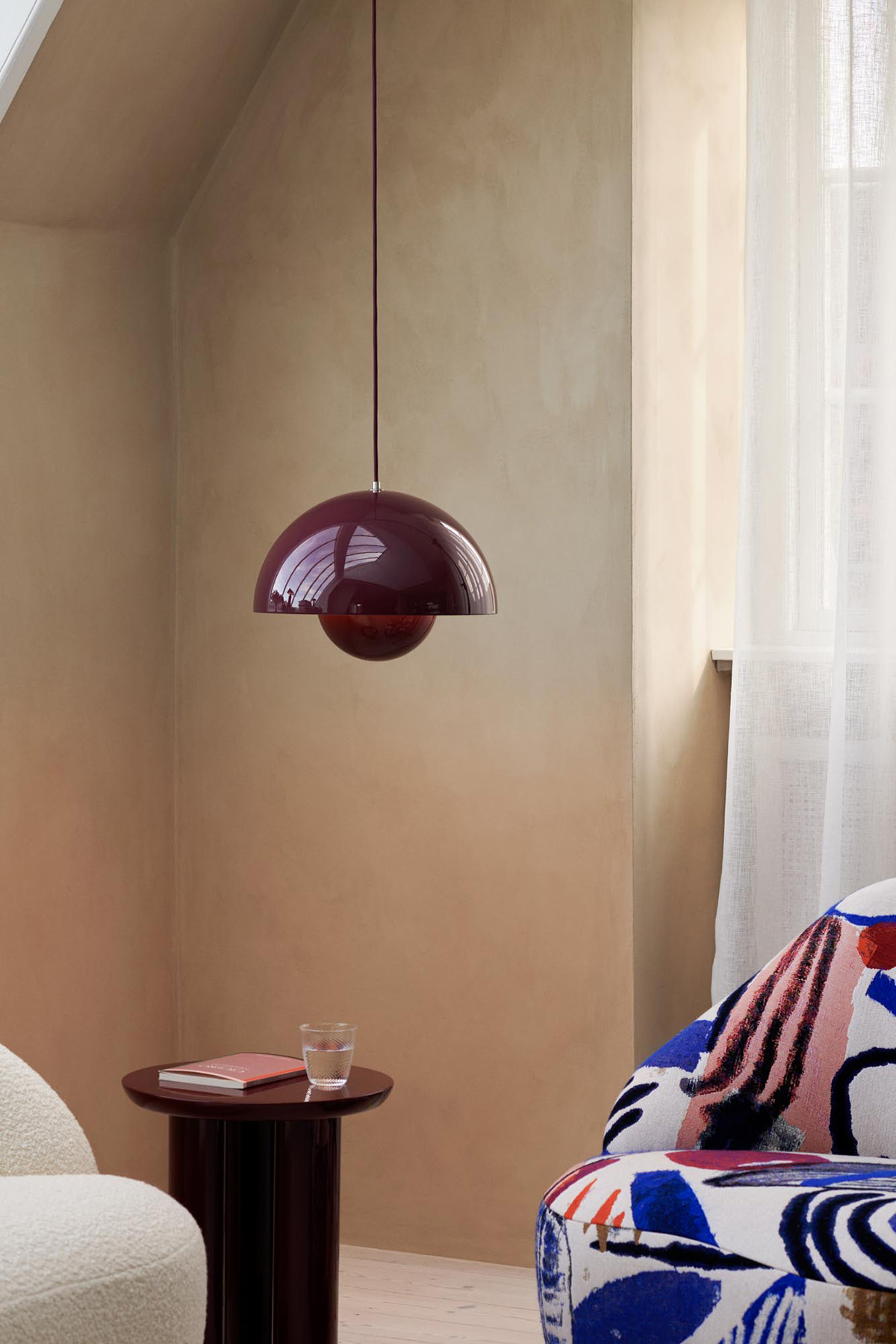 Dark Plum
Dark Plum is a chic and sophisticated tone that holds a mock black nuance. A never-before-used shade in the Flowerpot form, that is a deep and powerful tone which can be identified in other Panton classics like the Ring Lamp, a modular lighting element designed in 1969 for the Visiona installation.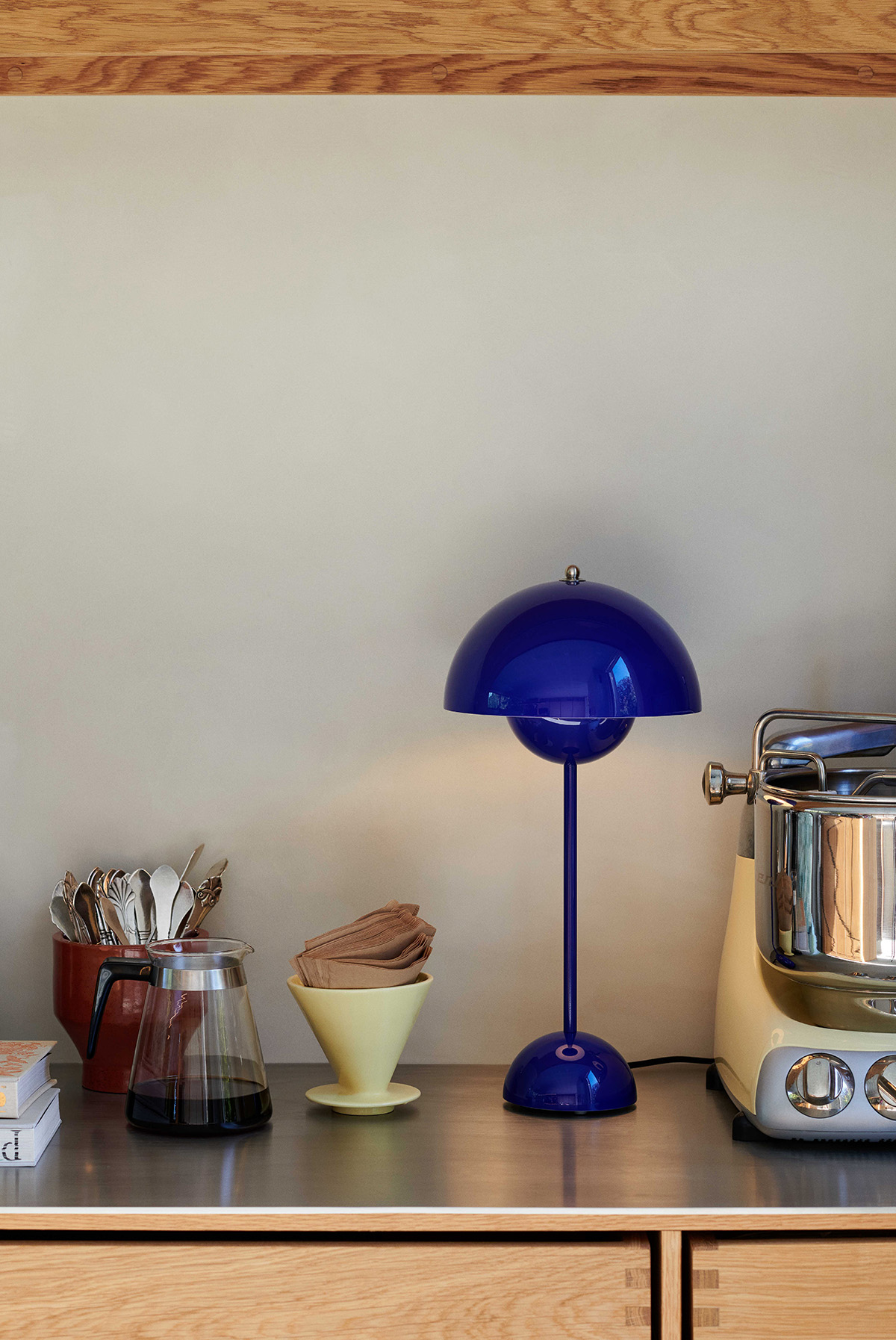 Cobalt Blue
While Cobalt Blue is an intense and contemporary shade which presents as highly adaptable, it was also an original and a popular choice for Panton in his early works.
The FlowerPot Lamps became synonymous with the Flower Power movement from the late 60s. Reflecting a break from convention to embrace a more open, modern mentality that promoted peace and harmony. Such was the mindset of their designer, Verner Panton. One of the most forward-thinking talents of his time.
The lamp's simple design consisting of two semi-circle spheres facing each other is not only an icon of that era, the FlowerPot Lamps remain equally as appealing to new generations. Especially in the new series of colours launched by &tradition.
For &tradition Brand Manager Martin Kornbek Hansen, "Panton was always on the cutting edge of design. He fearlessly experimented with new shapes, colours and materials in design concepts that looked futuristic then – and now. To honour this design visionary, we are introducing a series of high gloss hues. New colours to keep the lamps one step ahead. Like Panton himself."
Watch for an enticing selection of tones that are at once contemporary yet timeless, and in sync with the rest of &tradition's collection. All the more luscious in lacquered metal featuring white, black blue, deep red, grey beige and polished brass, amongst others. The colour schemes vary between the FlowerPot Pendant Lamp VP1, the larger Pendant Lamp VP2 and the FlowerPot Table Lamp VP3.
Excellent as singular decorative accents or grouped together in clusters, the FlowerPot will enhance any space with its innate charm. Whether you grew up with the peace and love movement or simply read about it in retrospect, Panton's vision went beyond any culture or time constraints. Seen in this stunning example of how curves and colours can create an enduring sense of elegance.
Verner Panton remains one of the most radical Danish designers of all time, given his avant-garde approach to fluid shapes previously impossible, along with his palette of vivid colours and striking geometric patterns. Panton's penchant for playful provocation took him beyond designing furniture, lighting, textiles, posters and rugs to creating entire environments akin to visually immersive experiences. Earning him admiration the world over for his conviction to continuously question convention.
More news from Verner Panton:

Designed in 1963 Barboy is a typical example of Panton's furniture. An adaptable side table …