In spring 2021, Louis Poulsen will be revamping the Panthella Table lamp in a new size and brass metallised finish to celebrate the fiftieth anniversary of Verner Panton's iconic and timeless design. To complete the Panthella range, Louis Poulsen introduces the Panthella Table 320, a new table lamp in a medium size that meets the functional requirements of contemporary spaces.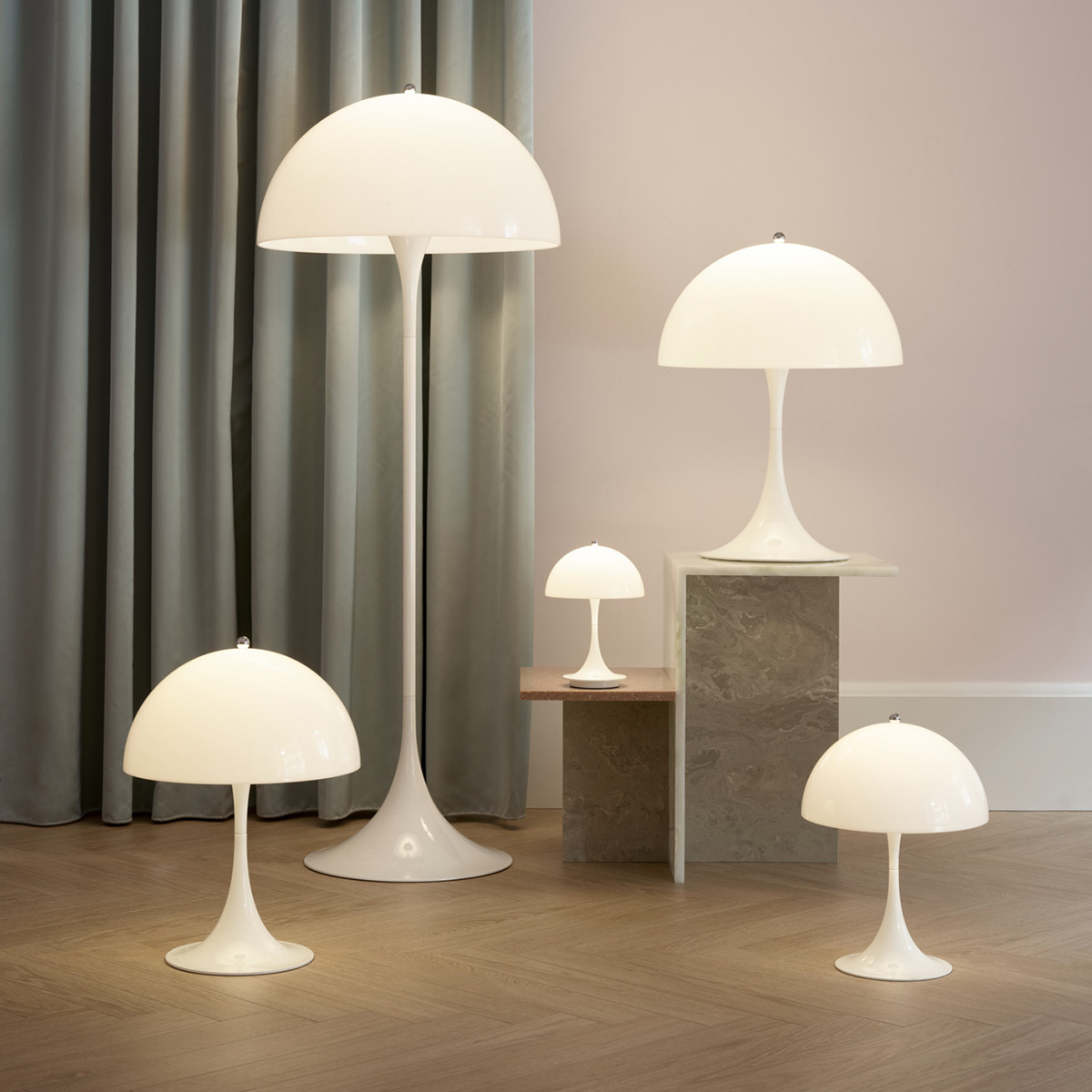 In 1971, Panthella was originally developed by Danish architect Verner Panton and has since been recognised as one of his most popular design icons. With its non-glaring light and soft geometric mushroom silhouette, Panthella continues to serve as a beautiful example of Panton's brilliant sense of atmospheric illumination and timelessly appealing design that captivates spaces.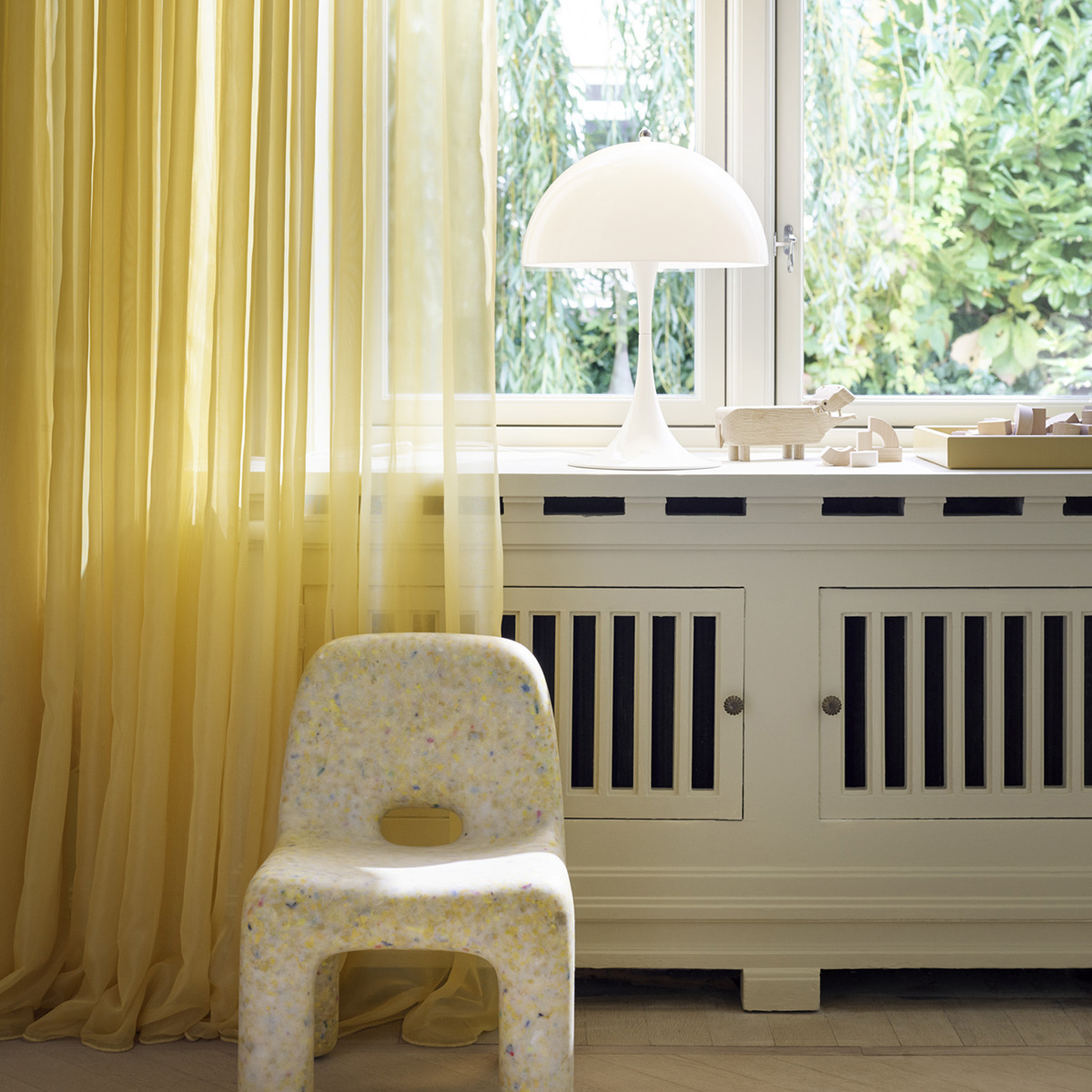 As a tribute to Panthella and its fiftieth anniversary, Louis Poulsen is introducing a new medium-sized Panthella Table lamp. The Panthella Mini and Panthella Table 320 lamp will come in a new distinctive brass metallised finish.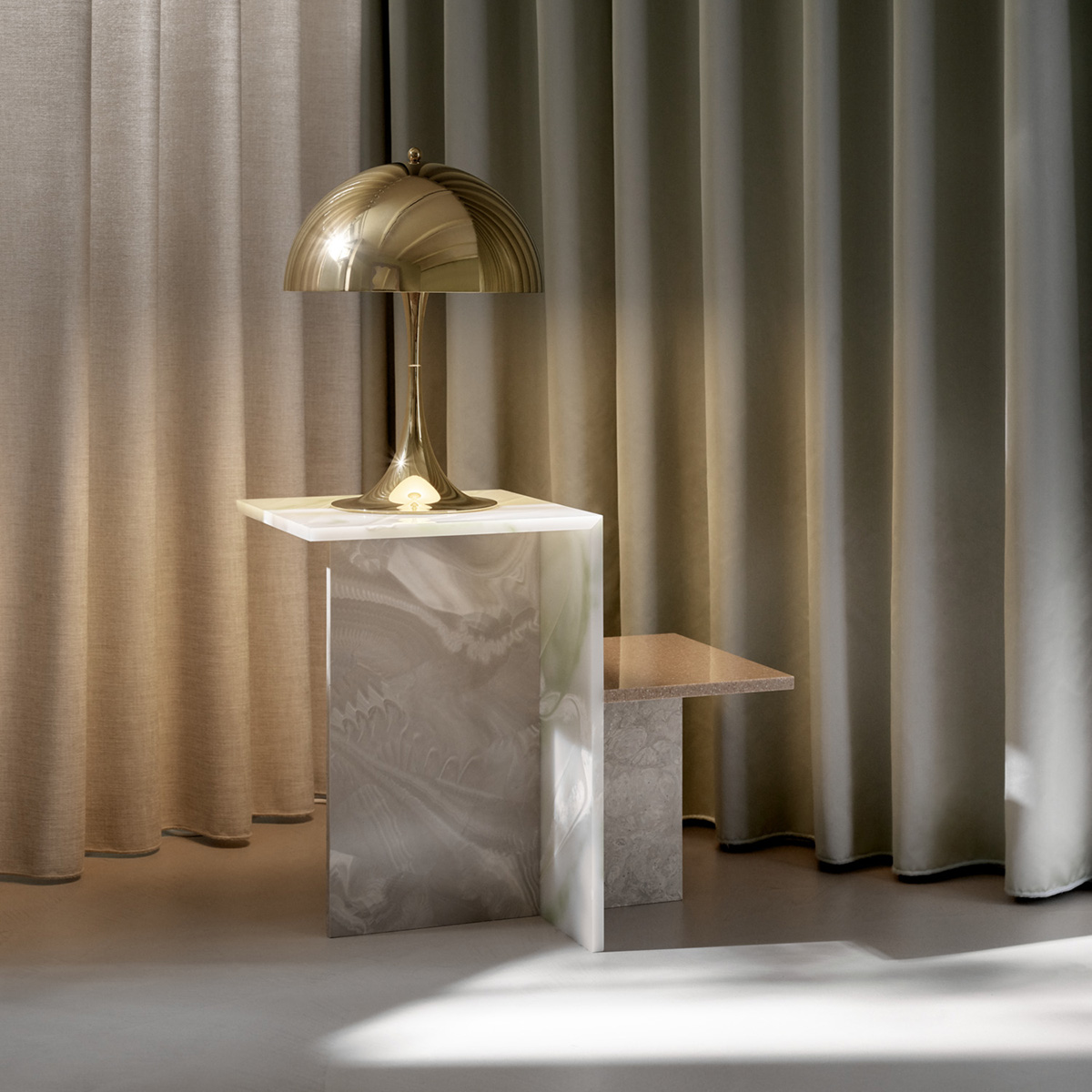 The new Panthella Table 320 joins the existing Panthella Mini and Panthella Table 400 to create a range of intriguing table lamps that seamlessly accommodate the functional requirements of a variety of spaces. With the Panthella Table in three sizes, the perfect dimensions are available to provide any surface with beautiful, soft light in an iconic design.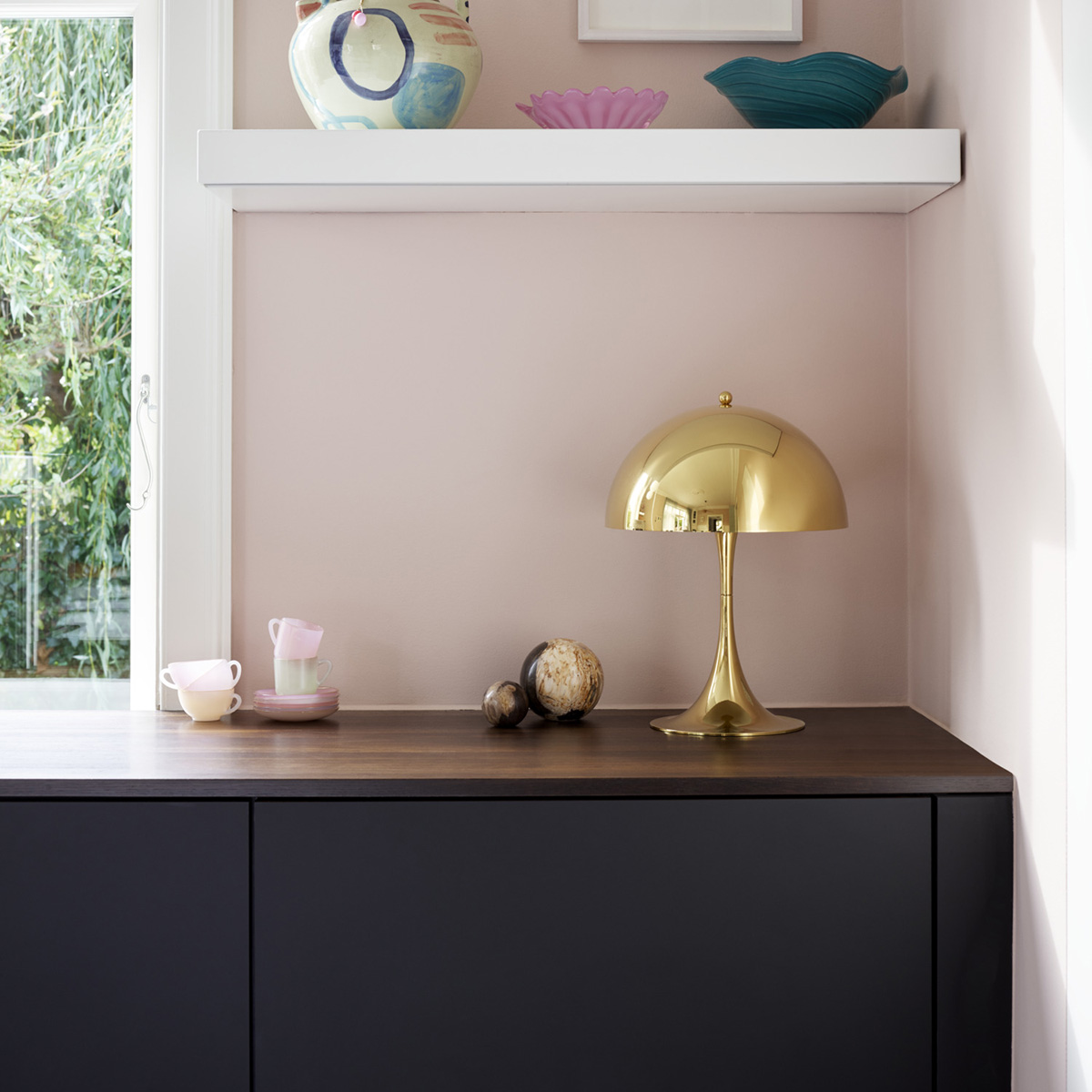 The brass metallised finish brings warmth and reflections to the surrounding space. Made of metal with a mirrored quality, the new finish references Verner's fascination with new materials and vibrant colours that add to the distinctive playfulness of interiors. The metallic finish allows Panthella to expand its functionality and create eclectic reflections and depth, while amplifying its organic shape.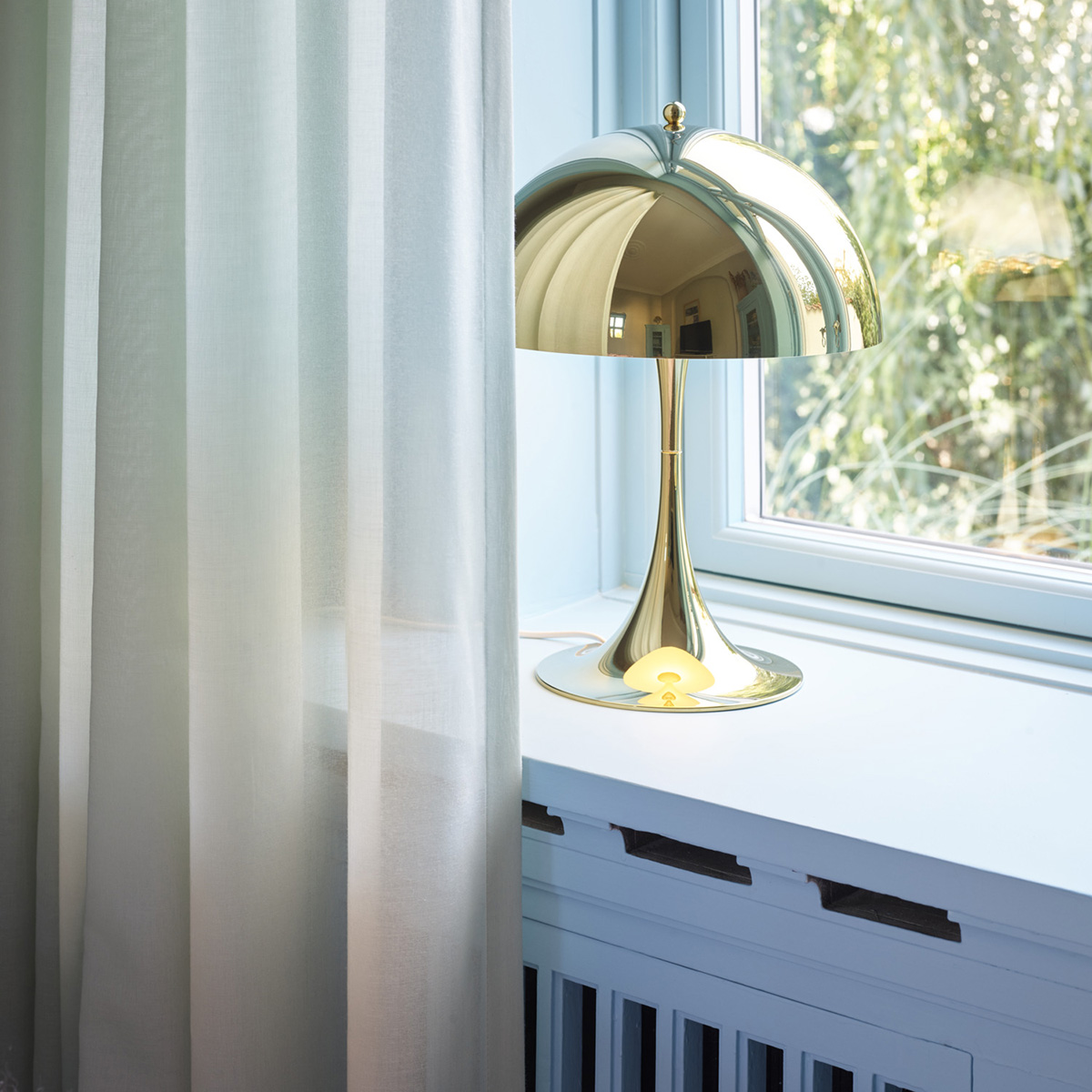 Panton was resolute in his mission to create intuitive spaces and daring design with bright colours and geometric forms. He was famous for his innovative designs and his pioneering use of materials, colours and shapes, which made him one of the most influential designers and architects of his time.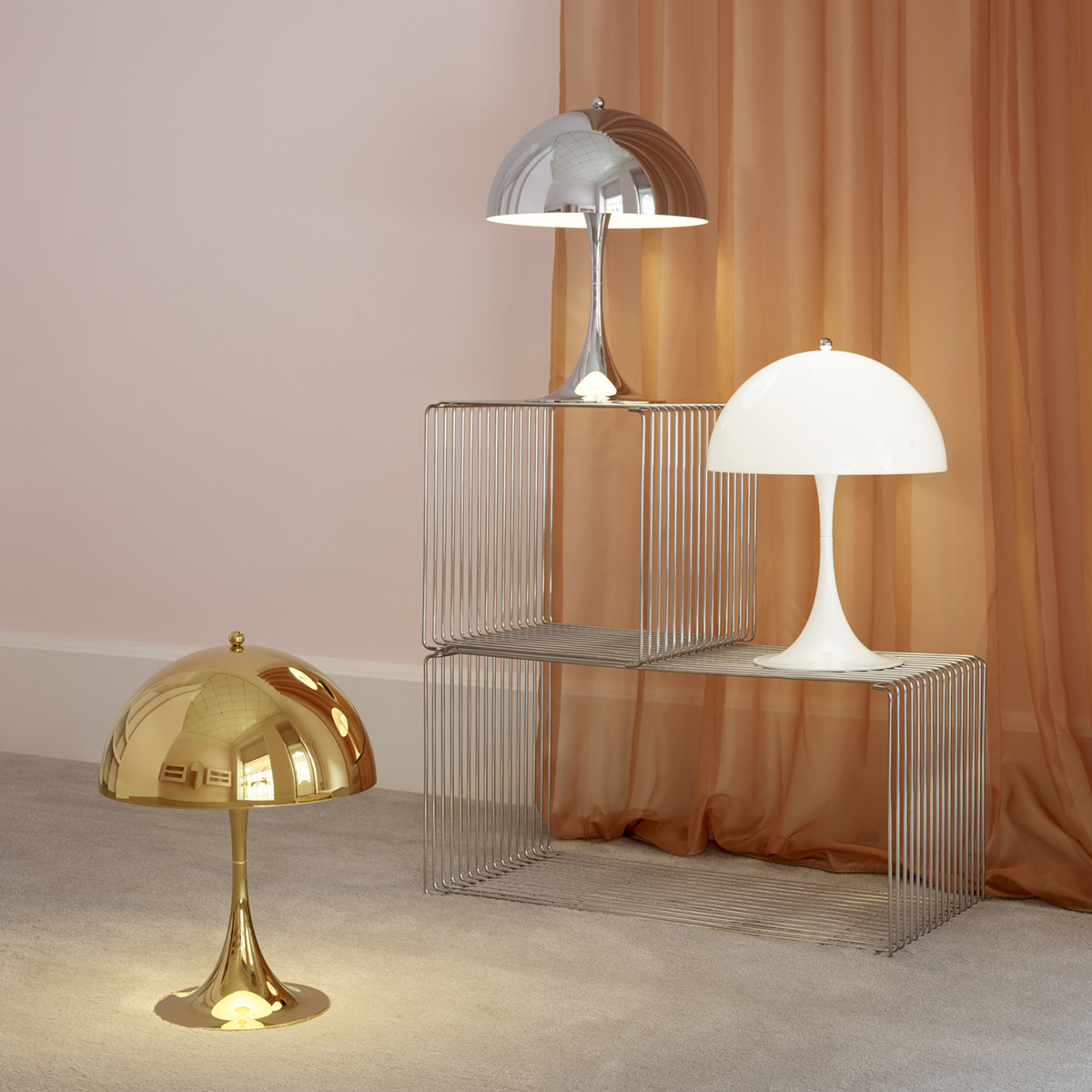 With Panthella, Panton wanted to create a graphic and figurative lamp that could stand alone in a room like a sculpture, while making its functional aspect visible in the way the form of the lampshade and the base also work as reflectors. The sculptural aspect and expressive, yet soft, contours of Panthella have contemporary qualities that have lasted for generations – both in terms of style and quality.
The new Panthella Table 320 lamp will be introduced with a white opal acrylic shade and a metal shade in high-lustre chrome as in Panton's original design. The Panthella Table 320 and the Panthella Mini will also be available in the new brass metallised finish featuring a metal shade. All metal versions have white inner sides for optimum light reflection, while the opal acrylic version produces a diffuse comfortable light due to its translucent shade.
The new medium-sized Panthella 320 comes with a shade that has a diameter of 320 millimetres and an E14 light source.
The new Panthella Table lamp will be available from spring 2021.
About Verner Panton
Verner Panton (1926-1998) is world-renowned for his inspirational and colourful personality. A unique person with a special sense of colour, shape, light function and space. Over the course of his career, Panton introduced a series of modern lamps with personalities unlike any of his Scandinavian contemporaries. With remarkable faith in the unlimited possibilities of form, he worked successfully to create a new set of theories about light function and influence.
Panton had very clear ideas about his work as well as shape, colour and function. At the same time, he made conscious and bold use of different materials. Panton liked experimenting and working in plastic, foam, plexiglas etc. and making his designs available to a broader audience. Where prominent contemporaries like Poul Kjærholm, Hans J. Wegner and Børge Mogensen were applying traditional craftsmanship to classic, natural materials, Panton thought ahead of his time and kept pushing the boundaries of materials, design possibilities and production methods.
During Panton's architectural studies he met Tove Kemp, the stepdaughter of designer and author Poul Henningsen. She and Panton later married, and Henningsen became Panton's mentor. The marriage did not last, but the close friendship between Panton and Henningsen did. Henningsen was also fond of experimenting with new materials. In 1925, Henningsen commenced his lifelong collaboration with Louis Poulsen, which lasted until his death. Henningsen's pioneering work on the relationship between light structures, shadows, glare and colour reproduction and man's need for light remains the foundation of the lighting theories still practised by Louis Poulsen. It was Henningsen, who introduced the then unknown Panton to Louis Poulsen and inspired him to explore the theory of light and design further.
In 1971, Verner Panton designed Panthella, which remains one of his most significant, world-renowned and iconic lighting designs. With Panthella, Panton intended to create a lamp in which both the base and the shade served as a reflector and use the organic shapes that he is known for. With its non-glaring light, Panthella continues to serve as a beautiful example of Verner Panton's brilliant sense of atmospheric illumination.