Stool 60 Villi is the first product to emerge from the collaboration, launching on the occasion of the 90th anniversary of Alvar Aalto's humble design icon.
Artek and design studio Formafantasma have teamed up to encourage a wider, wilder, and more responsible use of wood. Stool 60 Villi is the first product to emerge from this ongoing collaboration, which is based on mutual interests and shared values.
More than 80% of Artek furniture, including Stool 60, is made from birch trees grown, felled, and seasoned in Central Finland, then transported to Artek's factory near Turku, where modern production methods are combined with skilful handcrafting to manufacture Artek furniture. Due to climate change and industrialisation, visible features such as bark striations, dark stains, wood knots, and the trails left by wood-boring insects are increasingly prevalent in Finnish timbers. By reassessing Artek's current strict selection criteria for birch wood, Artek and Formafantasma are highlighting the impact of climate change and industrialisation on forests, as well as the consequences of these processes for wood products. Instead of side-stepping these shifts, Artek and Formafantasma have developed a new wood selection – "wild birch" – that systematically embraces the honest beauty of the forest. This new selection celebrates the quality of imperfection, in which natural marks are proudly shown, making every product unique. As a result, the introduction of wild birch proposes a new aesthetic of sustainability.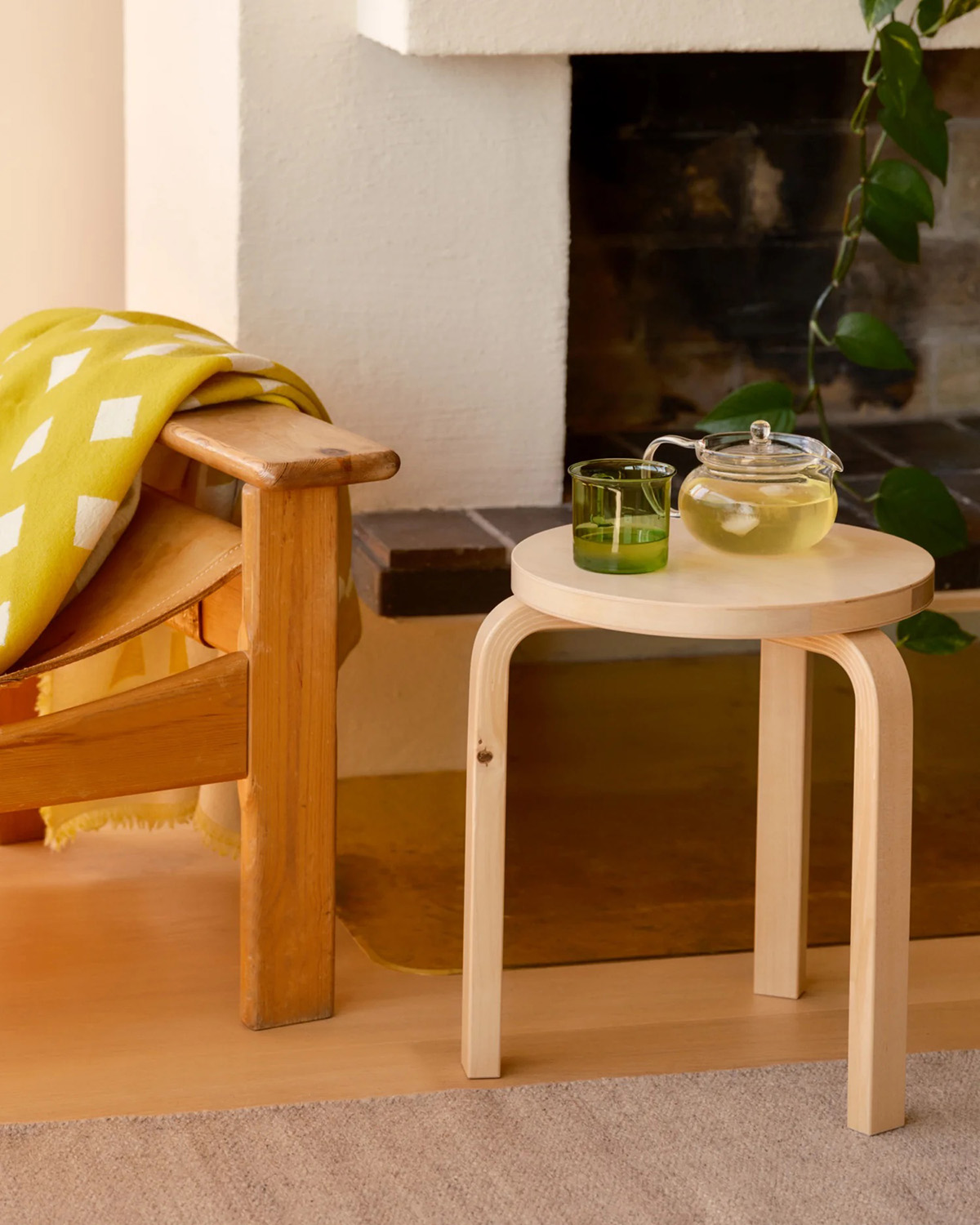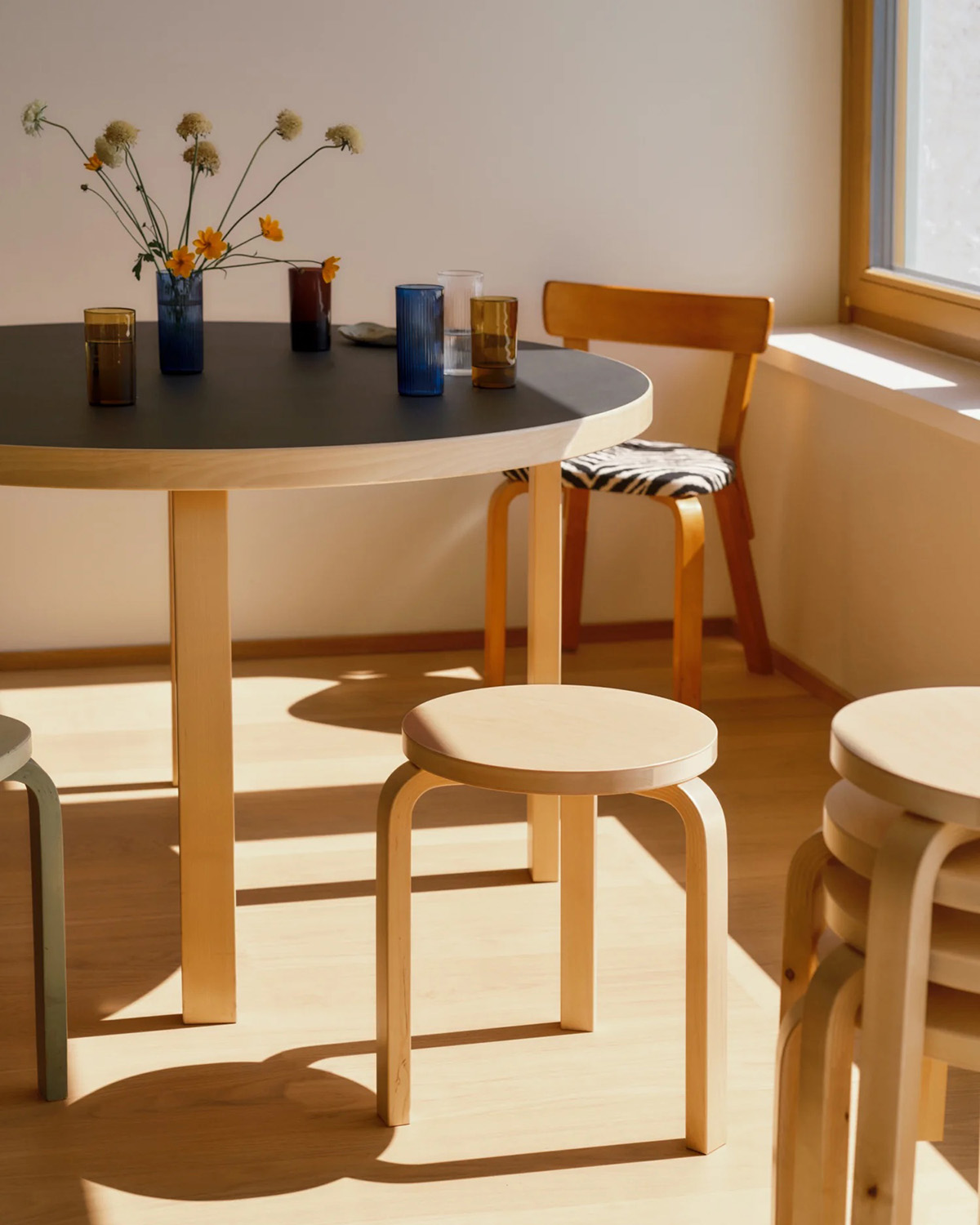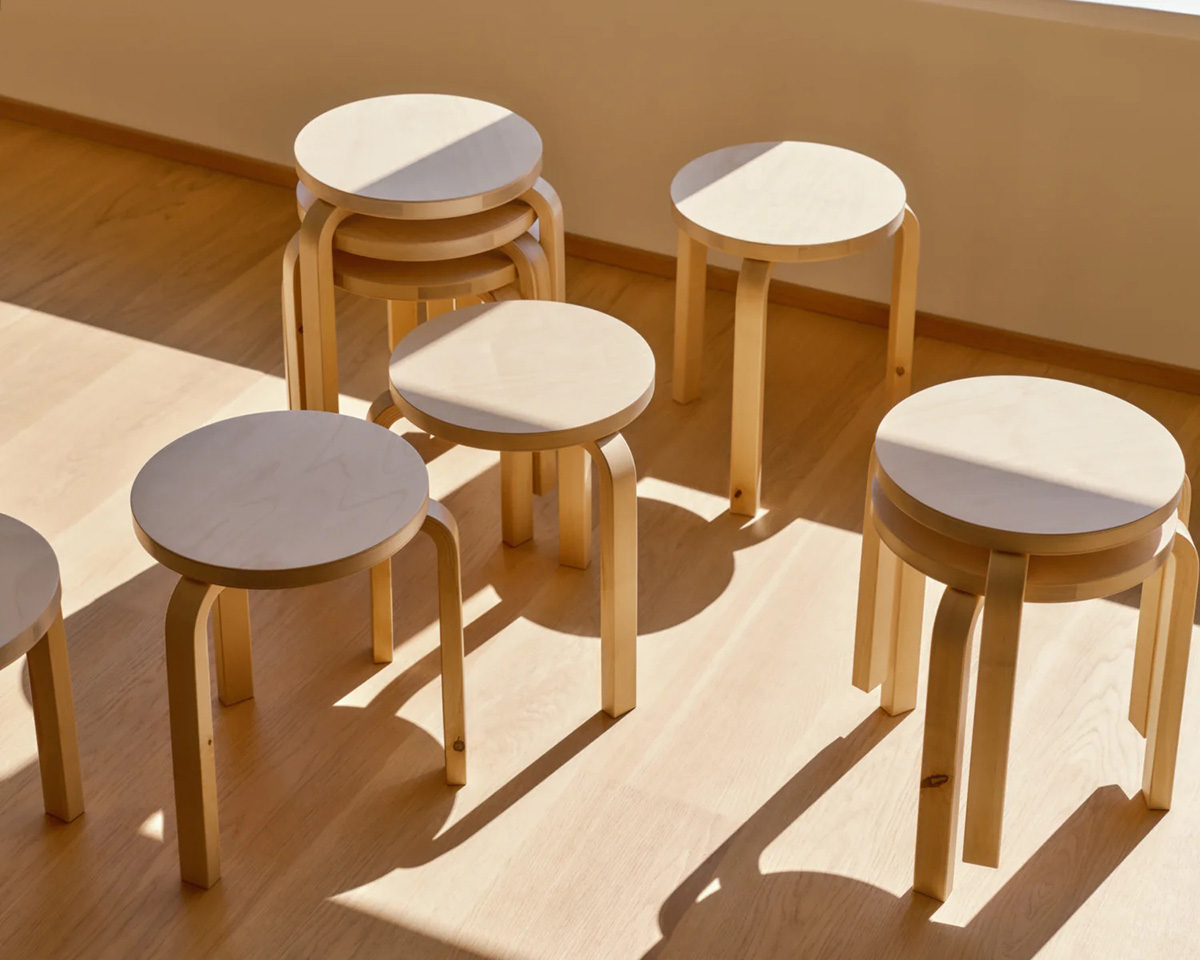 Stool 60 Villi – meaning wild in Finnish – is made of wild birch and embraces all the opportunities and variations of the birch wood forest, including knots and insect trails, as well as darker core wood and other natural colour fluctuations. Unlimited in its scope and edition size, Stool 60 Villi is launched for the 90th anniversary of Stool 60 in September 2023, and will become a permanent product in Artek's range from 2024.
By introducing wild birch, Artek is ensuring that more of the tree is used to produce its long-lasting products, hence maximizing opportunities to store CO2. The longer a tree is left growing in the forest, the more CO2 it will store. The birch trees used in Artek furniture are 50 to 80 years old, and absorb CO2 throughout their lifetime. Artek then turns them into durable furniture that can be in use – and continue storing CO2 – for at least as long.
Photography: Bryan Saragosa.
https://bryansaragosa.com
More design by Alvar Aalto:

Stool 60 Loimu (flame, in English) is produced from an exceptionally rare birch variant distinguished …