In 2023, Iittala celebrates Alvar Aalto's 125th birthday by launching two new vases and a bowl from the Alvar Aalto collection from 1936. The original, rarely seen shapes from the collection are scaled to sizes for today´s use, and versatile flower arrangements. The selected colours follow the original colours from the 1930´s. Iittala also re-introduces glassware by Aino and Alvar Aalto. The mouthblown glasses are introduced in the typical 1930´s glass colour Rio brown and they are available only in 2023.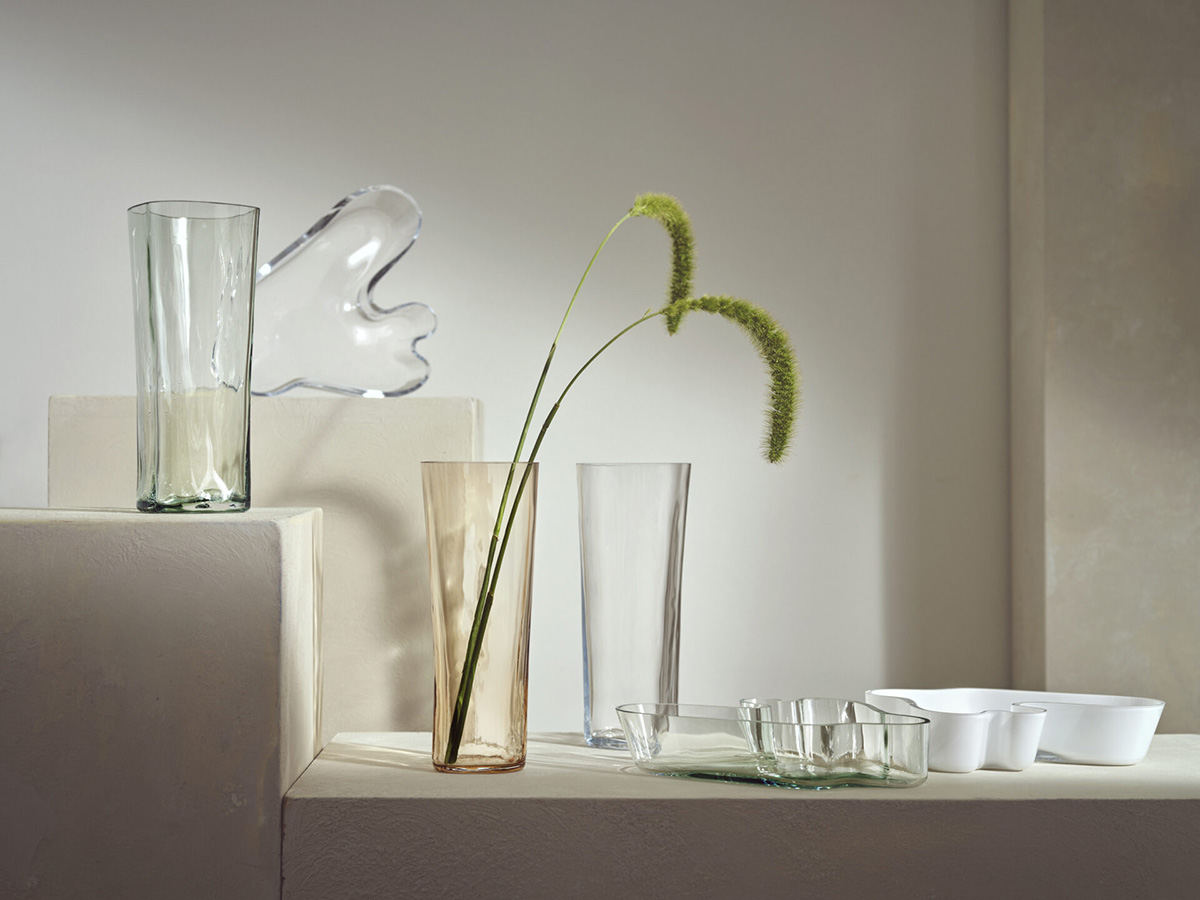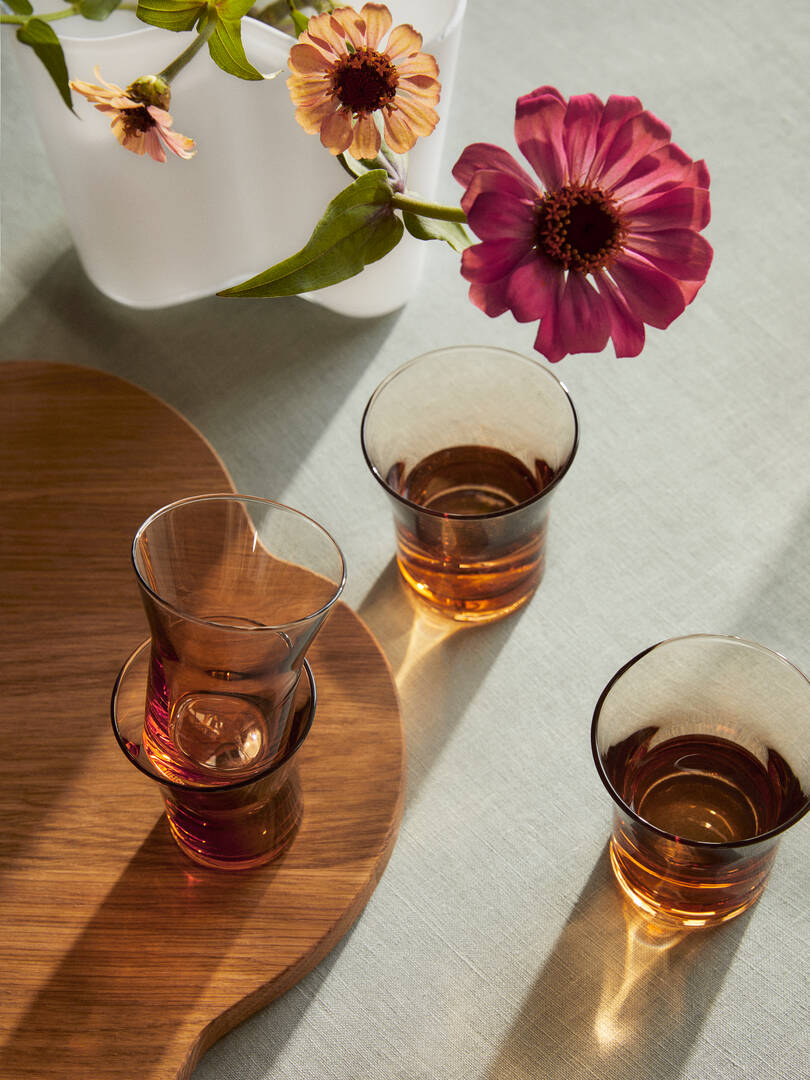 Finnish architect and designer Alvar Aalto designed his now famous collection of mouthblown glass objects for the Karhula-Iittala Glass Design Competition in 1936.
The collection consisted of a series of vases of different sizes and models, later known as the Alvar Aalto Collection.
The series of vases created an international sensation when it was presented in the 1937 Paris World Fair. Compared to the decorative objects of that time, the simple yet organic shapes were a revolutionary statement. Decades later, many of the pieces, particularly the vase, have become international icons of Finnish design. Known for its unique aesthetic, Iittala's Alvar Aalto Collection laid the foundation for timeless design.
To celebrate Aaltos's 125th birthday Iittala re-introduces some of the original shapes and colours from the collection as well as some new Aalto inspired interior products.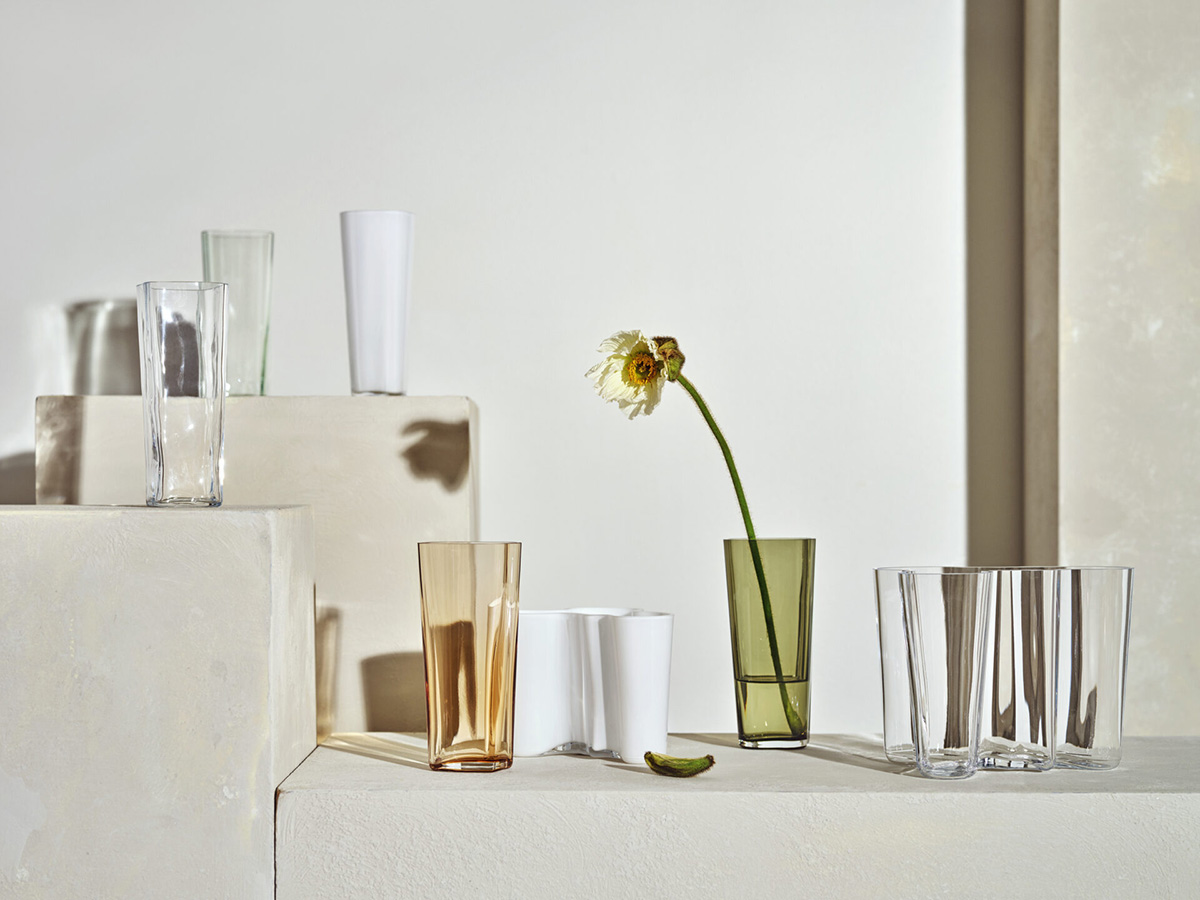 Vase and bowl shape from the archive
In 2023, Iittala introduces new additions to the Alvar Aalto Collection that were designed as part of the sketch series with which Aalto won in the design competition in 1936.
Aalto's product No 9754, a vase, is now introduced in two sizes. The selected colours honor the original collection. The large sculptural (250mm) vase is handcrafted and mouthblown with wooden molds at Iittala Glass Factory in Finland. Wooden mold gives each vase a unique 

lively feel and look. The vases are produced in a limited batch of 2023 pieces per color. The vase is perfect for single stems, branches or a tall flower arrangement. It's available in tree colours; Rio brown, clear and clear 1937.
The smaller vase (180mm) is ideal for single delicate flower, branches or for a small bouquet. It is available in five colours; clear, white, Rio brown, smoky grey and clear 1937. The vase is blown into a metal mold in Iittala Glass Factory in Finland.
The original shape of product No 9752, a bowl, is now re-introduced in higher bowl size. The Aalto bowl (262x50mm) is a timeless home decoration available in four colours; clear, white, smoky grey and clear 1937. This multifunctional bowl is perfect for displaying or storing small home items or serving fruit or chocolates. It can also be used for planting cactuses.
The mouth shape of the vases and the bowl is based on the original design and the dimensions are variations on a different scale for today's home and different kind of flower arrangements.
The smaller vase and the bowl are available in the Iittala continuous collection.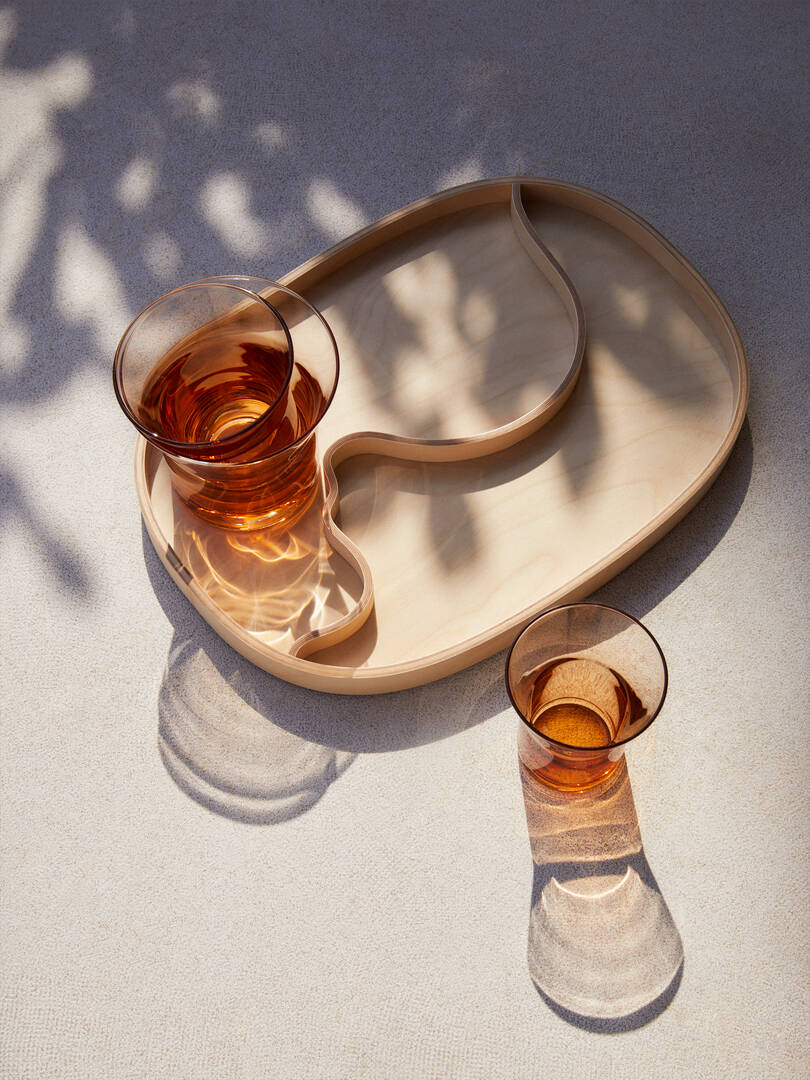 Aalto glass by Aino and Alvar Aalto
In addition to the Aalto vases and the bowl, Iittala introduces mouthblown glasses designed by Alvar and Aino Aalto.
Alvar Aalto was invited to take part in a glass design competition in 1933 by Riihimäki glassworks. Despite the fact
it was only Alvar who was invited to take part in a glass design competition by Riihimäki glassworks in 1933, his architect wife, Aino, entered the competition with him. They won second prize in the series of household glassware with the series named "244" which featured a simplified, functional design characteristic of Aino Aalto.

Now three practical sizes (12cl, 20cl, 28cl), perfect for different drinks, cocktails and beverages are introduced in a typical 1930´s glass colour, Rio brown. The Alvar and Aino glasses are available only during 2023.
Aalto inspired home accessories
Iittala also introduces new Aalto inspired home accessories including plywood trays and a notebook.
The plywood trays come in two sizes: 300x220mm and 500x365mm. Made of smooth oak plywood, they feature a divider in the shape of Aalto's iconic wave, making them safe and stable to carry. The trays are perfect for the kitchen either for organizing everyday items beautifully or carrying wine glasses out to the balcony.
Inspired by the landscapes and sketches of Alvar Aalto, the soft notebook (A5) is made of recycled, embossed paper.
---
Alvar Aalto
Alvar Aalto (1898-1976) is a recognized master of modern architecture and design. Born in Kuortane, Finland, Aalto began to make his distinct mark in design shortly after receiving his architectural degree from Helsinki Polytechnic in 1921. In 1924, Aalto married fellow architect Aino Marsio, creating a lifelong partnership that built an international design legacy. During his remarkable career, Aalto designed major public institutions including concert halls, museums, universities, libraries as well as private homes throughout the world. Aalto's furniture and houseware designs derived organically from his architectural work.
Aalto's unique aesthetic helped to define Finnish design as well as introduce it to a global audience. Aalto hallmarks include a harmonious relationship with nature, functionalism combined with beauty, excellent attention to details and an ingenious use of materials. Aalto's designs were already being exhibited internationally as early as 1937, including at The Museum of Modern Art in New York. When Aalto premiered his "Savoy Vase" at the 1930 New York World's Fair, it instantly caused a sensation with its dynamic wavy design. The legendary vase is one of the world's most famous glass objects and remains a timeless staple for Iittala.
Aino Aalto
Aino Aalto (born Aino Mandelin-Marsio) was a pioneer of Finnish design. Born in Helsinki, Finland, she received her architecture degree in 1920 from Helsinki Polytechnic. In 1924, Aino joined famed Finnish architect Alvar Aalto's firm. That step proved fateful for Aino both professionally and personally when she soon married Alvar, creating a lifelong partnership that built an international design legacy. The couple worked closely until Aino's death, collaborating on several projects that have left a significant mark on global design.

Independently from her husband, Aino is also known for her own individual contributions which helped bring modern Finnish design to the international arena. Her architectural exhibitions for Artek received the Grand Prix at the 1936 Milan Triennial. Aino also won the gold medal at the same competition for her "Aalto Glasses" which were inspired by the circles created by throwing rocks in the water. Eighty years later, the versatile, stackable "Aino Aalto" glassware continues to be a timeless classic for Iittala. Aino Aalto also designed buildings, interiors, furniture and textiles.