The Elissa Aalto centenary programme culminates this month in the release of a new book about her life and work, a touring exhibition of Aalto towns, and celebrations commemorating the 100th anniversary of the architect's birth on 22 November 2022. 
Elissa Aalto's (1922–1994) intriguing life journey took her from her childhood home of Kemi to the world's metropolitan hubs, first as an employee at Alvar Aalto's Helsinki-based office and later as the famed architect's second wife. Architect Elissa Aalto is a new book shedding light on her lesser-known personal history and creative accomplishments. Published by the Aalto Alvar Foundation and edited by Chief Curator Mia Hipeli, the book features articles by Mia Hipeli, Timo Riekko, Jonas Malmberg, Aila Svenskberg, Tommi Lindh and Jussi Rautsi.
Elissa Aalto's beaming, sunny disposition belied her diligent, determined mindset as an architect. Drawing on anecdotes shared by contemporaries and rare archive material, the book paints a rich, multidimensional portrait of an architect whose achievements have often been overshadowed by those of Aalto's first wife, the acclaimed architect Aino Aalto(1894–1949). Mia Hipeli chronicles Elissa's life story and illustrates her personality through surviving correspondence and anecdotes. Elissa Aalto, originally Elsa Mäkiniemi, was married to architect Alvar Aalto (1898–1976) from 1952 to 1976. She became a partner in his practice in 1958 and took over running the office after Aalto's death. She continued seeing his unfinished architectural projects through to completion until her own death in 1994.
The book draws on personal correspondence, drawings, photographs, documents, and other rare source material from the Alvar Aalto Foundation's archives. After combing the archives, Chief Curator Timo Riekko has assembled a selection of drawings, sketches, photographs and other samples of Elissa's work that have rarely been seen by the wider public. In his article, Senior Architect Jonas Malmberg discusses the problem of authorship and the academic challenges of finding relevant source material documenting Elissa Aalto's specific contribution to co-designed projects, many of which are well-known buildings. Journalist Aila Svenskberg in turn reflects on Elissa Aalto's relationship with design and interior architecture through a close study of Artek's 1950s printed fabrics and the authentic interiors of Villa Hauta-aho (1982), a private home that has survived intact in its original form to this day.
The book also features a conversation between Tommi Lindh, CEO of the Alvar Aalto Foundation, and Spatial Planning Counsellor Jussi Rautsi, who shed light on Elissa Aalto's important role in preserving and carrying on Aalto's legacy. Having worked under Elissa Aalto's directorship at Alvar Aalto & Co, Rautsi shares rich, vivid memories of the times when the office completed its last major projects such as the Riola Church and Parish Centre in Italy (1966-80), Essen Opera House in Germany (1959, 1983–88), the renovation of Paimio Sanatorium, and the extensive repairs of Finlandia Hall and Viipuri Library.
The book is available for sale at the Alvar Aalto Shop, Alvar Aalto Foundation museums, online at shop.alvaraalto.fi, and through various retailers.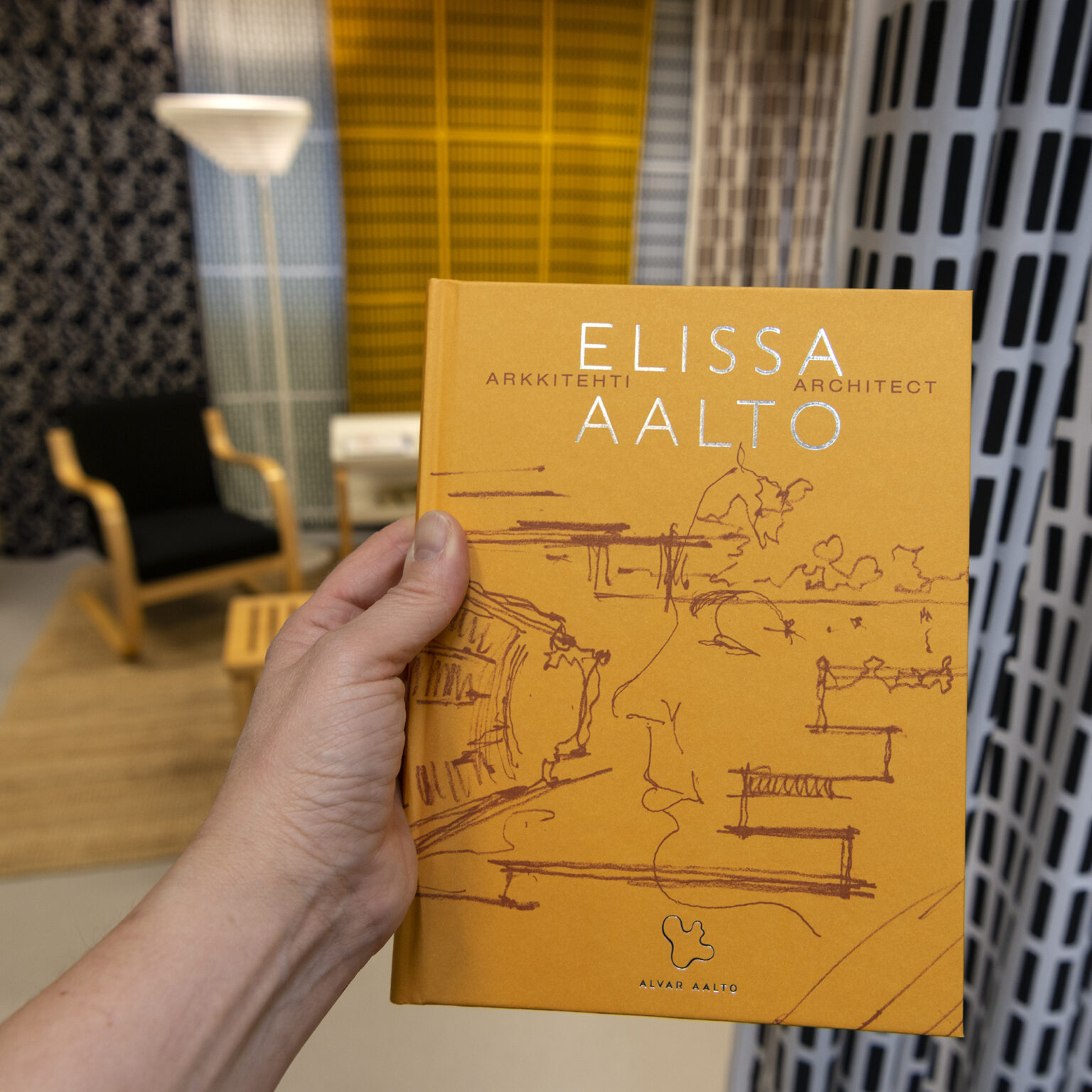 Architect Elissa Aalto
Ed. Mia Hipeli
Authors: Mia Hipeli, Timo Riekko, Jonas Malmberg, Aila Svenskberg, Tommi Lindh and Jussi Rautsi
128 pages, 4-colour, bound, Finnish–English
Translations: Gekko Design
Graphic design: Tiina Ekosaari
Publisher: Alvar Aalto Foundation
ISBN 978-952-5498-77-6
Price €30.00
Alvar-ja-Elissa-Aalto-Maison-Carrén-olohuoneessa-rakennustöiden-loppuvaiheessa-1959.
Alvar-and-Elissa-Aalto-in-Maison-Carré-1959. Photo © Alvar Aalto Foundation.

More from Alvar Aalto

Habitare Pro, which accompanies Habitare on 13–15.9.2023, consists of an exhibition in Habitare's Ahead area, an international …