Unique donation on the threshold of Aalto 125 anniversary
The Alvar Aalto Foundation has received a significant furniture donation from Stora Enso. It comprises a total of 121 free-standing furnishing elements – furniture and light fittings – that were part of the interior originally designed by the architect Alvar Aalto for the Enso-Gutzeit Headquarters office building (Kanavaranta 1, Helsinki, 1959–62).
Completed in a central position on the South Harbour in 1962, the building's architecture and interior design form an integrated whole whose main features have been well preserved. The interior incorporates models from Artek's range and unique objects – pieces of furniture and fittings individually designed for the building. Most of the donated objects belonged to the interiors of the office building's "Directors' floors" (5th and 6th), which exuded a dignified aura. The building's façades and some of the interior spaces are protected under the 2010 Act on the Protection of the Built Heritage (498/2010).
Stora Enso celebrates its 150-year history in Finland this year. "We wanted to honour our 150th anniversary in Finland by donating these items, which have a unique cultural-history value, to the Alvar Aalto Foundation. The building, its designed furniture and lights fittings form an extraordinary entity and we think the Alvar Aalto Foundation is exactly the right owner for them." says Seppo Parvi, Country Manager Finland at Stora Enso.
"We are happy to say that Stora Enso understands that Aalto's architecture and design bring together the value and meaning of a complete artwork in a unique way. The primary intent of both donor and recipient is to preserve the furniture in use in its original context," says Alvar Aalto Foundation CEO Tommi Lindh. "It will also be possible to show these objects in the exhibitions produced by the Foundation and to lend them for Finnish and international Aalto exhibitions," Lindh reveals the future of the objects. Due to the substantial total number of pieces of furniture, the donated objects are being added to the Alvar Aalto Foundation's design collection as a separate Stora Enso section.
The building was designed to be part of Helsinki's shorescape, with the white Carrara marble chosen as the surface material linking it to the row of white-façaded townhouses on the North Esplanadi.
On February 3, 2023, it will be 125 years since the birth of Alvar Aalto. The Alvar Aalto Foundation's main anniversary event is the opening of the new Aalto2 museum hub and its inaugural exhibitions in Jyväskylä in May. With this furniture donation Stora Enso becomes one of the sponsors of the Aalto exhibition. Further information about the donation:
Alvar Aalto Foundation
CEO Tommi Lindh
+358 (0)44 562 1625
tommi.lindh@alvaraalto.fi
Senior Chief Curator Katariina Pakoma
+358 (0)400 849 315
katariina.pakoma@alvaraalto.fi
More from Alvar Aalto: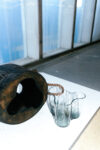 Aalto glass vase like never seen before. Iittala celebrates Alvar Aalto's 125th birthday with a …