Introducing Kartta
Kartta features glass sculptures inspired by an imagery map. The concept of the collection is based on Mustonen's paintings that were created as symmetrical inkblots meant to stir the imagination. The name Kartta, which means "map" in Finnish, is a play on the idea that the visual can open another world in our imaginations.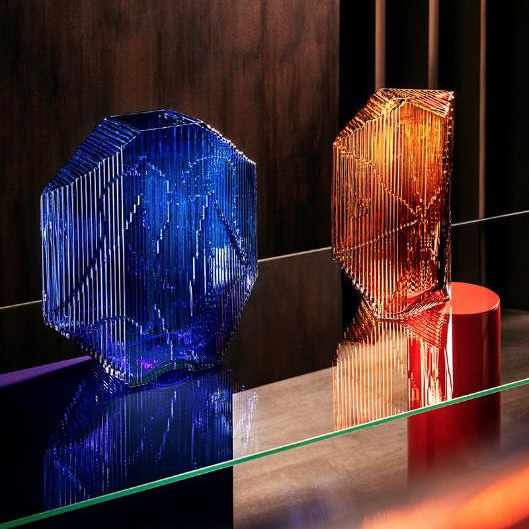 Kartta's glass art objects are made using a special mould technique created by Mustonen. Mustonen built the moulds from scratch using a digital fabrication method that resulted after a long trial and error process that include extensive research and experimenting with his paintings.
"The biggest challenge was the mould fabrication. On the other hand, the biggest highlight was seeing how the glassblowers brought out the best qualities of the moulds."
Kartta is available in two sizes (240×320 mm and 150×320 mm) and four vibrant colours: ultramarine blue, copper, rain and dark grey. Mustonen wanted to use colours that evoke senses—that simply yet powerfully stir people. The colours were also chosen for the way they compliment one another.

Each Kartta glass sculpture is engraved with the designer's name and is perfect for glass art collectors and glass art lovers.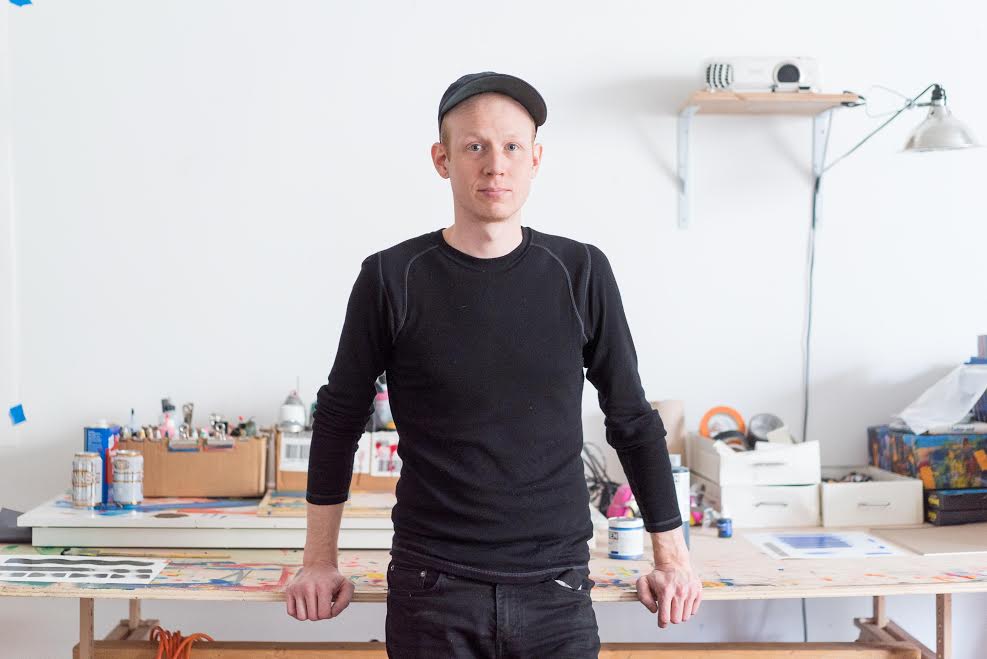 Santtu Mustonen in his studio. Photo: Liisa Jokinen
Natural Synthesis
Iittala's collaboration with Santtu Mustonen began a few years ago while the Finnish artist was living in New York.
Mustonen's artistry had always been inspired by textural materials that were translucent and optical, which lent itself perfectly to the medium of glass. Although at the time, he'd yet to actually work with glass.
Mustonen describes his experience with the master glassblowers at the Iittala Glass Factory as "powerful" because it was there that he truly got to see glass come to life. "Seeing moulds catch fire, glass shattering, it's hot and still the outcome is something subtle and magical. Glass as a material will inspire and haunt me forever."
Mustonen, who studied design at the University of Art and Design in Helsinki and at the Gerrit Rietveld Academie in the Netherlands before establishing his own practice in New York, cited the opportunity to learn from Iittala's master glassblowers as the most beautiful aspect of his collaboration with Iittala. "I can ask them any question and get straight answers immediately without judgement. And perhaps just a bit of good spirited laughter."
Mustonen's earlier partnership with Iittala resulted in the "Unnatural Synthesis" wooden sculptures and a solo exhibition of glass pieces created with Iittala's glassblowers titled "Pace." To commemorate Iittala's 140th anniversary, Mustonen created the dynamic visual pattern of the anniversary visuality and the new Kartta glass art collection.
#santtumustonen
More news from Iittala:
Teema black This summer, we bring back the elegant black colour to the Teema collection. …