The Essence glass line designed by Alfredo Häberli in 2001 is one of Iittala's most beloved collections with its balanced, elegant and modern design. In 2021, 20 years since its launch, the collection grows with serving items. The new serving items in dark grey glass and white ceramic create an elegant setting for any occasion, complementing the Essence drinkware.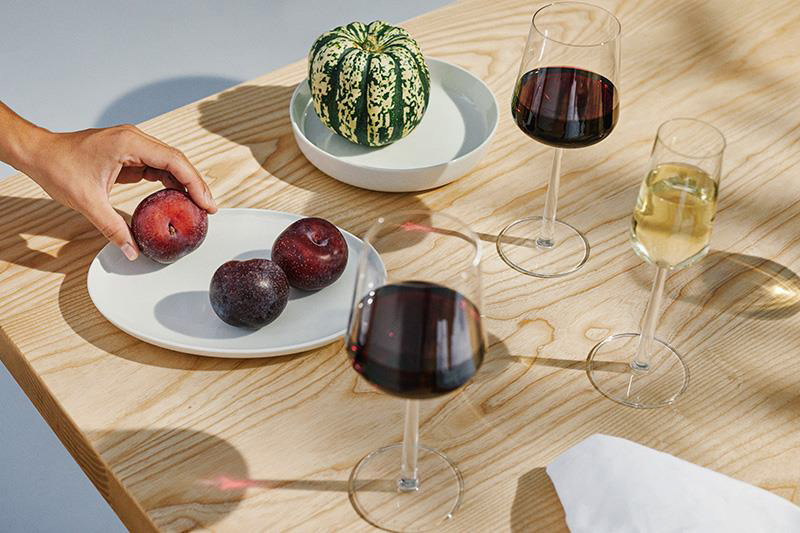 In 2001, Alfredo Häberli designed the Essence glass range for Iittala with the simple idea to create a series that had as few glasses as possible while still being able to serve a full range of wines.
"The idea for the glass range was to create a balance between tradition and modernity, between celebration and daily use, a balance with one and different uses. In a way, I tried to find the essence in-between", describes Alfredo Häberli.
In 2021, 20 years since its launch, the distinct collection is one of Iittala's bestloved lines. Now the Essence line grows with serving items, complementing the existing collection with essentials for every occasion.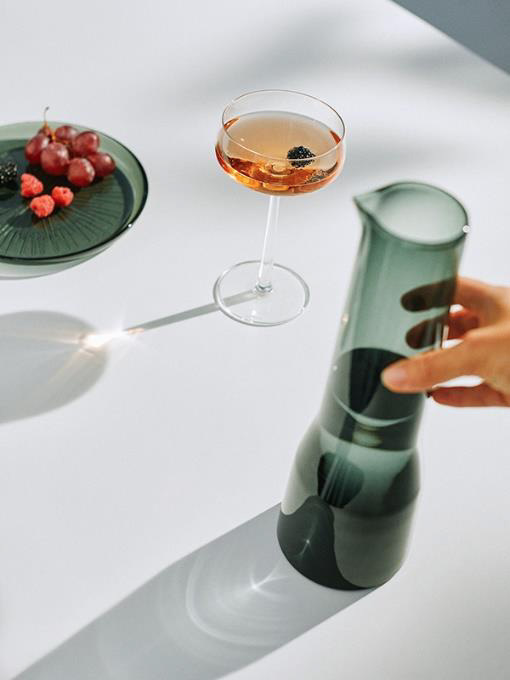 Distinct and refined design
Alfredo Häberli deconstructed the wine glass's conventional design with the Essence range: the soft curve of the glass's bowl became angular, the tapering stem was turned upside down, and the curved base was flattened. Believing that simple forms enhance the enjoyment of wine, Essence glassware became modern and minimal.
Over the course of the years the collection has been extended with essential items, such as a universal glass and tumbler, resulting in a collection of essential drinking glasses and pitchers covering all purposes.
The stems and bases of the Essence glasses are exactly the same, only the actual glass goblets differ in size while maintaining a similar silhouette, which expresses a remarkable sense of balance when the glasses are placed side by side. Essence is among the most highly acclaimed glassware in the world and has won the iF Award and Les Découvertes Award.
Serving items to complete the setting
In 2021, Iittala will add a new dimension to the collection with Essence serving items, also designed by Alfredo Häberli. The serving collection consists of a reduced range of dishes that are designed to serve more than one purpose and be freely interpreted by the user.
"The new Essence line is a modern interpretation of a tableware, which finds its place in everyday life as well as in a festive atmosphere", Häberli says.
The items' expressive design creates a distinctive and elegant mood. The items cover all the needs around the table from daily use to festive and even formal occasions.
The serving range includes four plain white ceramic items: a large round plate, a bowl, an oval plate and a small jar. The ceramic pieces are accompanied by three glass items in a refined dark grey glass colour: a mid-sized and a small bowl and a medium sized plate. The glass items have a beam pattern decoration in the base, that brings character to the otherwise clean lines of the collection. The items suit multiple purposes in a table setting and are perfect for serving delicacies like cheeses, pastries, sweets, biscuits, fruits, nuts, dips and sauces.
"The clear lines of the ceramics together with the colour and texture of the glass will result in an understated yet present assemblage of highly usable serving and dining dishes", says Häberli.
Effortless elegance
The Essence collection is one of the best known and distinguished Iittala collections around the world. Loved by both design enthusiasts as well as epicures, the collection brings effortless elegance to any occasion.
Whether it is about entertaining friends, enjoying a glass of wine over a good conversation or sitting down for a leisurely dinner with loved ones, the Essence glasses and serving items give any moment a charming and tasteful ambiance.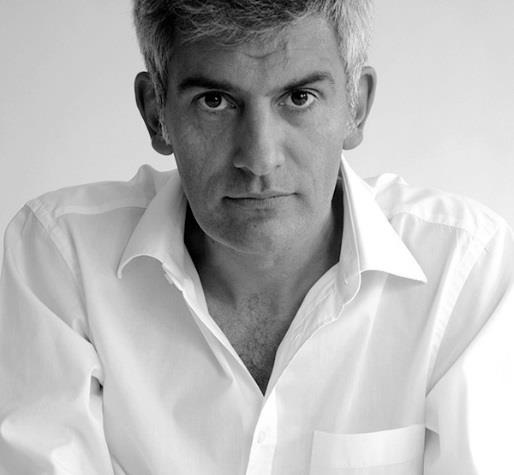 Alfredo Häberli (*1964) is a leading Swiss-Argentinean product designer, internationally known and based in Zurich, Switzerland.
Known for designs that are reduced and sometimes inventive, his work is consistent and versatile, avoiding trends and exuding a solid and enduring quality that intertwines with material, technology and time itself. Alfredo Häberli has been praised continuously for his unique ability to embrace reality while employing soul and humor, as well as for his constant strive for originality and innovation.
Throughout his celebrated career Alfredo Häberli has worked with renowned brands such as Aesop, Andreu World, Alias, BMW, Camper, Kvadrat, Luceplan, Moroso and Vitra. His work and designs
have been shown in numerous exhibitions throughout Europe and he has received many awards during his extensive creation time.
In 2014, Alfredo Häberli received the prestigious Swiss Grand Prix of Design from the Swiss Federal Office of Culture. Alfredo Häberli has designed a range of home products for Iittala with his Essence, Origo and Senta series.
Alfredo Häberli and Iittala:
Memories of the Future exhibition
in Design Lab Gallery
in Iittala & Arabia Design Centre, Helsinki.
Opening in March 2021.