Iittala re-introduces the nostalgic Tundra glassware by Oiva Toikka to the continuous Iittala collection. Designed in 1970, the long-awaited clear glassware is back in production in Iittala Glass Factory in Finland with four new items – two glasses, a plate and a bowl. Inspired by the Northern hemisphere, Tundra features a delicate pattern derived from the arctic nature.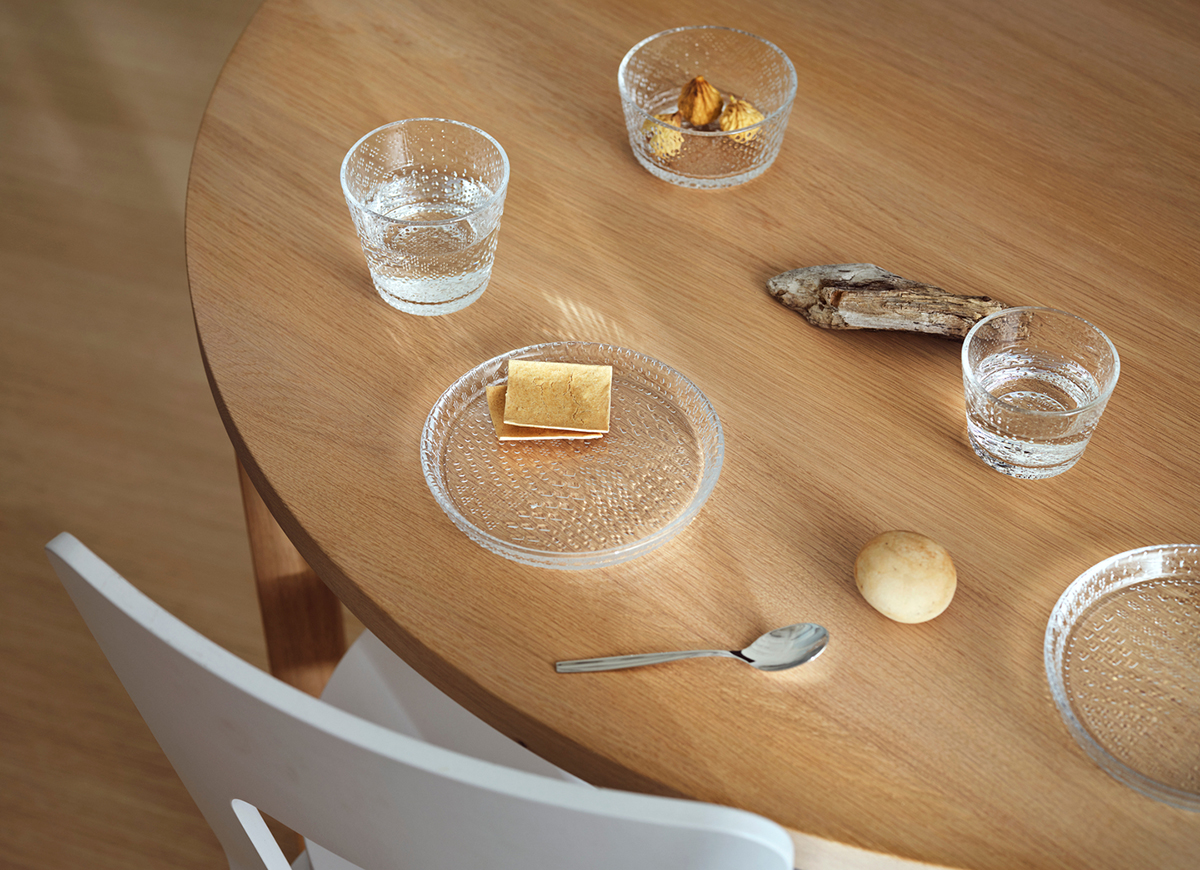 Over the past 140-year, Iittala has accumulated an extensive archive of designs representing the history, development and innovations of Finnish glass design. Tundra glass series by Oiva Toikka was produced at the Nuutajärvi glassworks for only a short time, during 1970-71. However, since then, Tundra has become highly sought after in the second hand marketplace.
Now Iittala brings the Tundra glassware back into production and to the continuous Iittala collection.
Inspired by the Northern Hemisphere
Oiva Toikka is one of the legendary designers behind many Iittala collections, such as Kastehelmi, Frutta and the iconic Birds by Toikka. His designs are creative, joyful, and celebrate personal freedom and uniqueness.
Toikka was greatly inspired by nature and its creatures and Tundra is no exception.
This design was one of Toikka's personal favorites, and he always wanted it back in production.
The years he spent in Lapland early in his career influenced Toikka's designs significantly. Tundra's pattern is inspired by the tundra (the vast, flat, treeless Arctic region of Europe, Asia and North America where the subsoil is in a permanently frozen state) found in Lapland and other parts of the Northern Hemisphere.
A nostalgic and tactile design with a delicate structure
Within Tundra's clear, delicate pattern, there are up to twelve small detailed patterns that draw inspiration from the mosses, shrubs, sedges and lichens that cover Lapland.
Based on the original design which has been updated for today's needs, the relaunched glass series consists of two tumblers, a plate and a bowl.
Oiva Toikka
Oiva Toikka (1931-2019) is one of the great personas of Finnish glass design. His imaginative, rich and bold glass art is a departure from mainstream Nordic design. Toikka's individual style is also evident in the utility objects he creates as they often deviate from the traditional clean-lined puritanism of Finnish design aesthetics. In addition to glass, his artistic activities cover staging, fashion design and plastic interior design elements.
Toikka has gained a solid international reputation throughout his prolific career, which dates back to the 1950s, having worked with well-known designers and artists both in Finland and abroad. He has won several prestigious awards including the Kaj Franck Design Prize and the Prince Eugen Medal. In 1993, Toikka was given the honorary title of Professor of the Arts by the state of Finland. Birds by Toikka series combines the artist's limitless imagination with his expertise in the characteristics of glass. The unique and colorful birds, which are all handmade, have become the passion of collector's worldwide.