Fritz Hansen is proud to introduce the PK15 chair by Poul Kjærholm, the last chair created by the revered Danish architect and furniture designer and a sculptural expression in wood. A masterpiece of craftsmanship, the PK15 was designed in 1979, and is an exemplar of the clarity and rigour of Kjærholm's furniture pieces and his constant experimentation with materials and techniques. The chair represents a departure from his primary material steel, combining two natural elements, steam bent ash and wicker, with which Kjærholm had a long fascination.
For Fritz Hansen the PK15 is a tour de force, a highly complex piece of woodworking craftsmanship that results in a radically simple expression of two traditional materials. The result of an exhaustive development process that pushes steam bending to the limits, the chair is both linear and curved with one piece of solid wood forming the backrest and then turning at right angles to become the straight front legs. Another single piece of wood forms the inner arch of the backrest and back legs. The seat expresses the geometry of the structure, elliptical but opening wide to the front. The French webbing of the wicker adds a regular linear element and its open weave creates a lightness through transparency that is a central tenet of many of Kjærholm's designs.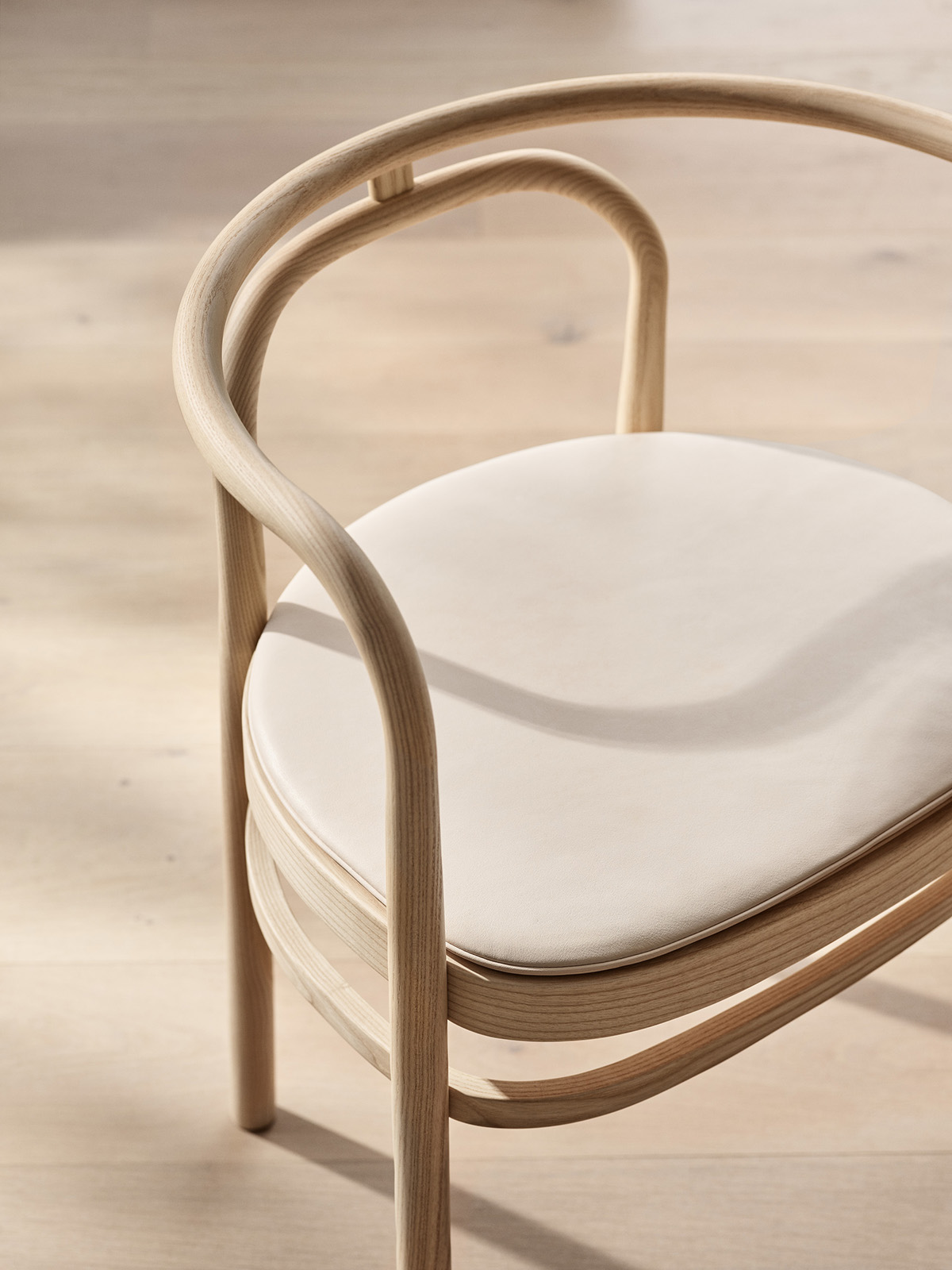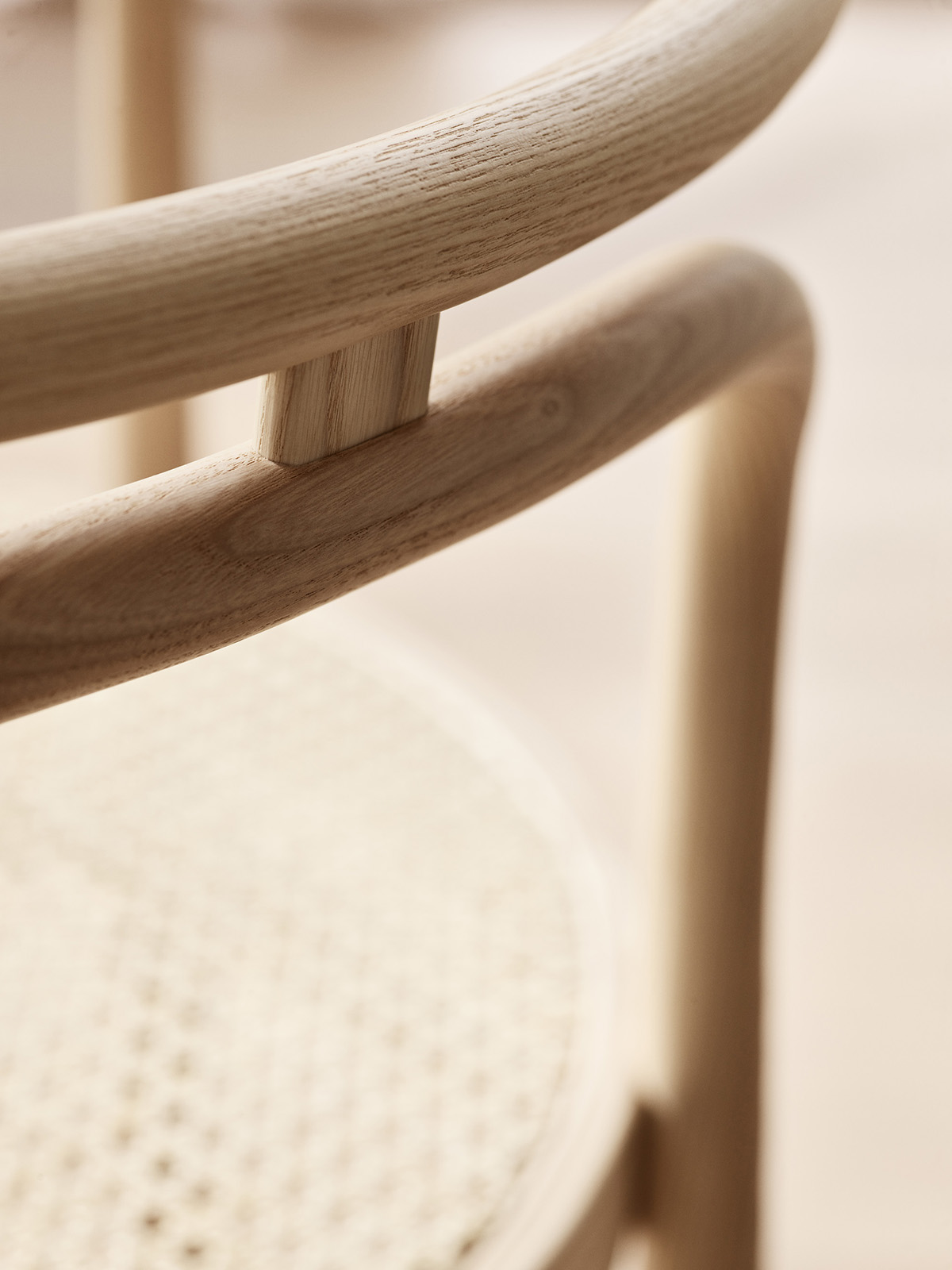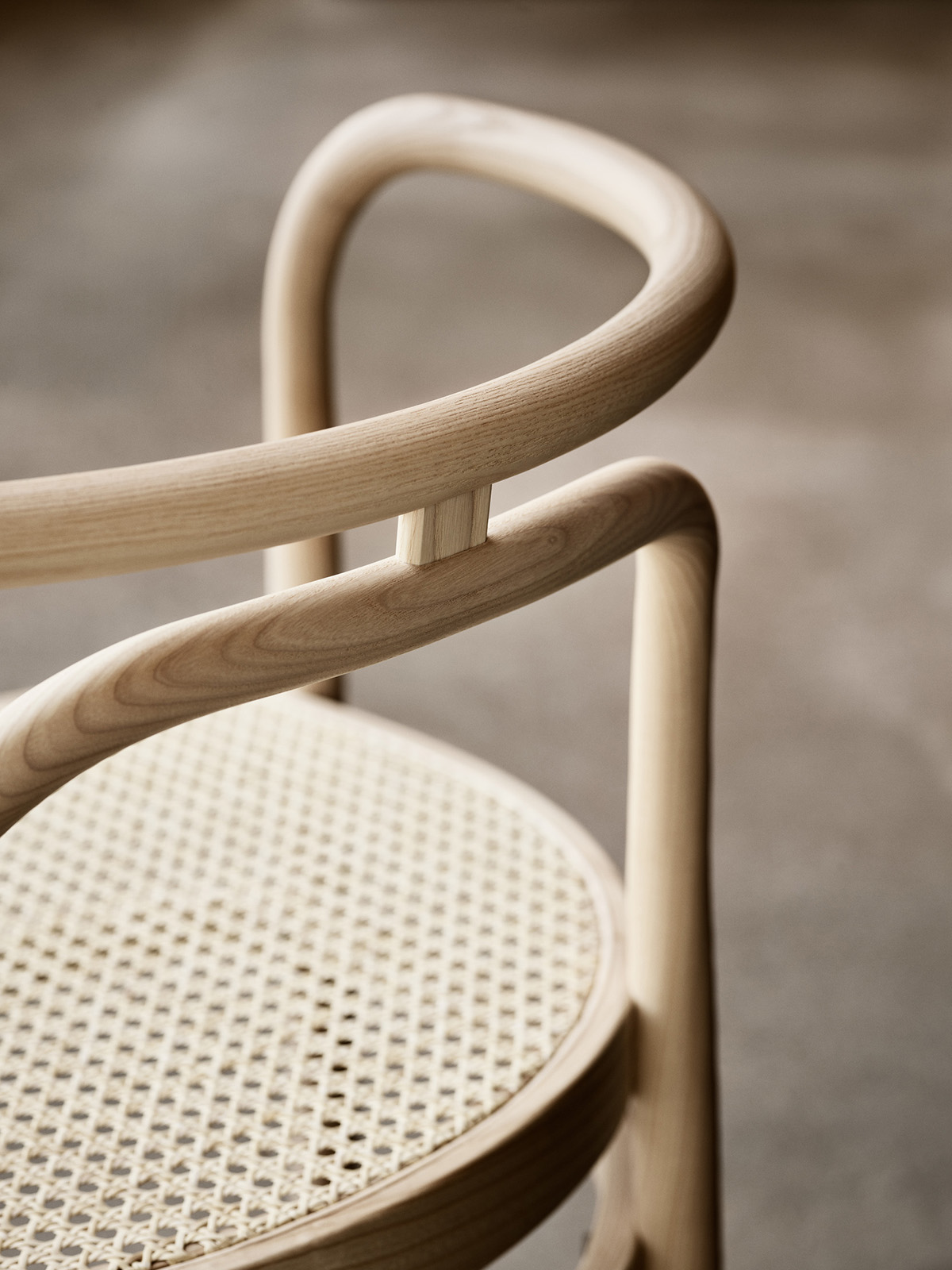 The PK15 echoes the PK12 chair, designed by Kjærholm in 1964 and considered one of the most articulated of his furniture pieces. Earlier in the 1960s, Kjærholm had experimented with steam bent wood at Fritz Hansen, referencing a Thonet chair, but could not achieve his desired refined outcome. Instead, he developed the PK12 in steel and braided leather, making a few to order with a cane seat and wrapped backrest. In the 1970s he revived his interest in wood as a primary material. After finding a manufacturer in Sweden with the requisite skills, he drew the PK15 re-interpreting the PK12 into steam bent wood. Only a few were made in 1980, the year he died, and when the PK15 was later put into production from 1990 to 2004 it was using a different woodworking technique.
"The really interesting part is that it looks so easy to make, but it's actually really, really difficult in production and construction. When you work with steam bending, you are working with solid wood, which is, in many ways, still alive, so it has its own tendencies," says Marie-Louise Høstbo, Creative Design Director, Fritz Hansen. "With the PK15, the expression is as pure and pared-back as it gets, two single pieces of wood with curves for the back and straight legs, so you are pushing the boundaries of what is possible with that technique."
For the 151-year-old Fritz Hansen the PK15 marks a return to its early roots, when it explored steam bending, won the license to manufacture Thonet-Mundus in the Nordics, and then developed a Danish chair with a Scandinavian design language. It also upholds Kjærholm's spirit of experimentation in a contemporary context, says Høstbo.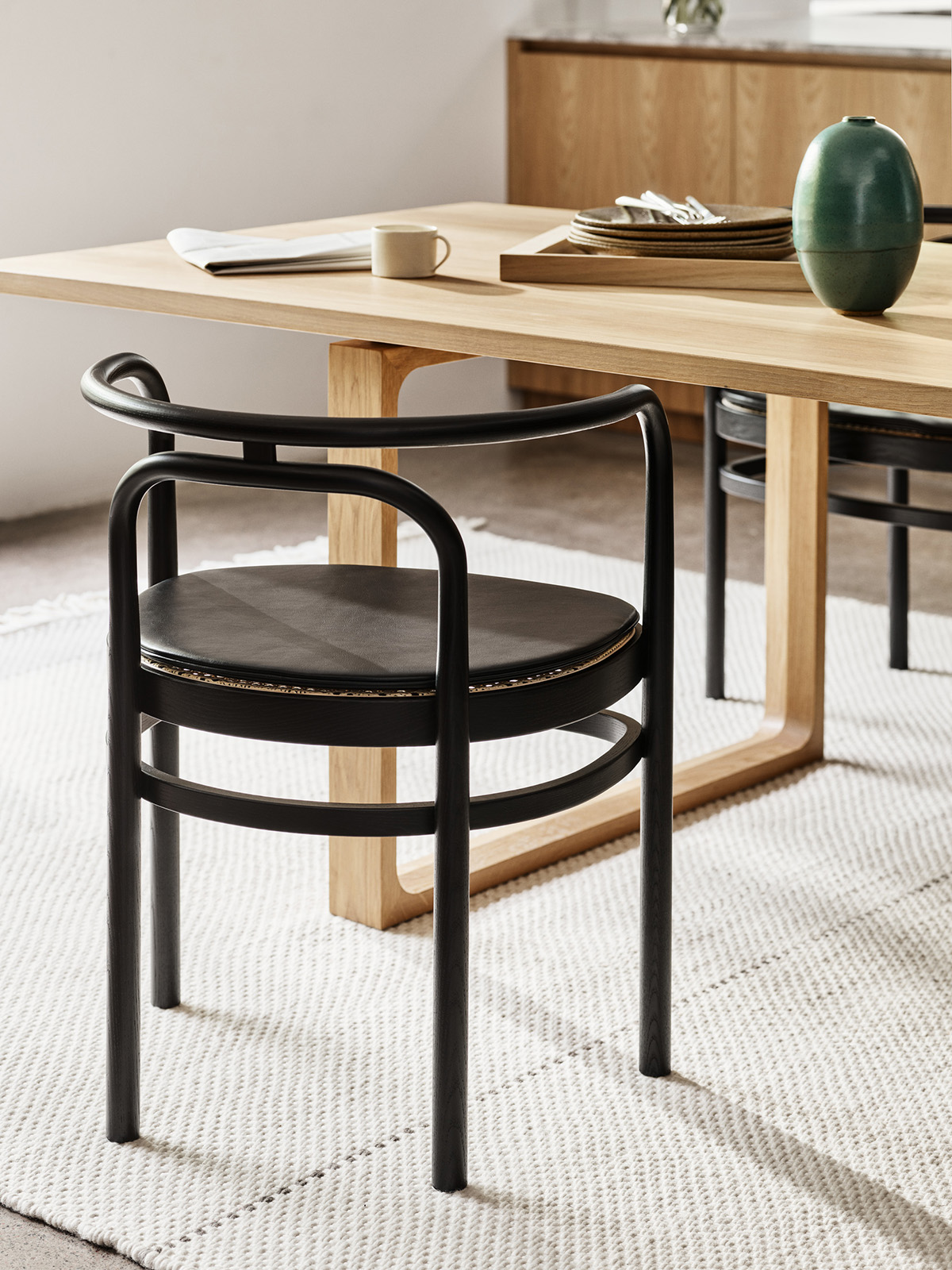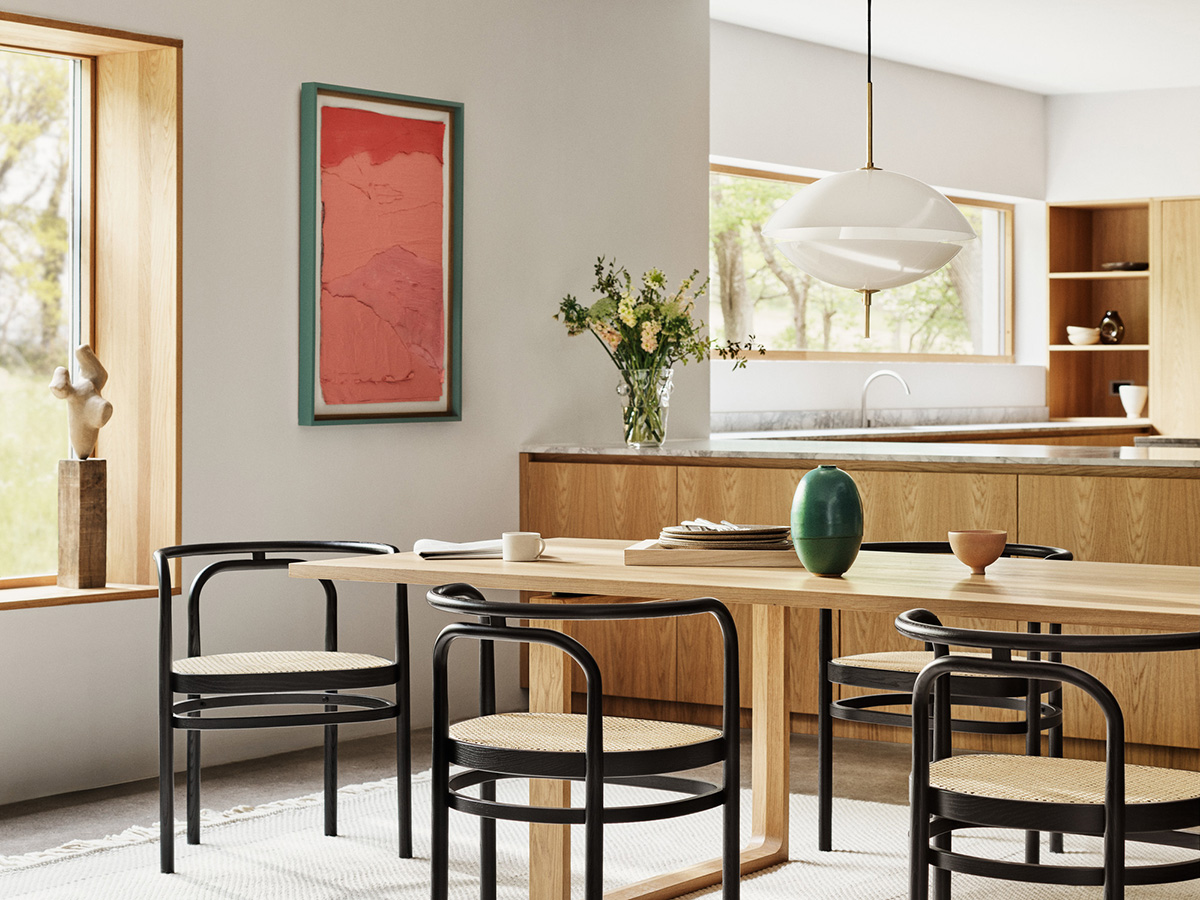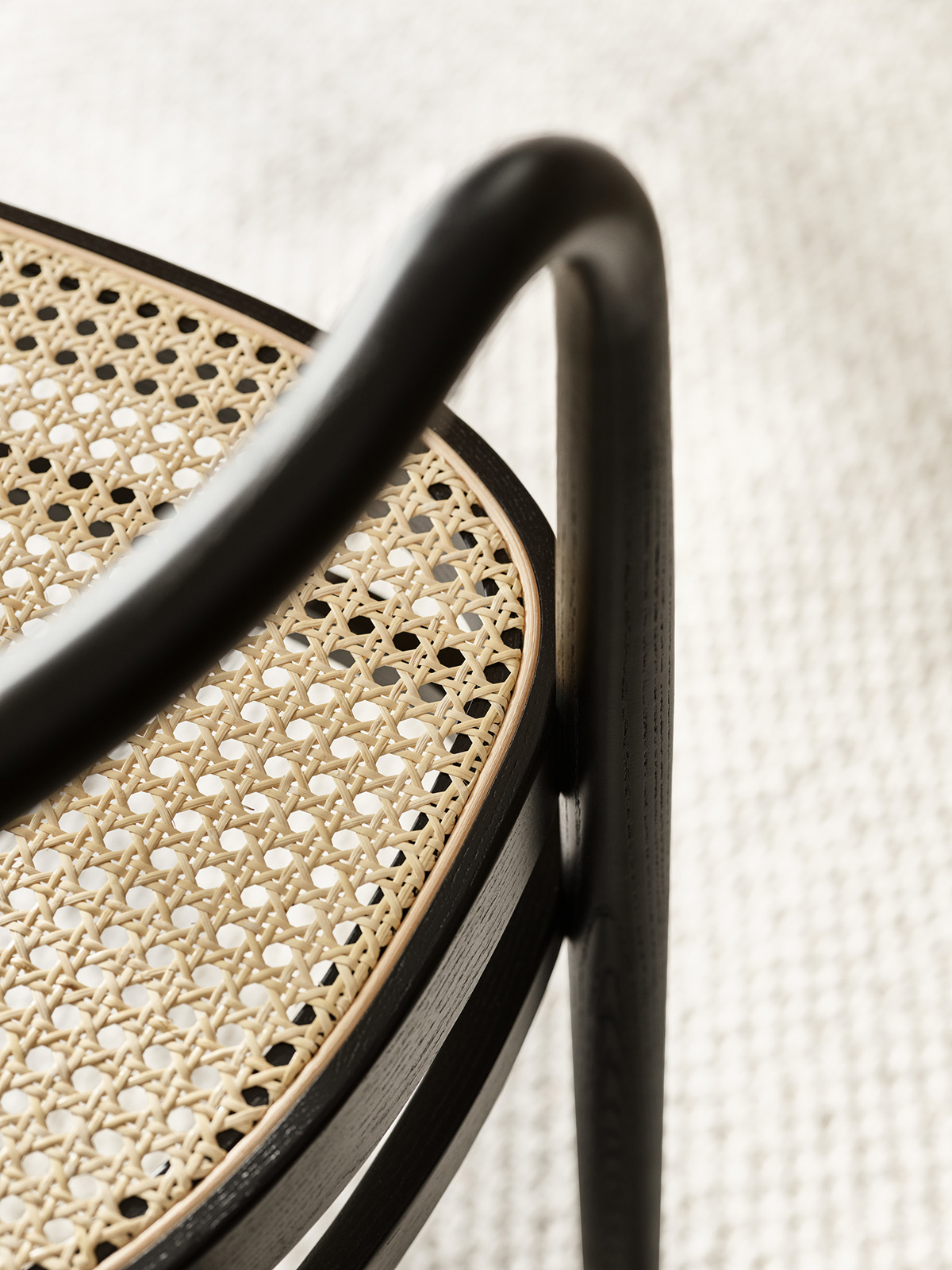 "Along with the PK0 A which we launched last year, the PK15 says a lot about how visionary Kjærholm was. He designed these pieces 45 and 70 years ago, at the beginning and the end of his career, that we are only now able to produce. So, this is really important marker for Fritz Hansen, both the challenge and the commitment to perfect a technique that he always sought."
On display from June, the PK15 is available in natural lacquered ash or black coloured ash with a natural wicker seat. Like the very first PK12 chairs, the PK15 has an optional flat leather cushion.
The PK15 joins The Kjærholm Collection, which has been produced and distributed worldwide by Fritz Hansen, in close collaboration with his family, since 1982. Son Thomas says it is critical that any new release such as the PK15 has to respect his father's legacy and, put simply, be extraordinary.
"With my father everything had to be perfect. My father was not that productive, if you want to say it like that, because the process of creation and development between the workshop and the factory was so exhaustive and uncompromising," says Thomas Kjærholm.
Besides the legacy, for Fritz Hansen The Kjærholm Collection is an important source of inspiration for its new generation of Danish and international designers.
"Poul Kjærholm is hugely significant in terms of Danish design and the heritage aspect of it, but his body of work is also a starting point in many dialogues with the architects and designers we are working with. It is where they go for inspiration and they are still amazed," says Høstbo.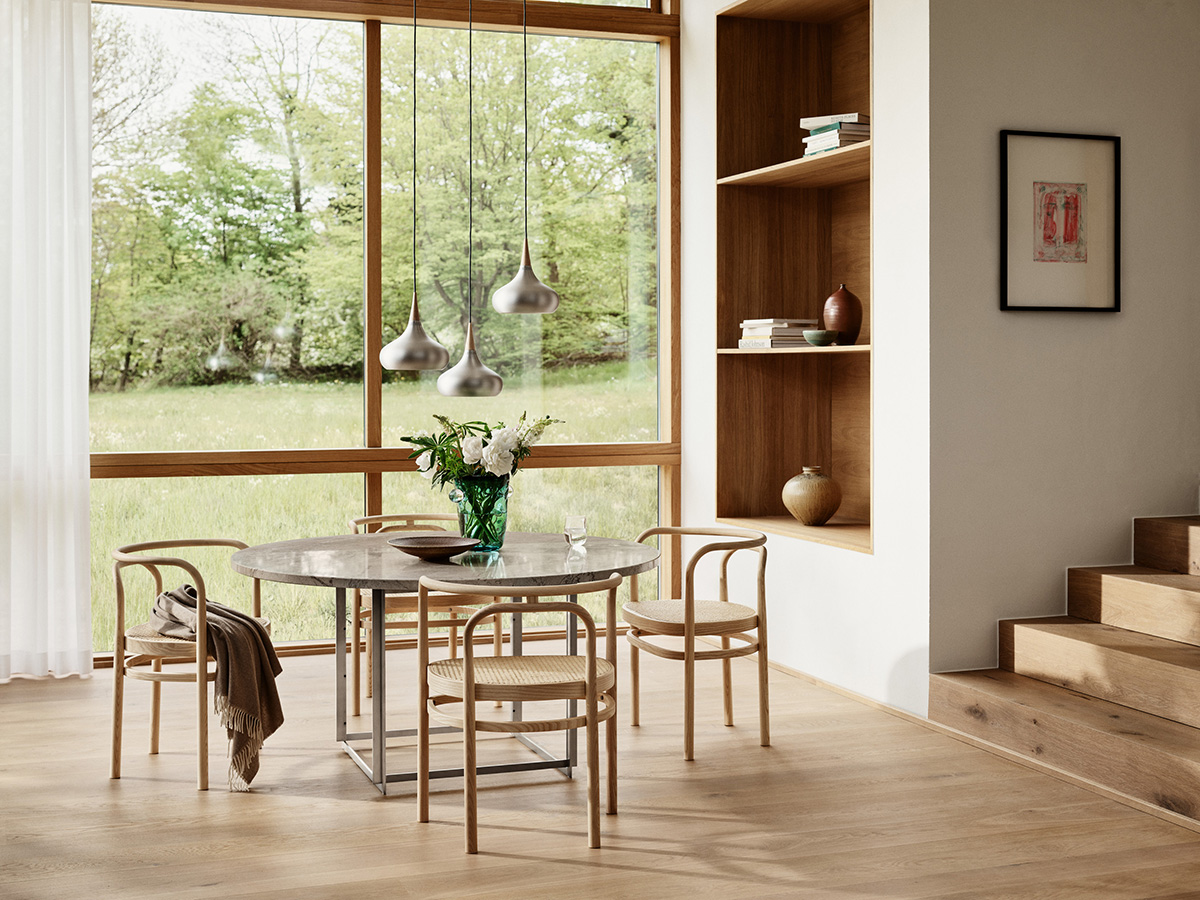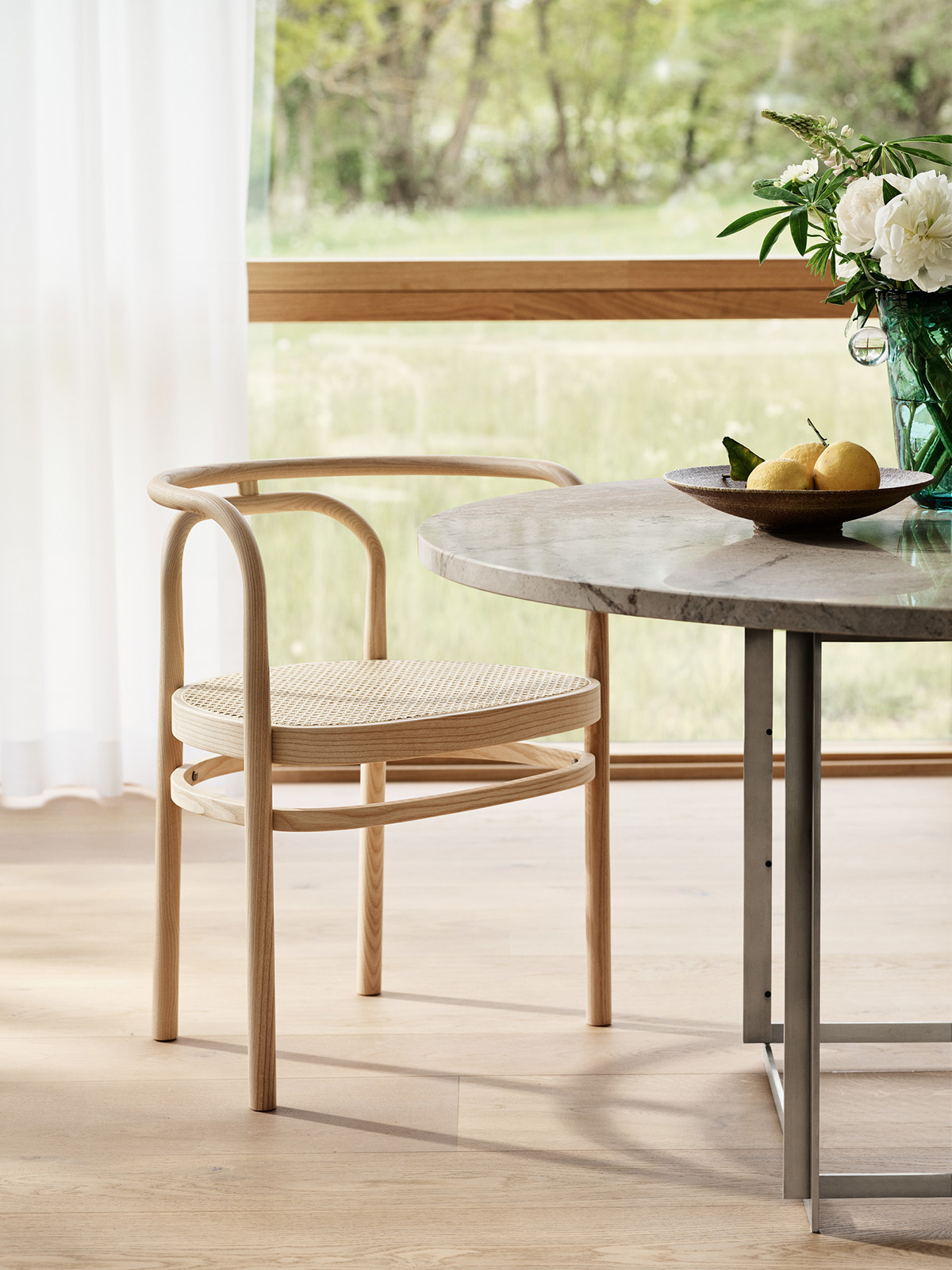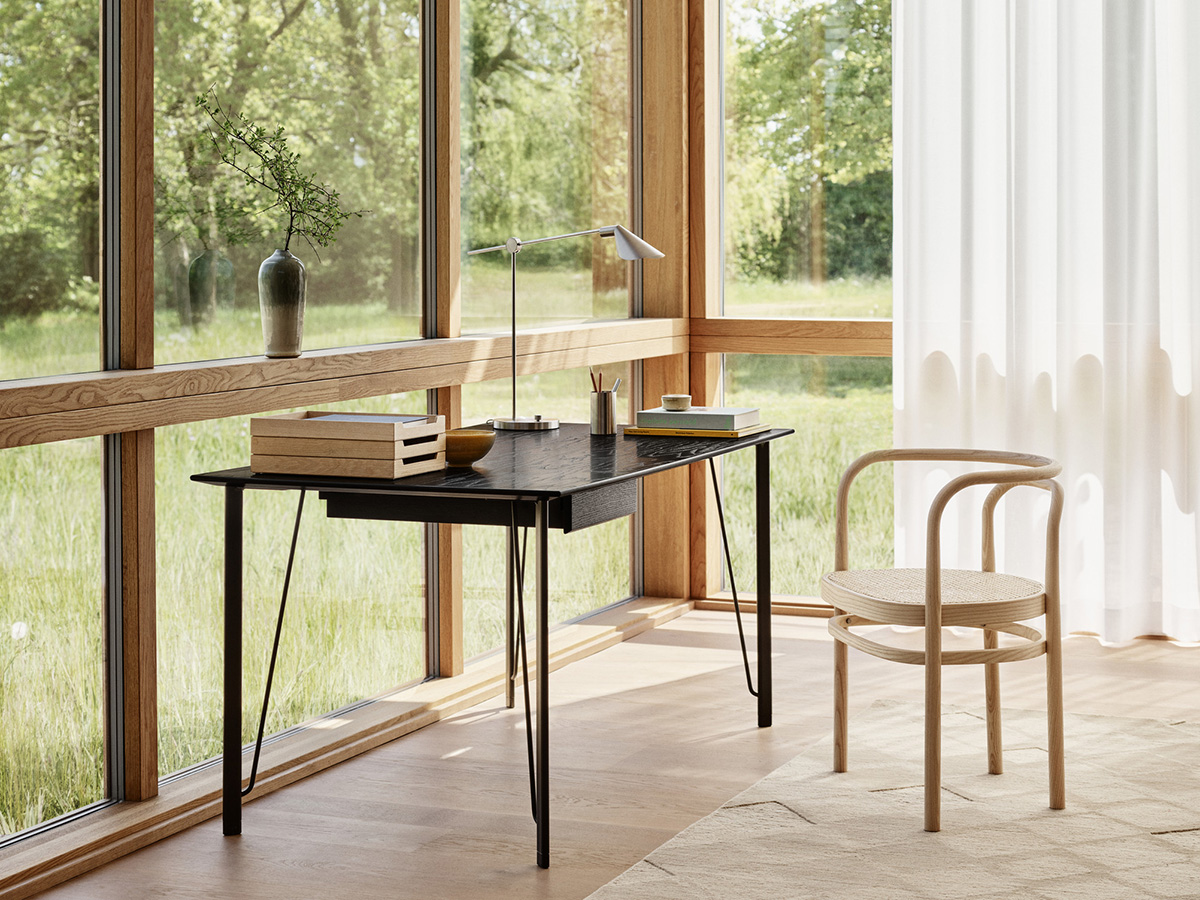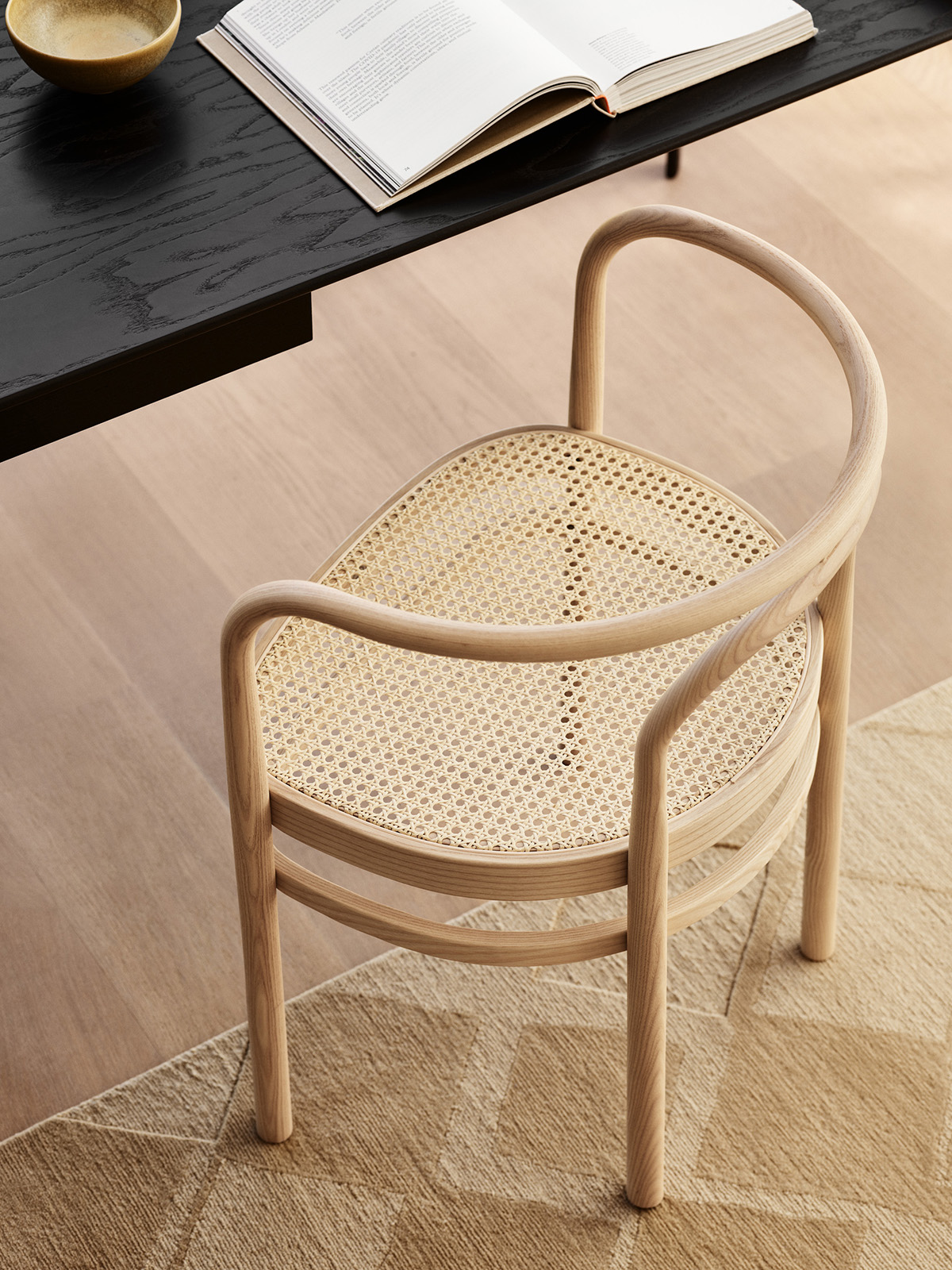 More design by Poul Kjaerholm:

Fritz Hansen is proud to introduce the PK15 chair by Poul Kjærholm, the last chair …