How do you introduce something that needs no introduction?To commemorate Fritz Hansen's first 150 years, we created the Anniversary Collection, which features the Egg™, the Swan™, Series 7™, Lily™ and PK61™ – furniture revered by design enthu-siasts all over the world.
Since the foundation in 1872 Fritz Hansen has collaborated with renowned architects, designers, and companies. Collaborations that have brought iconic designs to life. Designed individually or for specific projects such as the SAS Royal Hotel in Copenha-gen, Denmark.
An embodiment of these collaborations and an expression of contemporary curating, the Anniversary Collection demon-strates the ongoing importance and relevance of these pieces in the Fritz Hansen portfolio. This cohesive collection showcases Fritz Hansen's heritage using new and innovative materials.
"The Anniversary Collection gathers designs that have left a mark on history and that continue to leave a mark on their sur-roundings. They are brought to life by visionaries with a shared belief in Nordic simplicity that continues to bring designs to life. Each piece is proof that great design comes from great collabo-rations." Marie‑Louise Høstbo, Head of Design, Fritz Hansen.
Iconic furniture that makes spaces beautiful just by their presence
Released in specially curated and never-before-seen editions, the iconic designs combine the absolute best from our history using exclusive new materials. To be fair, some of the materials are newer than others.
The PK61™ table by Poul Kjærholm is made with Norwegian marble, millions of years old, while the chairs by Arne Jacobsen come in new and exclusive Vanir wool and Grace leather.
Vanir, conceived by internationally acclaimed designer Raf Simons for Kvadrat, is a woollen fabric inspired by historical military jackets, yet supremely soft. The beautiful Vanir pattern is the result of using different colours in warp and weft. It premieres on the Anniversary Collection pieces and is a Fritz Hansen exclusive for 2022. The upholstery made of Grace leather comes in an all-new colour, dark brown, with a distinctive chestnut hue. It goes without saying that the tactile experience is out of the ordinary.
As you can imagine, we are beyond proud to introduce the Anniversary Collection. After all, it has been 150 years in the making and combines the absolute best of design with everything we have learned about craft and beauty throughout our history.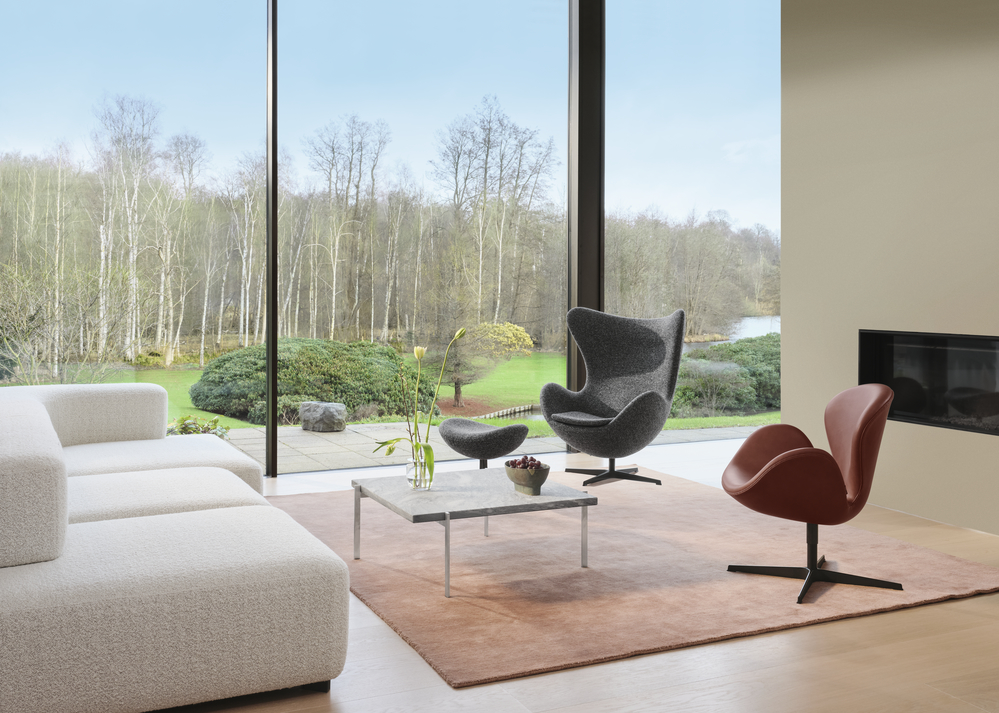 The Anniversary Collection Egg™ and Swan™ by Arne Jacobsen
Designed in 1958 for the lobby and lounge areas of the SAS Royal Hotel in Copenhagen, Denmark, this design icon is being released in two never‑before‑seen editions featuring a durable PVD‑coated base in a striking premium black finish. Choose exclusive leather upholstery with its distinctive chestnut colour, or the SwanTM and the EggTM upholstered in the all‑new Vanir fabric designed by Raf Simons for Kvadrat, a Fritz Hansen exclusive in 2022.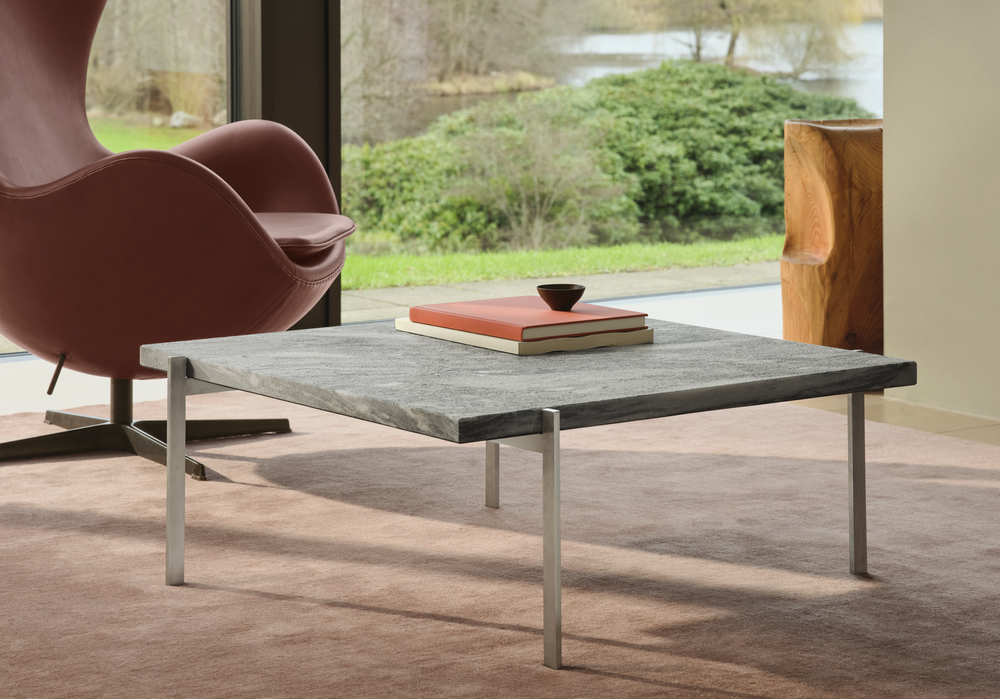 The Anniversary Collection PK61™ by Poul Kjærholm
Designed in 1956, PK61™ is one Poul Kjærholm's most iconic designs. The anniversary edition of this minimalistic table fea-tures a new marble sourced in Norway near the Arctic Circle that sparkles like diamonds and glitters like gold, the table elevating any room. The new marble is also found in landmarks such as the Danish National Bank and Design Museum Danmark.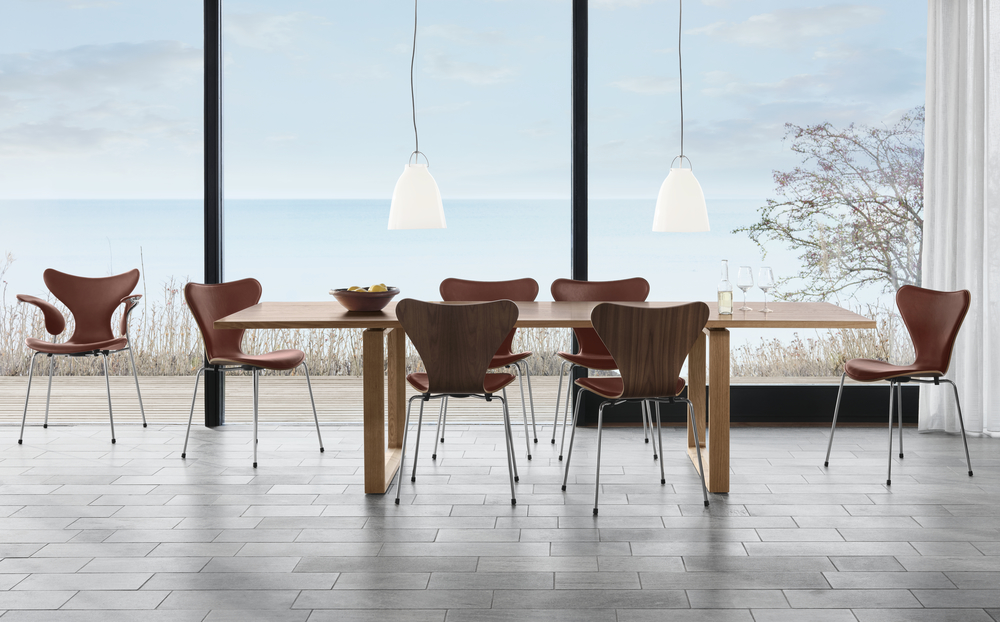 The Anniversary Collection Series 7™ and Lily™ by Arne Jacobsen
Designed in 1955 and 1968, respectively, the Series 7™ and the Lily™ have earned their place in the Anniversary Collection. The Series 7™ in a front‑upholstered variant in new, exclusive Grace leather with a distinctive chestnut colour and in a front‑uphol-stered variant with the all‑new Vanir textile designed by Raf Si-mons for Kvadrat. The iconic Lily™ is introduced in a full‑uphol-stered variant with the same new, exclusive chestnut coloured Grace leather.
The Anniversary collection will be in stores from June 2022.