We met up with our designer Anya Sebton in her studio in Stockholm for a chat.
"Design is a team effort."
Portrait of designer Anya Sebton
You've been working with Lammhults for over twenty years. During this time, you've designed a variety of products that have attracted a lot of attention and become very popular. Each of them with something ingenious about it, yet all of them have clearly expressed the unique identity of Lammhults furniture. How did your collaboration with Lammhults begin?
When I was doing my thesis project at Beckmans in Stockholm, I needed help building prototypes. I turned to Lammhults because I really liked what Börge Lindau and Bo Lindekrantz had done there. I remember how fascinated I was by the factory. They could build almost anything! And what they didn't make themselves was manufactured by suppliers close by. Later on, when I wanted to make changes to the prototypes after having been nominated for the Young Nordic Design award, Marcus Larsson had just become the new CEO at Lammhults, and he offered me a contract. What emerged from that was a modular furniture piece called Multiplicity. Arlanda Airport ended up placing a large order. At the time, I didn't realise how unusual it was to get contracted for your thesis project and go straight into production. In any event, when Lammhults won that tender from Arlanda, I went straight to Marcus Larsson to negotiate my royalty. (laughs)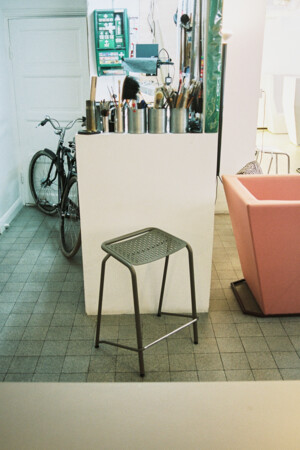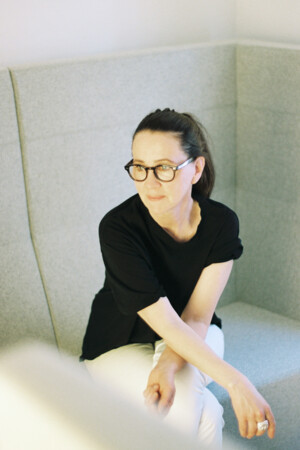 How would you describe your role as a designer?
I see myself as an investigative designer who solves puzzles. I don't see any value in just producing for the sake of it. I want my furniture to add something, which explains why I've made far fewer products than many designers who have been at it as long as I have. I always want my products to fill a gap for the client and solve a problem for the user. Like Add, for example, which is designed for open spaces and quick meetings. By tilting its seat, I was able to create a stool that supports the back by interacting with the structure of the occupant's body.
What inspires you?
Problems inspire me. I'm extremely solution-oriented — even outside the studio in everyday situations. I'm also inspired by conversations I have with people who use my furniture, as well as by my collaboration with the people at Lammhults, and their expertise. But also by materials, techniques, and by shapes in nature. Nature has always meant a lot to me. It gives me time to reflect, to open my lungs and breathe. In Duvbo outside Stockholm, where I live, there's a small, pristine forest called Tystnaden, or The Silence in English. It's important to me. I'm a tree-hugger. I don't like it when people in our area cut down trees on their properties. It takes so long for a tree to grow to maturity.
What do collaborations mean to you in your practice as a designer?
I'm not a designer who just wants to do my thing. For me, design is a collaboration. A team effort. Working together with the people at Lammhults means a lot to me. For the sake of the design process, it's important to know the people who are working on your products. Everyone participates and contributes. What are the company's needs? What can I contribute as a designer? How can we best use the know-how, talents and experience of the company's people? Everyone is important to the process. Their craftmanship and tacit knowledge are crucial in my practice. The people in upholstery can work wonders. When we were working on Area, one of the managers contacted me and said: "It looks like a coffin!" I was completely horrified. But later, after the upholsterers were finished, it looked just fantastic. And the magnetic linking system, which we got a world patent for and which makes Area so easy to create new shapes with, is another result of teamwork. Tommy in the mechanical workshop is brilliant. He's retired now, but still comes in sometimes. Over the years, he's solved plenty of puzzles for me. He'll stand there and look the thing over and mutter for a while, and then come back later knowing precisely how to sort it out. The pleasure of work and the joy of creating a product together are really important to its final aesthetic expression. By the way, I'm also really delighted to have worked with HC (legendary graphic designer Hans-Christer Ericson, whose poster art and playful catalogues have helped shape Lammhult's personality).
You have said that good design is timeless and that this is something you strive for as a designer. Can you sum up what timeless design means?
It's a piece of furniture that prevails in its purity of form. I want furniture to stand the test of time and not compete with the space in which it finds itself. To accomplish this, I often go back and question. Experience has also taught me to take a longer view of the furniture I'm working on. But a furniture piece must never be timeless in the sense of anonymous. It has to have a signature — although, there's no need for that to be shouted. In the furniture I've designed for Lammhults, I've often done something with the piece's frame.
There's the sense that your design is imbued with great respect for space, as well as nature — which is a space for us all. Tell us a little about your studio — your workspace.
We have a creative studio that is family run. The place is a former dairy business, and at one time it was an upholstery workshop. We took over the space with everything it contained. We've kept some of it, because it's fun to see what the space has been used for over time. It's a playful place. Not very tidy, so inspiration can flow. It's also a contradictory mix of me and my husband, Frederic, who works in graphic design and communications. He loves gadgets and flea markets and I'm a minimalist. The studio is located at Hornstull, right near Långholmen, in Stockholm. The surroundings there are very important, as I need to be near nature and move around in it.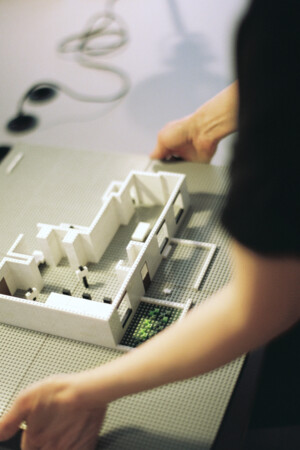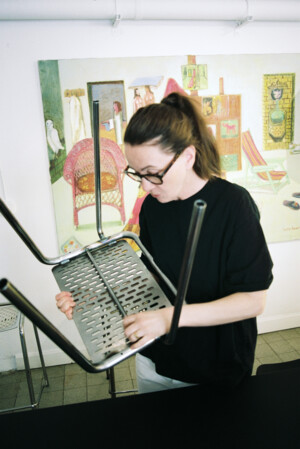 You talk a lot about problem solving. How did you become so solution-oriented?
My dad was an artist and not particularly practical. Mom was a feminist and worked an awful lot. They divorced early on. Both of them gave my sister and me plenty of freedom. They had a lot faith in us to get stuff done. So, we had each other, my sister and I. We were like two Pippi Longstockings. Us against the world. We were doers. Exploratory and fearless. We built rafts and huts and fixed things. Once we repainted the new TV blue and yellow, because we thought it was so ugly. Then, Grandma came home and started to cry when she saw it. But Mom said she thought it was nicer like that. She was cool and encouraged us in our exploration. There was no such thing as "you can't do that".
Do you have any preferences when it comes to materials?
I'm really looking forward to working with fossil-free steel!
Has your furniture ever appeared in any unexpected settings?
Several of my furniture pieces have been featured in Hollywood movies. Two pieces appeared in two different James Bond films. In both cases, they ended up being blown up. (laughs) In the movie Spectre, the Area easy chair occurs in the bar that the villains use as their headquarters.
What would be your advice to aspiring furniture designers?
Stay curious. Never stop questioning!
Photo: Fredrik Andersson
Journalist: Jens Soneryd 



Lammhults Möbel AB, Box 26, SE-360 30 Lammhult
Phone: +46 472 26 95 00, Fax +46 472 26 05 70
e-mail: info@lammhults.se
---
More news from Lammhults:

We are honored to announce that Bau modular seating has received two prestigious awards at …