Celebrating the 100th anniversary of Nanna Ditzel's birth, the Danish design brand Fredericia pays tribute to their former main designer – a pioneering woman considered to be one of the greatest Danish designers of the 20th century – with a limited edition launch and new colours added to Ditzel's most popular chair through time.
Breaking the rules asking for imagination, motion and vision
Fondly known as the "grande dame of Danish Design," Nanna Ditzel (1923-2005) was one of the most creative, influential, and versatile Danish designers whose style never stopped evolving throughout her more than 60-year career.
Ditzel was a woman who challenged the comme il faut of design and succeeded in leaving an enduring dash of poetic lightness and artistic innovation in the Danish design tradition having deservedly positioned herself in the history due to her many striking and innovative designs across centuries and disciplines.
Being a generation after legendary architects and designers like Børge Mogensen and Hans J. Wegner, Ditzel also studied under the master architect and designer Kaare Klint at the Royal Academy of Fine Arts after graduating as a cabinetmaker and while studying as a furniture architect at the School of Arts and Craft. Even though schooled by Klint and his modern functionalism, Ditzel quickly broke out of the strict and formal design rules going for poetic and sculptural shapes rejecting the "masculine" ideals in favour of softness and rounded shapes. Experimenting with intense colours, new materials and the norms of space and design, she was challenging traditional thinking with her prolific output throughout decades. Leaving a clear mark on both private homes and public spaces and making her a distinctive voice and one of the most accomplished Danish designers spanning over 60 years as a designer from furniture and jewellery to silverware, glass and textiles being the first woman to design for Fredericia, Kvadrat and Georg Jensen.
In a strongly male-dominated furniture industry, Ditzel claimed her place. Together with her fellow student and later husband, Jørgen Ditzel, she already participated in the Carpenters Guild's annual exhibitions during her studies as a furniture architect at the Royal Academy of Fine Arts. After graduating in 1946, they establish their own design studio. Ditzel challenged the design orthodoxy and became a leading figure in the renewal of Danish design and the functionalist design traditions in the 1960s. As part of the new generation, including her husband and Verner Panton, they all distanced themselves from the general perception of good taste in Danish design, creating avant-garde furniture as space-forming architectural elements. Demanding imagination and vision, Ditzel's designs were sculptural, experimental, and organic, with nature being a continuous source of inspiration.
When Nanna's long-time husband and design partner, Jørgen Ditzel, passed away, she reinvented herself as a solo designer exploring new materials and designs. In 1968 Ditzel diversified again when she moved to London. While running her design studio, she also ran the acclaimed Hampstead store Interspace gallery with her second husband, furniture dealer Kurt Heide, owner of the eponymous design shop Oscar Woollens on Finchley Road. Being a first mover importing international design, Interspace was a gathering place for global design names.
After almost 20 years of living in London, Ditzel moved back to Copenhagen in 1987 after the death of her second husband. In 1989 Ditzel began working with Fredericia entering a new chapter of her career with technically sophisticated furniture. Her openness to experimentation and uncompromising design led to various innovative pieces as designer at Fredericia. Several pieces, such as the Bench for Two, Butterfly Chair and the Trinidad Chair, quickly received global recognition due to their visually unconventional look, poetic sense and highly technical solutions, opening new shapes in wood and plywood, leading her to become a massive inspiration for the new generation of Danish designers. Especially the Trinidad Chair has become a modern classic and, being an immediate commercial success, it is now one of the bestselling Danish chairs ever.
Thomas Graversen, the owner of Fredericia, close collaborator and friend of Ditzel, explains: "Sometimes, she took things further than you thought you could do technically. She was taught as a cabinet maker but was truly an industrial designer, and she kept pushing until she got what she had envisioned," he adds. "If you study her back catalogue, she has designed almost everything we use daily, being one of the most versatile talents of her day. Nanna was the queen of design in her time, which is highly unusual."
Ditzel's many distinctive designs have been exhibited throughout Paris, Madrid, Rome, Milan, Washington, D.C., and London, and she has won almost every accolade achievable from gold and silver at the Milan Triennale, Lunningprisen, the Thorvald Bindesbøll Medal, the Japanese International Furniture Design Fair (IFDA), while being appointed to Honorary Designer by the Royal Society of Art in London as Hans J. Wegner and Børge Mogensen.
Paying tribute to the grande dame of Danish design
Nanna Ditzel's 100th anniversary is celebrated with Trinidad Chair in new colours and a highly limited edition launch of the Chaconia Chair from 1962. Furthermore, a preview exhibiton will be shown in the Fredericia Copenhagen showroom by Trapholt – museum of modern art, craft, and design. The preview, a re-establishment of Ditzel's presentation at the Cabinetmaker's Guild exhibition in 1962, will be open to the public from April 28th until 3daysofdesign ending June 9, 2023. From September, Trapholt will do the most extensive exhibition about Ditzel ever staged. For the first time ever, her universe of inspiration and ideas unfolds when Trapholt presents her entire work in a sensory-saturated context of furniture design, textiles, jewellery and total installations.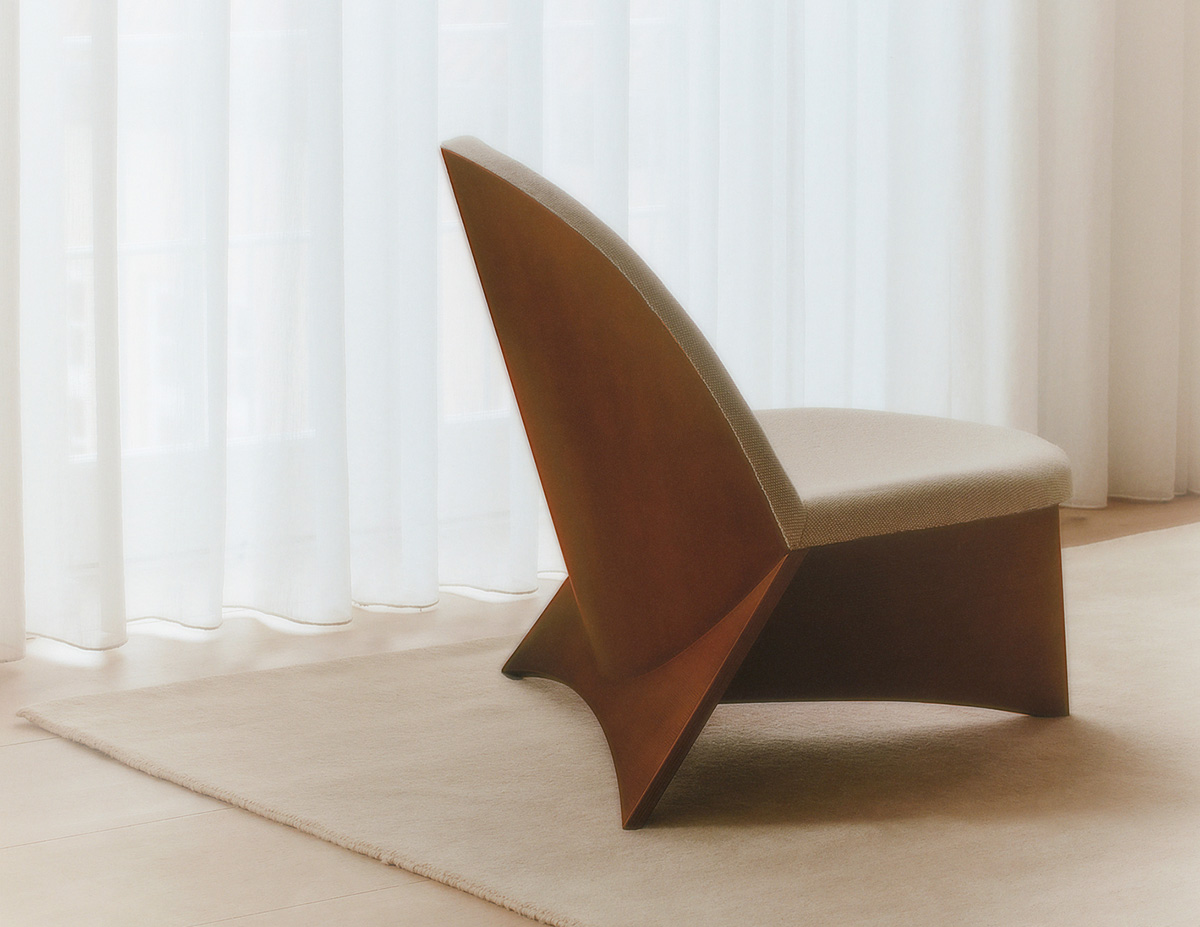 Chaconia Chair – questioning the norm of furniture
The Chaconia Chair was designed by Nanna Ditzel in 1962 and presented at the Cabinetmaker's Guild exhibition in Copenhagen the same year but was never put into production.
Presenting her visionary take on a casual modern living room with thoroughly composed geometrical terraced landscape in turquoise, white and warm Oregon pine. Ditzel was about questioning the norms with variable sitting heights and freeing the body and movement by making the entire room available for relaxed sitting and lounging, fusioning furniture and space.
The setting received high praise, described as bold, forward-looking and ultra-modern, including the distinct lounge chair being perceived more as a sculptural object than a conventional chair.
To commemorate Ditzel, Fredericia is producing the chair for the first time in a curated variant limited to 100 pieces. Originally named nothing more than "Lounge Chair", Fredericia has named it Chaconia following the story of Trinidad Chair. Chaconia is Trinidad's national flower, paying tribute to the island state where Ditzel received so much inspiration.
The Oregon pine has been finished with a lacquer specially developed to resemble Ditzel's original works from 1962. The chair is hand-stitched using traditional upholstery techniques and covered with Ditzel's textile design, Hallingdal 200, in a light melange, which creates an elegant golden look. The 100 limited pieces have a brass plate engraved with the production number and Nanna Ditzel's signature.