Bellevue AJ7
120th Anniversary edition
Arne Jacobsen
This graceful lamp shines a light on the origins of Danish minimalism.
When the Bellevue was first produced in 1929, it signaled the dawn of Danish minimalism. With its graceful lines and clean, understated silhouette, the lamp was part of a wider shift towards a new school of thought that melded sculptural simplicity with the functionalism of Bauhaus.
Nearly a century later, it remains an epochal piece of design, and its creator, Arne Jacobsen, synonymous with modernism. Credited as one of the grandfathers of modern Danish furniture, Jacobsen is remembered for his exacting perfectionism, his preference for organic forms, and his ability to marry elegance with function. These pioneering qualities are all apparent in the Bellevue, a floor lamp that feels as contemporary now as when it was first created.
In celebration of Arne Jacobsen's 120th anniversary, &Tradition has created two special editions of this iconic floor lamp, nodding to the original design from 1929. Find the Bellevue anniversary edition floor lamp in two finishes: White with Bronzed Brass and Stone Grey with Bronzed Brass.
"As the driving force behind Danish Modernism, Arne Jacobsen's preference for graceful lines and simple, organic forms are readily recognisable in the Bellevue lamp," explains Tradition founder and CEO Martin Kornbek Hansen. "In celebration of the designer's 120th anniversary, &Tradition is honoured to continue Jacobsen's design legacy with two anniversary editions to celebrate his brilliance."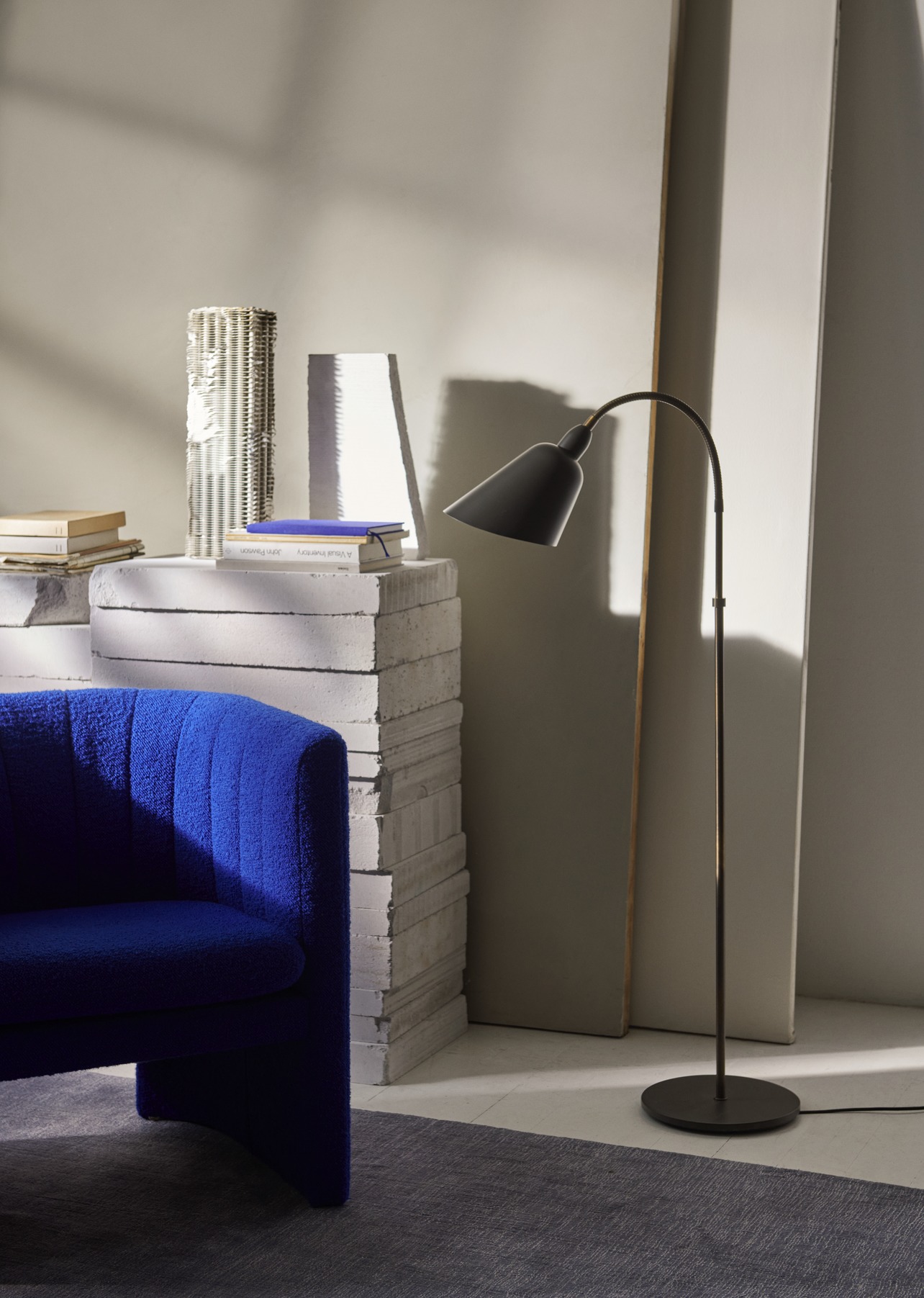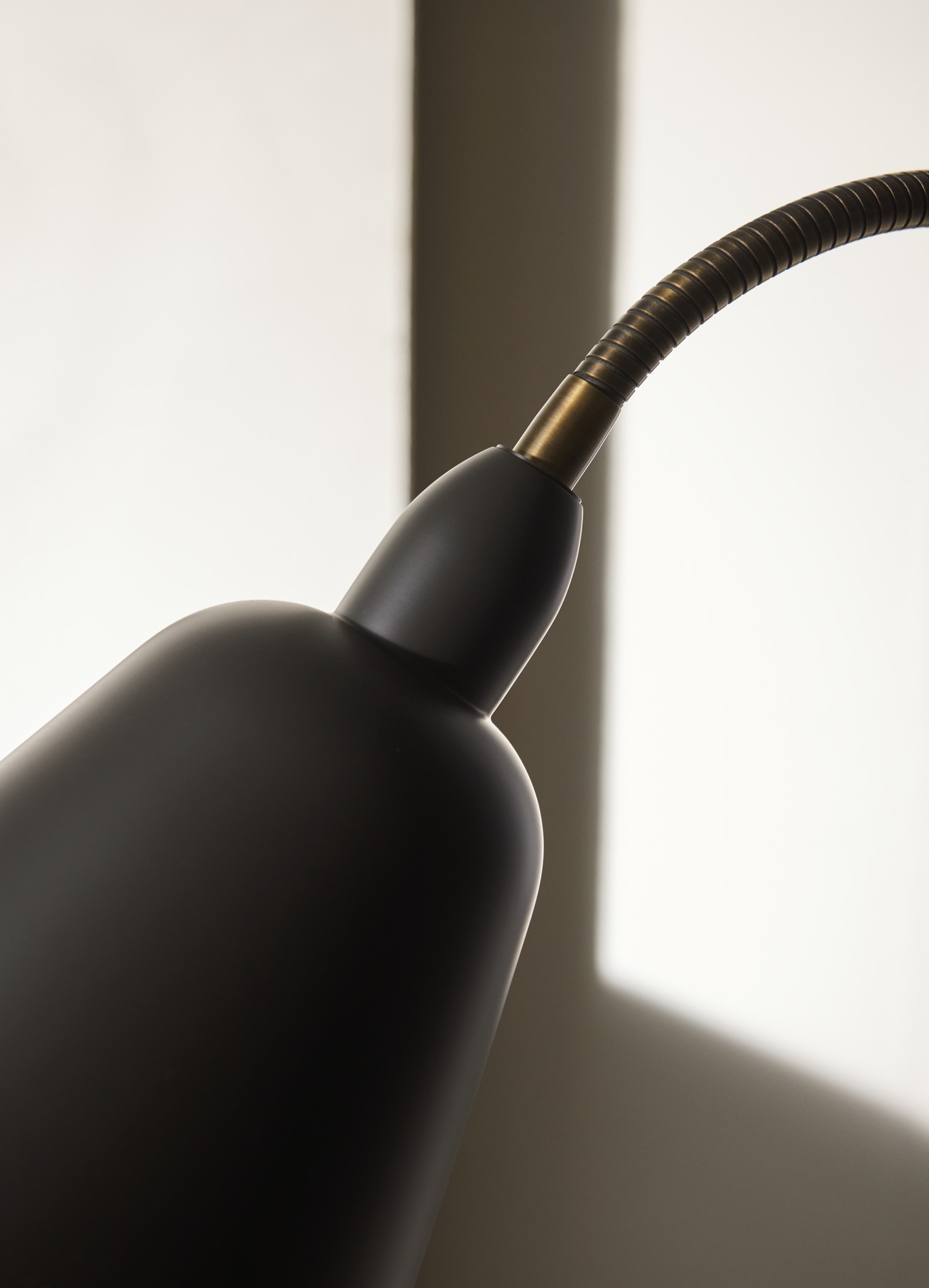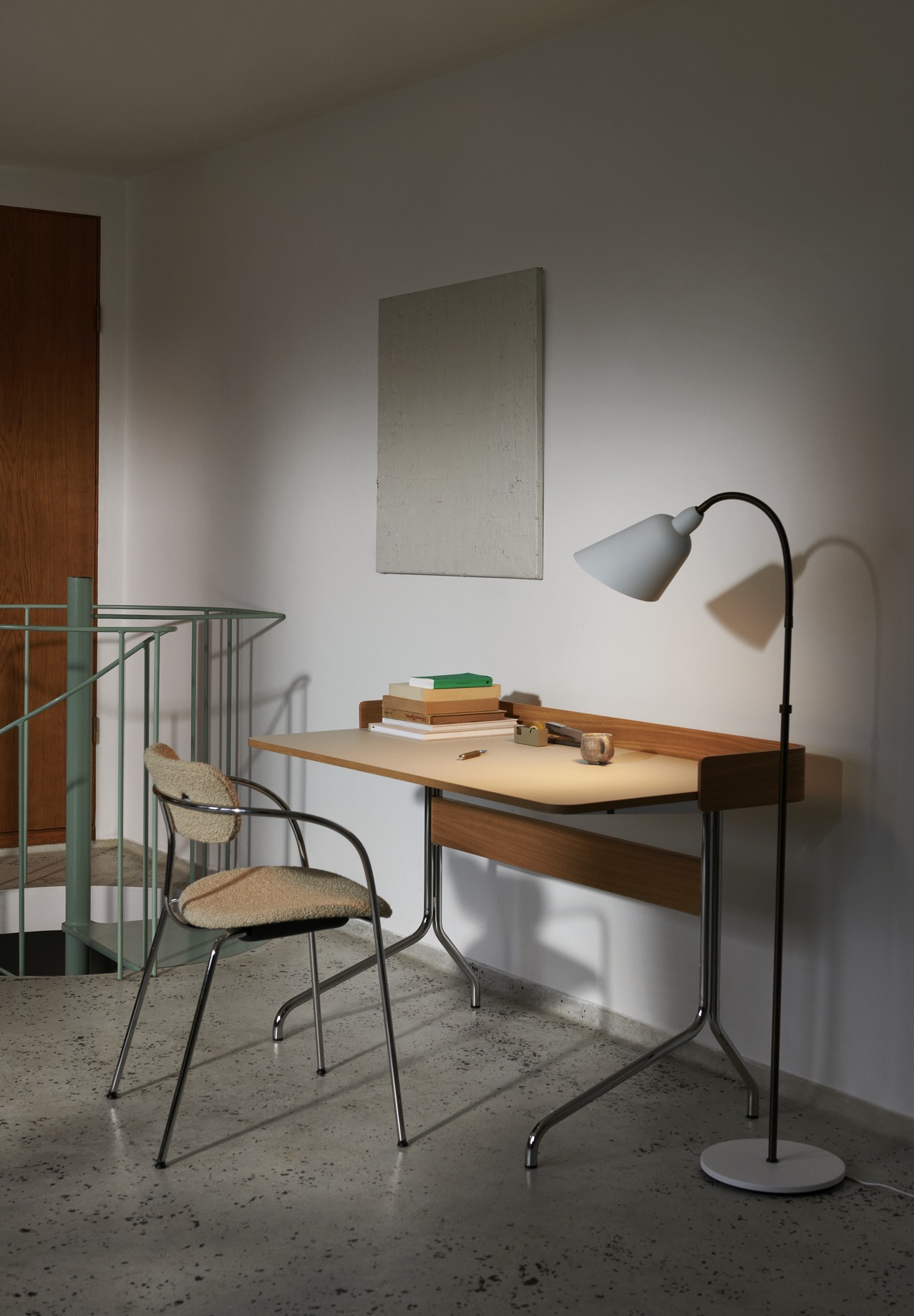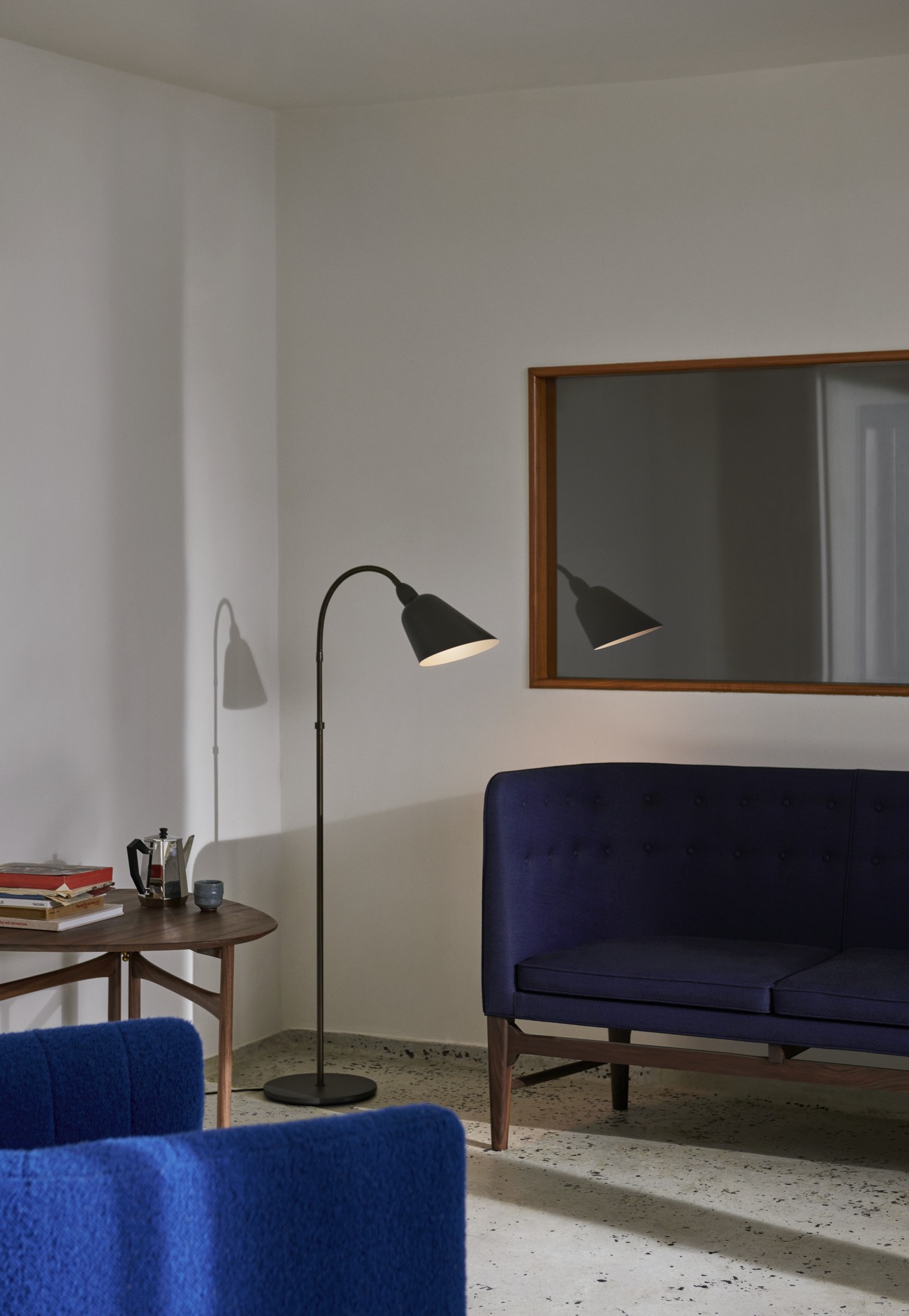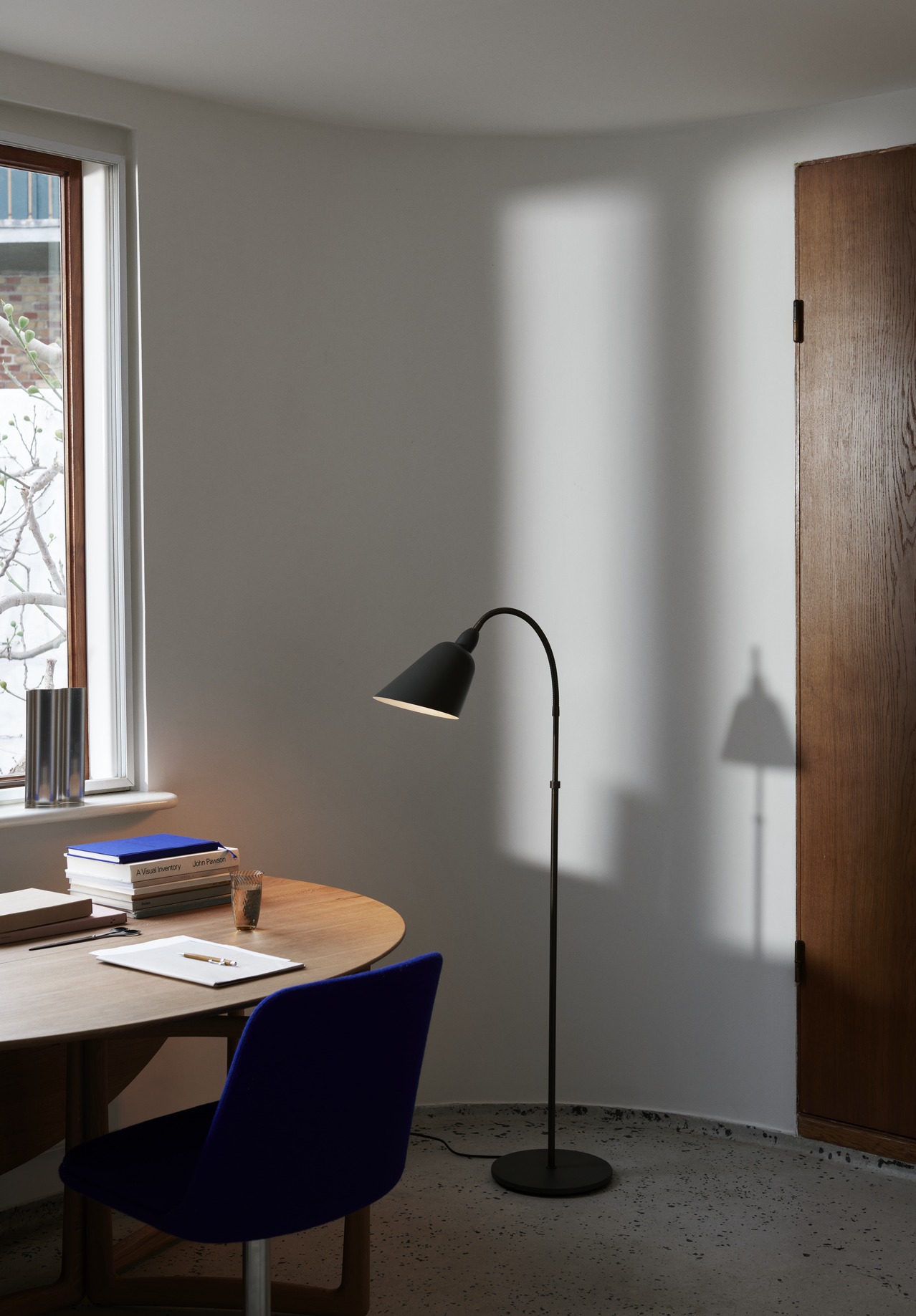 Arne Jacobsen
Arne Jacobsen is considered the master of Danish Modernism. Educated at the Royal Danish Academy of Fine Arts, School of Architecture, Jacobsen helped defined the mantra for Modernism with his clean, pure lines, coupled with classic craftsmanship. One of his most celebrated buildings is the SAS Royal Hotel from 1960, now called the Radisson Blu Royal Hotel. Jacobsen designed every detail from sculptural furnishings, such as his elegant Swan™ and Egg™ chairs to the lighting, textiles, ashtrays and cutlery.
&Tradition's collection includes two of Arne Jacobsen's early designs; the Bellevue lamp and the Mayor sofa. Bellevue, with its characteristic slender swan-neck and sculptural figure, reflects Jacobsen's purity and sense of proportions, which he believed was the fundamental factor in design. Originally launched in 1929, the lamp was inspired by Bauhaus and signalled the dawn of Scandinavian minimalism.The Mayor sofa was designed in the late 1930s together with architect Flemming Larsen specifically for Søllerød's city hall in the outskirts of Copenhagen. With a simple look and a distinguishing stiff-backed shape, it keeps captivating design lovers today.
As an architect and industrial designer, Jacobsen always strove to achieve grace and cohesion. Starting with the functional purpose, which led to radically simplified designs with an inherent beauty.

Introducing The Collector's Edition Egg Chair On November 1st Fritz Hansen is releasing a limited …