In a notable enhancement for 2024's Stockholm Furniture Fair, Swedish design studios Färg & Blanche and Lab La Bla have been selected to debut two distinct design bars: The Yellow Thread and Surface Club. These curated spaces, each with its own unique outlook, emphasise sustainability, innovation and a fresh approach to attendee interaction. As the fair continues its tradition of fostering creativity and engagement, these additions promise to set new benchmarks in sustainable, innovative and interactive design.
In a move to further enhance the attendee experience, Stockholm Furniture Fair is set to introduce an additional design bar for 2024, complementing the singular design bar featured in previous years. This emphasises Stockholm Furniture Fair's dedication to fostering meeting places that inspire and engage.
Each positioned in one of two halls, the bars, named The Yellow Thread and Surface Club, transcend the typical expectations of dining and converging venues. Offering two distinct design experiences, the bars are poised to stand as central hubs for inspiration, interaction and encounters. Moreover, they beckon attendees into spaces of discovery and innovation.
The Yellow Thread by Färg & Blanche
Set to be unveiled at the upcoming Stockholm Furniture Fair, The Yellow Thread installation was first created by Färg & Blanche for the 2023 Swedish Presidency of the European Union at the European Council in Brussels – a project commissioned by the Swedish institute (SI). The installation has evolved from its original form to encompass a bar and seating area, and a spacious stage area housing the fair's talks program, spanning 500 square metres, framed by striking yellow arches that define and accentuate the space.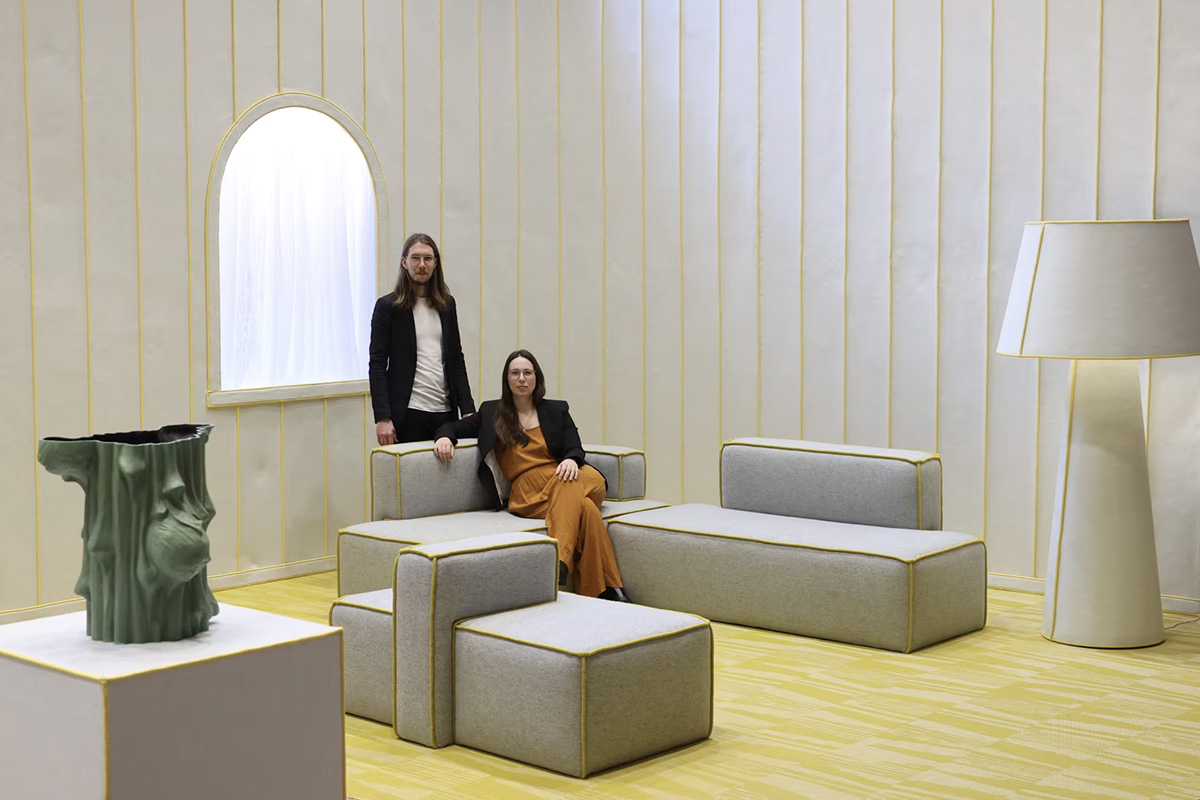 Photo: Justus Lipsius.
In a joint endeavour with The Swedish Federation of Wood and Furniture Industry TMF, Färg & Blanche has integrated various components from the original installation and furnished the bar with a number of circular products from TMF's member companies. This transformation stands as a testament to sustainable design and the principles of circularity. The flooring product used in the area is provided and installed by Tarkett.
– The Yellow Thread conveys a warm welcome, says Fredrik Färg, one half of the design studio Färg & Blanche, which he has co-run with Emma Marga Blanche since 2010.
– Yellow is the most brilliant colour in the colour spectrum, capturing our attention more than any other and symbolizing joy, optimism, enlightenment and creativity. Yellow also represents the Nordic light, says Emma Marga Blanche. The Yellow Thread offers a warm and calm atmosphere, designed to provide serenity amidst the fair's hustle and bustle.
Surface Club by Lab La Bla
Surface Club, the brainchild of Malmö-based design studio Lab La Bla, stands out with its unique diamond-shaped layout, innovative use of sustainable materials and a refreshingly approachable, non-high-brow ambience. Every element, from furniture to fixtures, is handmade and custom-crafted, and integrates sustainability into every facet of the bar's design. Beyond its aesthetic appeal, the 350 square metre bar offers a playful atmosphere, centralising around several mini-golf courses, encouraging a different kind of interaction for attendees.
– Surface Club is a space that is highly inclusive and feels informal, playful and fun no matter the visitor's agenda," says Victor Isaksson Pirtti, one half of the duo behind Lab La Bla, which he co-founded with Axel Landström in 2019.
– We aim to surprise and inspire visitors as many of the materials used are unconventional for their applications. For example, the upholstery on some furniture feels like textile but is made from iron ore.
Bolon provides distinctive flooring for the bar, while the architectural structures incorporate innovative wall panels crafted from recycled tetra packs. Additionally, the design incorporates repurposed elements from things lost and found.
Furthermore, in a pioneering move, Lab La Bla will launch their latest venture, also called Surface Club, which designs material-driven solutions for new environmental agendas. It utilises waste materials, including wine corks and mining waste, in a modified powder-coating process applied with a hacked spray gun. The venture underscores the experimental and research-based design studio's commitment to both innovation and environmental responsibility.
Stockholm Furniture Fair 2024 will take place 6-10 February 2024.

News from Stockholm Furniture Fair 2023:

RONJA CHAIR Ronja is a chair that comes directly from the beech forests of southern …