White, a new collection of lighting. Created by Artek's Design Director, Ville Kokkonen, White offers a new perspective on how we perceive lighting, allowing the light itself to take centre stage rather than form and fittings. One of the other unique properties of this new collection is the inclusion of a product with the certified medical benefits of light therapy through its 2500 lux.
As Kokkonen explains, 'For too long light has been overshadowed by the fitting. Right from the beginning of the design process we felt that there would be room for a lamp that allows light to rule. The biggest tribute for White would be that people remember its soft light but have no idea how the lamp itself looked.'
Kokkonen spent nearly two years designing the White product range, undertaking in-depth research on the use of light fittings in public, domestic, and office spaces as well as the effect of light itself on our health and wellbeing. The resulting collection consists of four high luminosity light devices – BRIGHT WHITE 1 (a bright light table lamp which has certified medical benefits); WHITE 2 (a standing and wall light); WHITE 3 (a suspended light); and WHITE 4 (a table light). A fifth product will be launched by the end of the year. The simple and elegant pendant, wall and table lamps can be used both as work lamps and as fixtures for domestic interiors.
In keeping with Artek's founding manifest of 'art and technology forever', Kokkonen has designed the bright light lamp which recalls a piece of furniture rather than a technical device or a medical instrument. The white colour finish of the products reflects the white light which is at the essence of the collection. The new collection integrates easily into Artek's past collections, adding a product for lighting large spaces to the more decorative pendant lights previously released.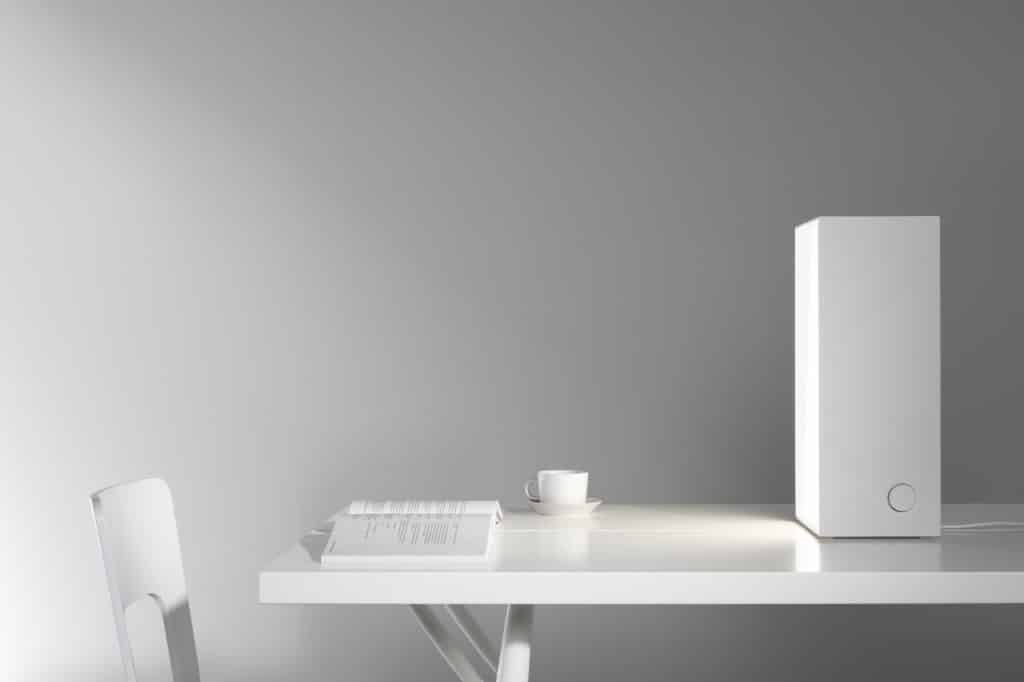 Ville Kokkonen
Designer Ville Kokkonen (born in Helsinki, 1975) studied at the Ontario College of Art and Design in Toronto and at the University of Art and Design in Helsinki. From 2001 to 2004, he was employed as researcher in the Smart Products Research Group at the University of Art and Design, specialising in product concepting and futures research. Kokkonen has also taught at the University of Art and Design, and has lectured at numerous international seminars and universities.
Ville Kokkonen began his career at Artek in 2006 as R&D manager, and in 2009 he was appointed design director of the company. Kokkonen has initiated and conducted several international collaborative projects, such as the Artek Pavilion 2007 together with the architect Shigeru Ban and UPM. The collaboration has continued subsequently: in 2009 Kokkonen and Artek Studio designed for UPM a floor tile made of recycled material. Kokkonen's other international projects also involve Comme des Carçons, the Japanese-French fashion and perfume company, with whom Kokkonen developed for Artek a fragrance called Standard (Eau de Toilette), complete with bottle and packaging.
In 2010 Ville Kokkonen designed for Artek the WHITE collection of four bright-light fitting. The Bright Light 1 desk lamp is light-therapy certified. The WHITE line was launched at the Milan International Furniture Fair and Lighting Exhibition 2011.

Founded in Finland in 1935, Artek is renowned as being one of the most innovative contributors to modern design, building on the heritage of the Finnish architect and designer, Alvar Aalto (1898 –1976). Functionality and timeless aesthetics are the essential elements in the creation of every product that bears the Artek name. Artek continues to work in close collaboration with prominent international architects, designers and artists.