Vesa Honkonen
Architect, Designer, Professor. Vesa Honkonen works in his own office in Helsinki in the field of architecture, lighting design, interior design and design. From 1993 till 1998 he worked with Steven Holl in New York and Helsinki as Kiasma's project architect. Co operation continues still. Now his projects vary from large scale urban lighting and interiorlighting commissions to interior design, public buildings, one family houses and lighting fixture design. He has projects in Finland, Norway, France, Switzerland and is at the moment expanding to USA. One goal is to find projects, where the architectural and lighting design skills could be combined.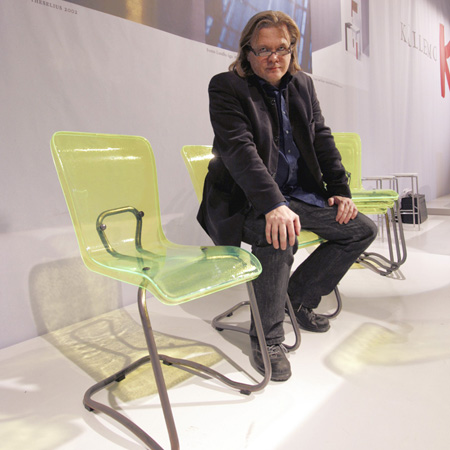 ARCHITECTURE:
RAUMA URBAN PLANNING COMPETITION. 2007, INVITED COMPETITION, 1ST PRIZE
TAIVALLAHTI HOUSING, HELSINKI, FINLAND. 2006, INVITED COMPETITION TOGETHER WITH STEVEN HOLL, 1ST PRIZE.
SHENZHEN CITY PLANNING OFFICE, CHINA, 2005, IN CO-OPERATION WITH SHENZHEN GENERAL INSTITUTE OF ARCHITECTURAL DESIGN AND RESEARCH, INVITED COMPETITION
BJORVIKA CITY CENTER PLANNING, OSLO, 2004
URBAN DESIGN COMPETITION FOR OSLO NORWAY, TOGETHER WITH DARK ARCHITECTS, PURCHASE
KIASMA, MUSEUM OF CONTEMPORARY ART, HELSINKI, 1993 – 1998, AS STEVEN HOLL'S PROJECT ARCHITECT
SIMO CHAPEL COMPETITION, HELSINKI, 2004
ÖSTERSUND GOLDEN SQUARE 2004 –
RAISIO MAIN SQUARE DESIGN, 2000 – 2003
VUOSAARI TOWER, 1999, IN CO-OPERATION WITH STEVEN HOLL
RAISIO URBAN PLANNING 2025
NACKA STRANDTORGET, 2006 –
LIGHTING DESIGN:
BODRUM HOUSING PROJECT,2007, Lighting design for Steven Holl's project in Turkey
KNUT HAMSUN MUSEUM,2007, Lighting design for Steven Holl's project in Norway
ZHENDONG CENTER, 2007, Invited competition, 2nd prize
HEINOLA LIBRARY PLAZA, 2005, Dancing lighting fixtures
MODERNA MUSEET, STOCKHOLM, 2003, Bookstore lighting and other interior spaces
RIVAL HOTEL, STOCKHOLM, 2002 – 2003, Interior lighting design
HALMSTAD, SWEDEN, 2001, together with Helena Hietanen
WÄINO AALTONEN MUSEUM, 2002 –
TELENOR, OSLO NORWAY, 2000 –
ARRAS, FRANCE, 2000
FISKARS, 1996- 1999
TURKU, AURAJOKI EXTERIOR LIGHTING PROJECT, 1997 – 2001
RAILWAY PLAZA, HELSINKI. 1997 – 2000
RAILWAY STATION INT. LIGHTING, 2001 –
DESIGN:
Kiasma chair and table, In progress with Källemo,
New plastic chair which will be in Källemo standard collection
Kiasma Klik Klak bar,
Kiasma Face lift, Ticket counter
Tao, Blond Belysning
Silicon, Blond Belysning
Plate, Louis Poulsen
Curve, Louis Poulsen
Notor, Fagerhult etc.