Wooden architecture is becoming a new Swedish export item. At Stockholm Furniture & Light Fair, February 7-11, 2017, the exhibition Welcome to Woodland will present a wide range of innovative contemporary wooden architecture and discuss the different aspects of wooden architecture and design.
"As indicated by the title of the exhibition, the exhibition shines a spotlight on wooden architecture. We want to show the craftsmanship in and of itself, but also look toward the future in terms of Swedish wooden constructions for industrial methods," explains Julia Hertzman from Architects Sweden.
In the exhibition, which has been designed by a team of employees at Architects Sweden in collaboration with Annika Grottell at the architecture firm, White, the work is illustrated through short videos that are shown in a forest glade created by beautiful, rounded and bent banisters.
The banisters are on loan from the design company C&D Joinery in Falköping. In addition to the assignment to be part of the design team for the Woodland Sweden exhibition, C&D Joinery is right now also renovating Stockholm tourist attraction Östermalmshallen, a food market hall known for its elegant stands featuring wood ornamentation.
A series of 'small talks' about the future possibilities of wooden construction will also be arranged in the exhibition every day. Welcome to Woodland is a collaboration between The Swedish Institute, Architects Sweden, C&D Joinery, the architecture firm White and Stockholm Furniture & Light Fair.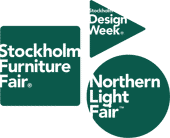 Spara
Spara
Spara
Spara
Spara
Spara
Spara
Spara