Toldbod 120 Duo
The popular Toldbod 120 pendant will soon be available in a variety of new colour
combinations that are sure to spice up any interior design solution.
As from 1. February, it will be possible to add another dash of colour and light to the home when Louis Poulsen launches a range of completely new and different colour combinations in the popular range of Toldbod 120 pendants.
The new colour combinations are: a light green exterior with a bronze interior; a dark grey exterior with a turquoise interior; a light grey exterior with a soft coral interior and finally, a white exterior with a fresh green interior. All the colours feature a silk matt surface, which makes them easy to maintain. These two-tone versions of Toldbod 120 have been named Toldbod 120 Duo.
Halogen light sources can be used in the fixtures, which will help enhance the colour on the inner side for an even more natural and effective appearance.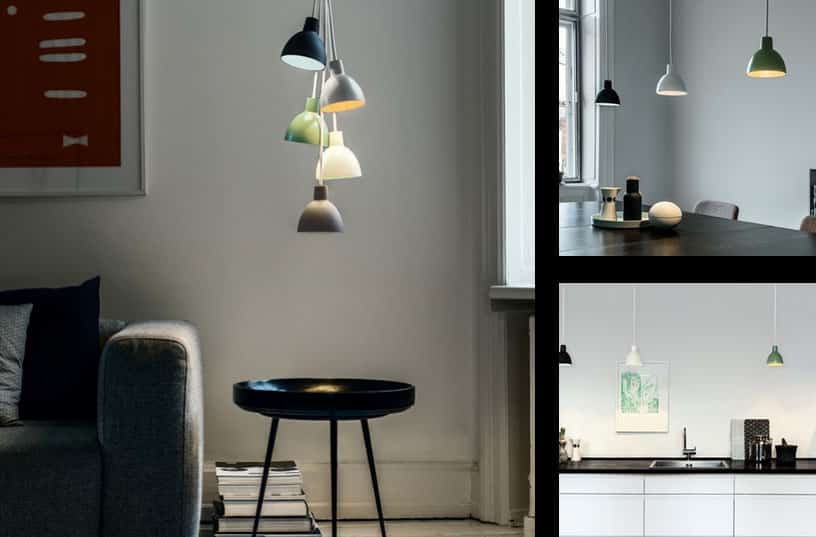 The excellent lighting properties of the Toldbod 120 pendant makes it ideal for use in many different residential settings: above the table in the kitchen, for example, or as a component in still life arrangements designed to create a special atmosphere in the room. The concentrated downward directed light adds life and character to the items illuminated.
The minimalist design of the Toldbod 120 pendant makes it the perfect fit in all kinds of furnishing solutions, both as a solitary element and in repetitive set-ups. You can also choose to mix the colours or to stick with a single version. In brief, you have every opportunity to create an intensely individual lighting layout. At the same time, the design is so discreet that the Toldbod 120 blends seamlessly into rooms equipped with other light fittings.
The Toldbod 120 pendant is a product variation from a large family of light fittings. As it is made of cast aluminium, it is a robust product. The Toldbod family also features two large versions in mouth-blown, opal glass: the Toldbod 155 and Toldbod 220 models.
So if you want to create a uniform but varied lighting design in your home, the Toldbod family is a great place to start for a beautiful, functional and well-illuminated interior.
The recommended retail price of the Toldbod 120 Duo is DKK 1,495 including VAT, and the fixture can be used with light sources from energy classes A–D. Louis Poulsen recommends light sources from energy classes C and D.
See the online brochure here: http://bit.ly/toldbod120duoINT