This week at Olso Design Fair, Fogia introduces the Bond shelving
system, a flexible solution that balances effortless style and pure function.
Needing no tools for assembly and with huge scope for interior invention, Bond is Fogia's first modular shelving solution. It's a concept responding to the need for a modularity which can adapt to the constrictions within a space — wherein any obstacles in Bond's path turn into opportunities for creative visual play.
"We've been exploring a modular shelving system for a while. When we were introduced to Bond it was a design that instantly resonated with Fogia as a brand. It's simple shelf to put together yet has a creative grace and presence that lifts a space effortlessly," says Marcus Huber, Fogia's CEO.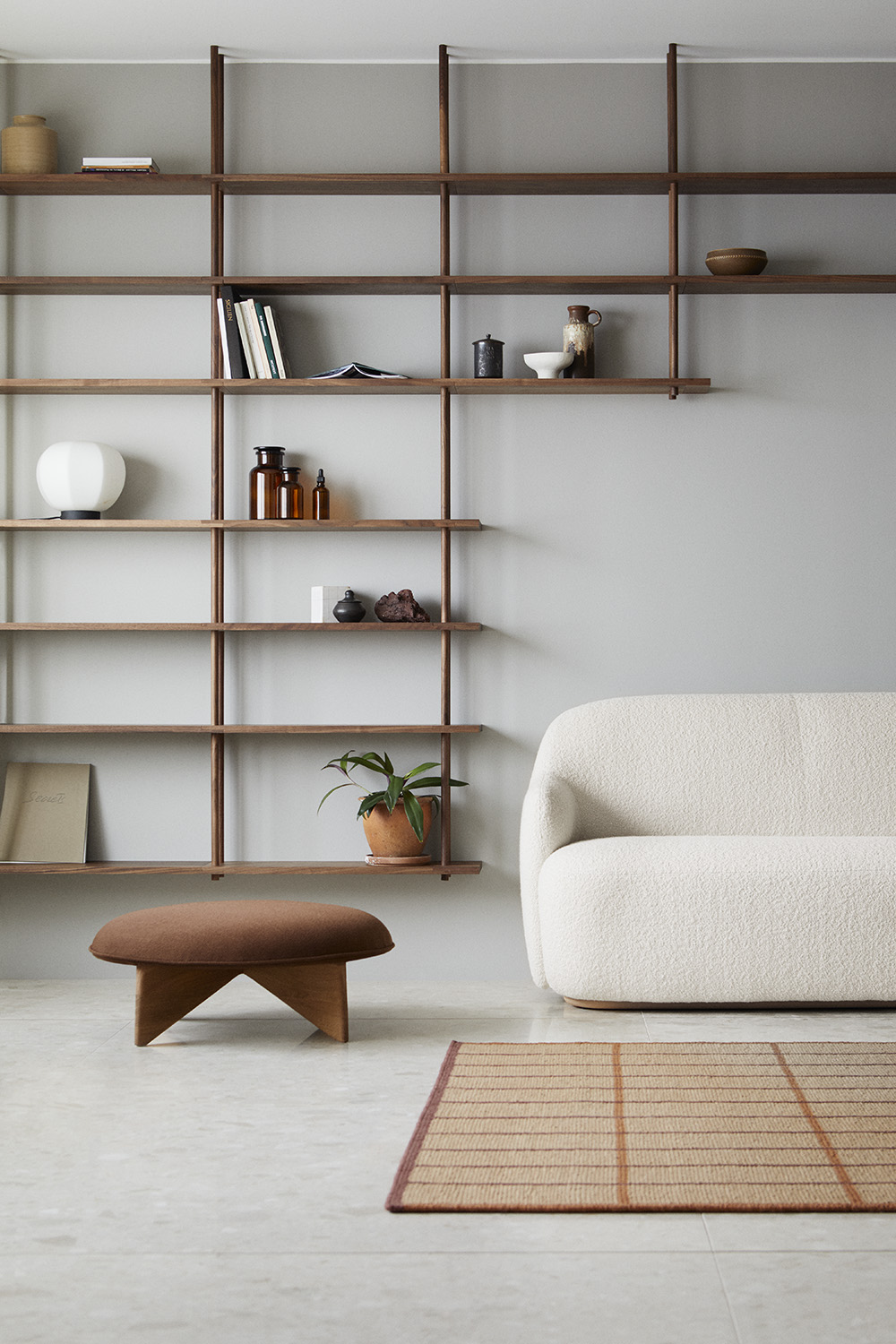 Bond is created as a shelving system that's not limited by the physical attributes which normally affect the interior design of a living space. If you're lacking floor space, it'll hang happily from the ceiling or nestle against a wall. If you've a non-load bearing wall, it'll stand on its own, and it easily adapts to obstacles in its path. The shelf 's construction can be done by hand in seconds, being comprised of three parts and, as a system, Bond becomes more exciting and attractive the more your challenge it.
With backgrounds as conceptual designers within retail and entrepreneurial innovation, Bond's designers Elin Rahnberg and Martin Berling often faced either specifying drab modular systems or more attractive static solutions.
"We work lots as designers within the retail sector, in which your options are seriously restricted when it comes to storage and shelving. There are modular systems that work but they're always industrial-looking. Or, you have to create something that's better looking but doesn't offer the chance to alter its shape and form over time—so it gets destroyed as seasons pass for example," says Berling.
Frustration soon led to the duo creating the first prototype which would become Bond. "Together we lived in the context and experienced firsthand the frustration of not having the system we needed. The product was born from this context," Berling notes.
Bond as a system becomes as playful as you're willing to take it. As you begin to mix the various surfaces and materials it rises to a new level, and again as you open up partitions, explore empty spaces and wrap around obstacles.
"Living requirements change. And with the lean towards open-plan living and working, there's a huge need for creative partitioning of space or semi-permanent storage architecture. We also wanted to make Bond something that encourages a flexibility and playfulness in its assembly. Using no tools other than a finger and thumb, each construction is like a beautiful little piece of performance," says Rahnberg.
Bond is available in beautiful, textural oak and exclusive walnut options.
Bond will be sold in four configurations plus additional single shelves.