KVADRAT/RAF SIMONS LAUNCHES A NEW LIFESTYLE ACCESSORIES CONCEPT
The 9 year long collaboration between Kvadrat and Raf Simons is entering a new chapter: lifestyle accessories. This August Kvadrat/Raf Simons launches The Shaker system: a new concept for the home, resetting how we live and creating beauty from order. A total habitat, it is a salve for a complex contemporary life. A storage system and a range of accessories honouring utility, function and rethinking materiality, and by reflecting those values bringing meaning and artistry to the home. The Shaker system comes in four colours.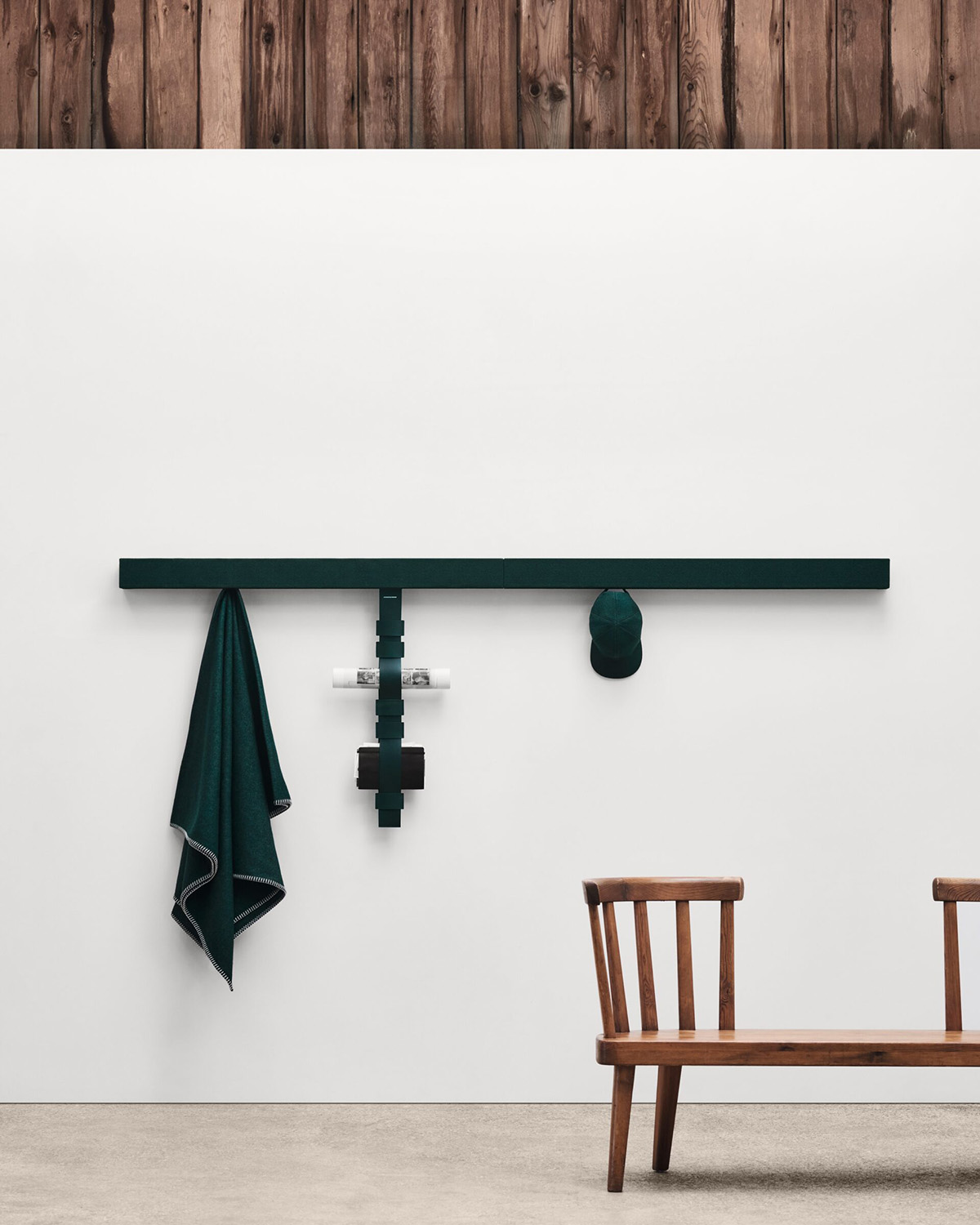 The foundation is a horizontal bar inspired by the Shaker peg rail, but sculptural in its proportions. The use of a single colour sets the atmosphere. The protagonist of the system is Vidar 4, the emblematic fabric of the Kvadrat/Raf Simons collection. Simons uses it to upholster the bar, for most of the accessories and to set the palette.
While living in the US, Simons developed a deep appreciation of the Shaker culture, whose ordered homes and simple functional furniture are considered the first modern American design. The Shaker culture gave rise to a way of living characterised by honesty and utility, which greatly influenced artists such as Donald Judd. In designing the bar, Simons was also inspired by the minimalist sculptures of John McCracken, who used colour intensity and surface finish as a means of expression.
The result is the Shaker system for the home of today, a unified family of accessories based around the power of one – one system, one colour, one textile – and infused with his fashion signifiers.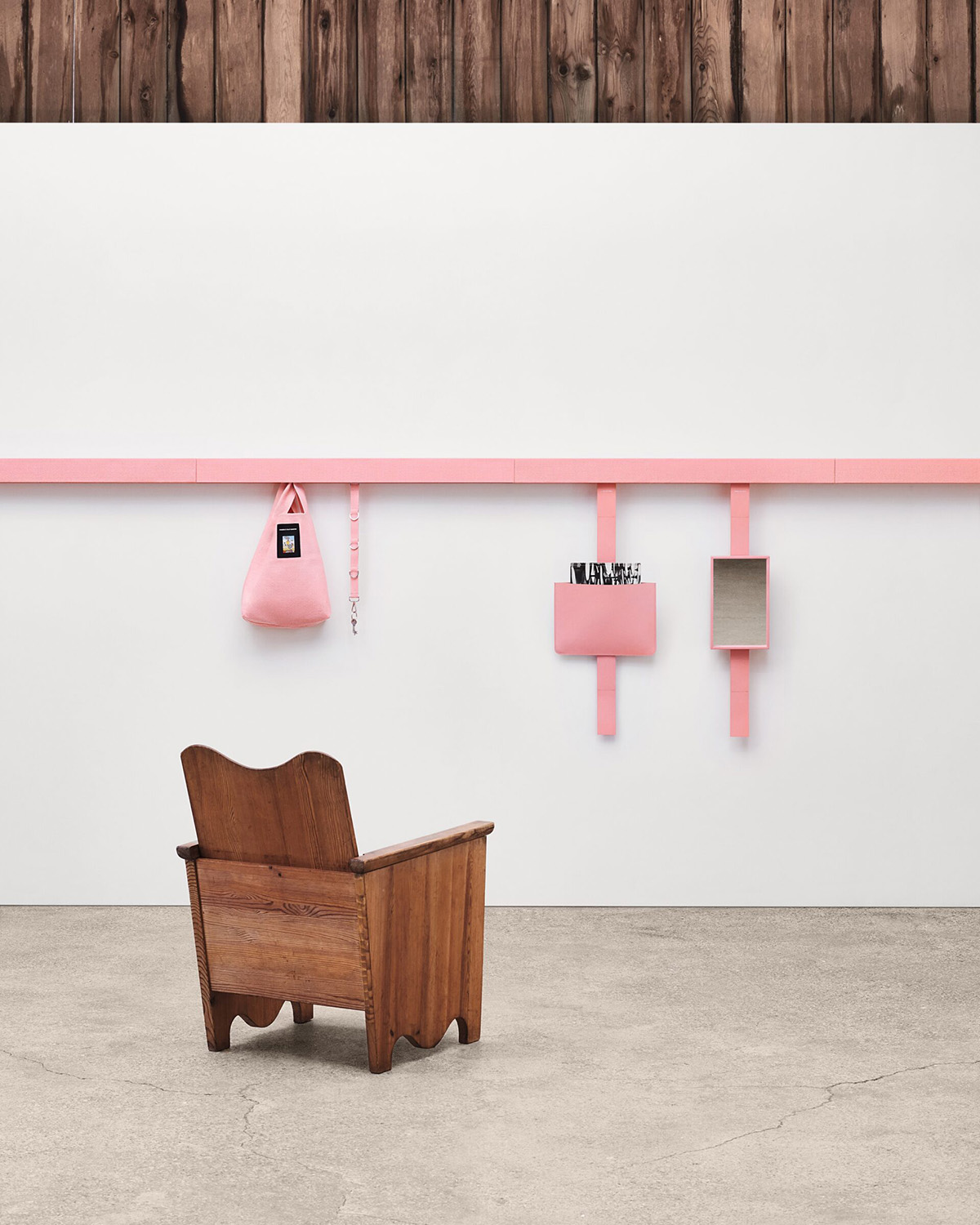 "More than ever the home is the absolute centre of our lives and I wanted to create a system that would change it for the better. I am trained as an industrial designer, just putting out beautiful products was not enough. I wanted to conceive something relevant to how we live today." Raf Simons
Underpinned by his conceptual vision, Simons made comfort, tactility and atmosphere central tenets of The Shaker system.
The Kvadrat/Raf Simons Shaker system defines a space and keeps order by providing a place to hang all the accessories. The bar can also have a life of its own, sculptural almost and precisely tailored, it feels artisanal rather than industrial. In wrapping the bar Simons took cues from the French decorative arts designer Jacques Adnet who clad furniture in leather and made it his métier.
Raf Simons continues: "I really wanted to design something that can be anywhere in terms of its non-pretentiousness but, on the other hand, has scale. So it could be very architectural and define
a space or it could also work in a 35 square metre apartment in Tokyo, for example."
The Kvadrat/Raf Simons collaboration is founded upon Simons' curiosity about pushing the boundaries of upholstery fabric, bringing a richer, more nuanced application of colour and texture to the interior. Re-colouring and expanding the palette of Vidar was a seminal project. For the Shaker system he chose four signature Vidar 4 colours – off-white, pink, green and black – each of which brings a different expression or mood. Other materials such as leather,
wool or cashmere are colour-matched to the Vidar 4 tones.
The single colour brings harmony and invites the eye to look more closely. To register outlines and structures. To sense the characteristics of the different materials used for the accessories – Vidar 4's satin surface and grainy tactility, matte leather, soft rippled cashmere, and pure wool.
The accessories are edited by rooms. A distillation of need and desire and the result of an investigation by Simons and the development team into how people act and what makes them feel really at home. As Simons explains: "Originally the idea was to think about a whole house, room by room, not literally, but more a way of thinking – how do we actually live. We didn't approach it from an aesthetic point of view,
it was about function and needs and we really put ourselves into the skins of the users."
Thinking of the entry, there is a key chain, cap, tote bag and shopping bags. The living room has soft woollen throws and cushions, handsome leather-clad mirror tray and accessory boxes, leather magazine strap and storage sleeves. Each piece lovely on its own but better together.
As a designer of fashion and textiles, Raf Simons is a game changer, a master of moods and juxtapositions from sartorial detailing to street culture, with an innate ability to foretell taste. With the Shaker system he turns his attention to the whole home, demonstrating a deep understanding of the everyday and the exceptional, and how they can be one and the same.
It's personal and a homecoming for the designer himself. "I've moved a lot, from Europe to America and back, always having to organise myself in a new home. There are all these trends telling you how you should cope but I never found the right system, the clever beautiful one. So this really came from a personal need."
The Shaker system is Raf Simons' version of the now and the future, informed by historical and classic references, and setting a foundation for a new way of living. Technically innovative and produced to exacting standards, it exemplifies the shared values of the eight-year-long partnership Kvadrat/Raf Simons, and takes it into new territory, transcending categories with a singular vision.
"I hope it's inspiring for people who like to buy small objects with the same minds as when they
buy a chair or something, you put it in the context of your environment."
The Shaker system consists of 26 items available in 4 colourways and will be launched in two collections.
The first collection is launching August 10, 2022.