The Nordan table, designed by Bernadotte & Kylberg, is a homage to the craftsmanship of Gärsnäs, utilising a lustrous level of design and materials. The Masur birch's vivid pattern interacts beautifully with the table's geometric shape. "We always base our work on the prerequisite that we must challenge both ourselves and the customer. If we are successful with that, then we really can produce a unique product," says Oscar Kylberg from the design duo that is collaborating with Gärsnäs for the first time.
"Collaborating with Bernadotte & Kylberg is attractive for many reasons. They combine good design with high-quality, functional concepts.," says Dag Klockby, CEO, Gärsnäs.

Scandinavian furniture tradition is largely based on practical objects, but here the designers wanted to make a functional table that can be used in ways beyond the ordinary. A tabletop might be considered an empty space, only here we find a brass box in the middle, which provides extra, convivial functionality: a small place to plant herbs or gather ornaments, stones, candles, designer objects or quite simply a stylish place to store documents or love letters.
Masur birch and brass are both chosen for their premium feel and durable qualities. "Masur birch in combination with brass are materials familiar to us, they go very well together and have been produced before by Gärsnäs in its long history of manufacturing," says Dag Klockby.
Bernadotte & Kylberg's design process goes from research to insight, from theory to concept, leading to final design. They took their table concept to Gärsnäs because the company is known for its quality craftsmanship. "Gärsnäs has a history of superb furniture with craftsmanship as its guiding star. This inspired us in both the choice of materials and functionality," says Oscar Kylberg.
Gärsnäs has had an active role in the design process, above all in the construction, material quality and proportions. "Drawings and ideas come from Bernadotte & Kylberg and the dialogue between us has been both stimulating and constructive," says Dag Klockby. Gärsnäs could also use some social tables in its range. "We need tables that people can socialise around, they provide a vital function in our lives," says Dag Klockby.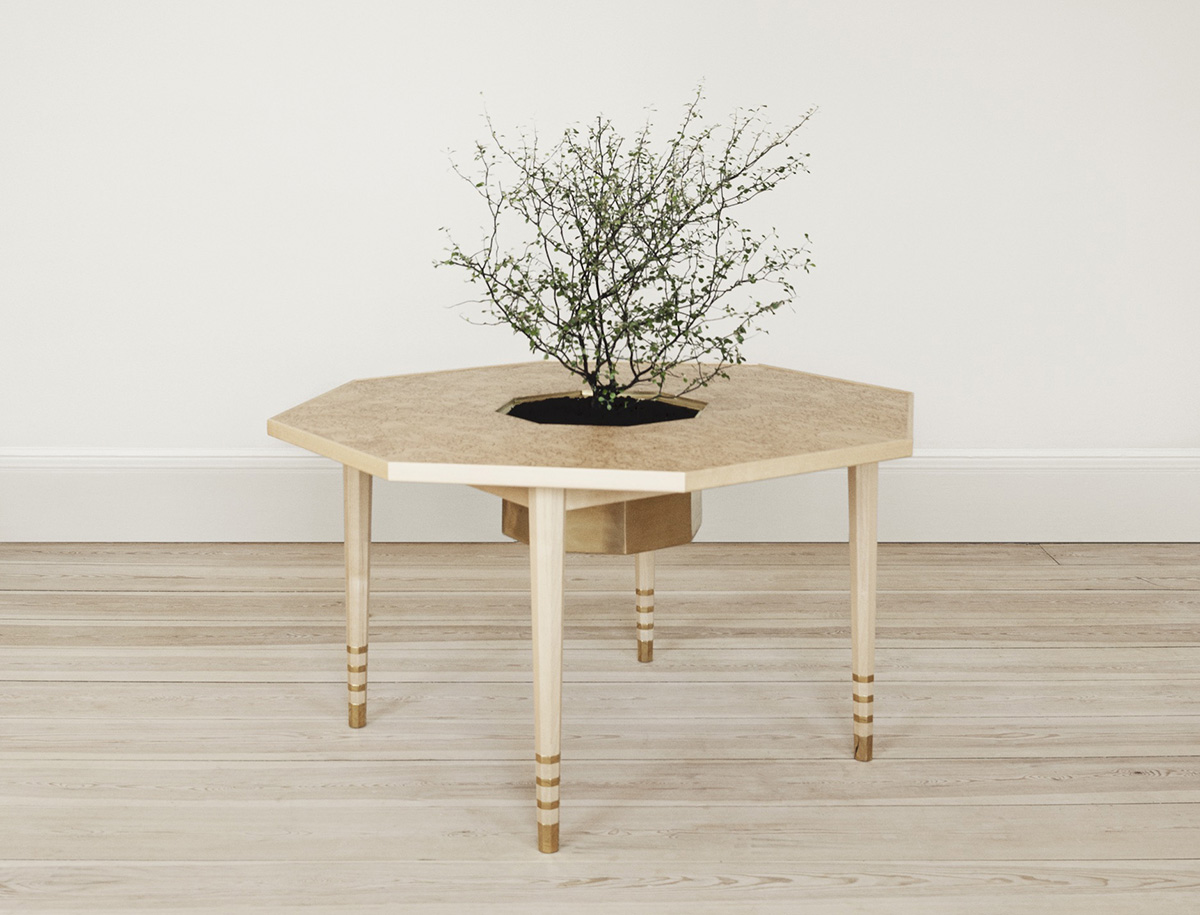 The Nordan table has its extravagances. Octagonal legs with striped stockings of brass refract the light for an elegant effect. "Table legs seldom get the attention they deserve. We wanted to create legs with great character that interact with the rest of the table. That symbiosis gives the table a strong identity," says Oscar Kylberg.
"It's a difficult table to make; no machine can easily produce the craftsmanship required. We didn't make it easy for ourselves," says Oscar Kylberg, knowing full well that Gärsnäs was equal to the challenge.
"Design for us is also a matter of sustainability. Furniture should feel both contemporary and eternal; in other words, a modern functionality that never goes out of fashion. Furniture that ages with dignity and can pass from one generation to the next is worth the investment," says Dag Klockby.