The furniture donation from the Allan and Bo Hjelt Art Foundation made it possible to create Artek´s 1940s interior for the Alvar Aalto Museum´s permanent exhibition.
Allan Hjelt (1885-1945) was a leading figure in Finnish economy and a patron of the arts. In addition to business, he cherished the cultural relations between Finland and Italy and became Italy's Consul General to Finland already in 1924, and later on Honorary Consul General for Finland in Rome. During the Second World War, he was Finland's Trade Representative attached to the Embassy of Finland in Bern, Switzerland.
Allan Hjelt owned the export company Italo-Finlandese, which took wood-industry products to Italy, and brought back goods such as textiles, foodstuffs, wines, and typewriters and other machines. Hjelt´s relationship with Aino and Alvar Aalto and Artek were strengthened at the time of the Milan Triennial in 1936. Finland's participation in this major international industrial-arts showcase had been in the balance when Hjelt took the initiative and settled the matter. Italo-Finlandese paid most of the costs of the Finnish section and Aino Aalto designed it using Artek products. Collaboration on the exhibition resulted in Italo-Finlandese becoming the agent for Aalto furniture in Italy.
Allan Hjelt himself had apparently been fascinated by Artek's style and in 1939 commissioned Artek to decorate the Hjelt residence on Unioninkatu 18 in Helsinki. The interior of his official residence was one of the first major private commissions received by Artek, which was founded in 1935. Aino Aalto did the design with her close collaborator, the interior architect Maija Heikinheimo.
The interior created for Hjelt was a Gesamtkunstwerk designed right down to the finest detail. Besides furniture from Artek's ranges, several unique items of furniture were made specifically for the apartment. The art acquisitions and everyday utility objects were carefully thought through beforehand at Artek. The design work was done in 1939, but the Second World War delayed its execution until 1944. Rationing meant that many details had to be altered: for example, teak was unobtainable.
In 1933, Allan Hjelt married Swedish Valborg Unander-Scharin. In the end of 1930s Aino Aalto also designed the living room interior of their villa in Saltsjöbaden.
Now, this Unioninkatu interior, created as part of the museum´s main exhibition, has been inspired by an artefact donation from the Allan and Bo Hjelt Art Foundation and complemented with objects from the Alvar Aalto Museum´s collection. A valuable donation from Allan Hjelt´s son, business executive Bo Hjelt (born 1935), includes two armchairs and two dining chairs from these original Artek interiors. The chairs, which have been stored in outdoor storage for decades were renovated at the Alvar Aalto Museum. In addition, Bo and Kerstin Hjelt have lent a mahongany tea trolley, as well as leather suitcases used by Allan Hjelt and his wife.
Bo Hjelt inherited an important art collection from his parents and added to it over his lifetime. In 2006, Bo Hjelt donated most of the collection to the Åbo Akademi University Foundation, one of its founders in 1917 being Allan Hjelt himself. Bo Hjelt is involved in the Hjelt Foundations (Allan and Bo Hjelt Art Foundation, The Bo Hjelt Foundation for Spina Bifida in memory of Madeleine Hjelt, and The Bo and Kerstin Hjelt Diabetes Foundation). The Hjelt Art Foundation was supporting Aalto Studio, a student workshop of the Harvard University Graduate School of Design held in 2018 in Jyväskylä to discuss visions for the future of the Säynätsalo Town Hall, designed by Alvar Aalto in 1949-52.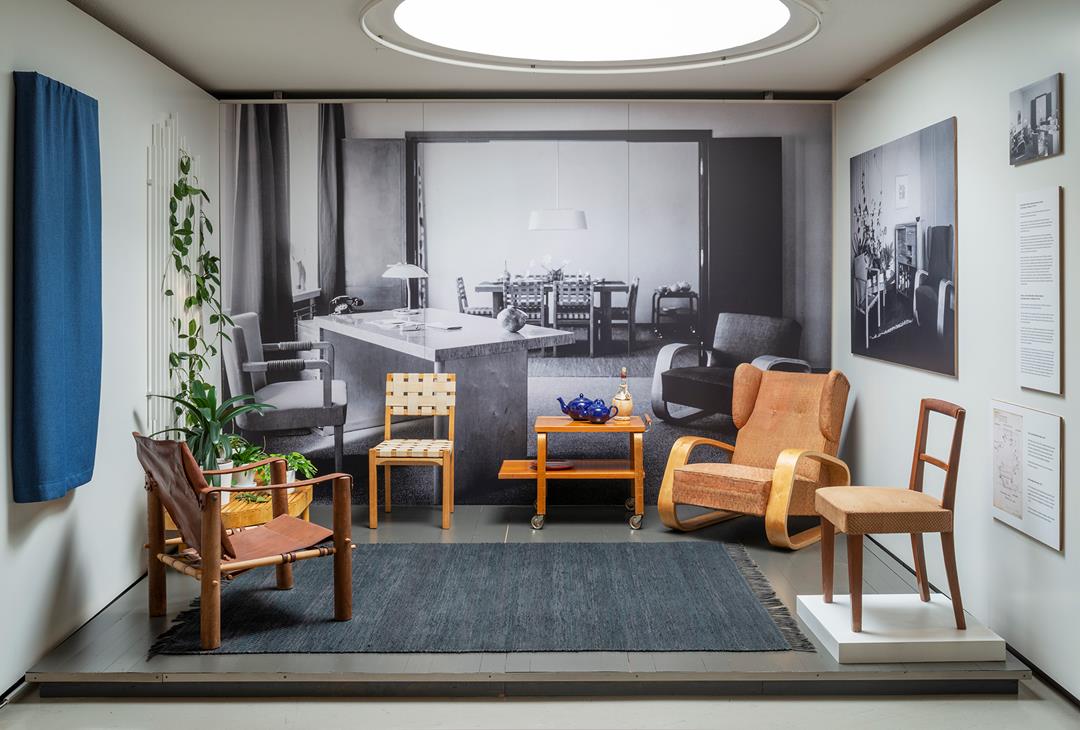 The donation includes two safari chairs and two upholstered dining room chairs. Photo Maija Holma, Alvar Aalto Foundation.
The donation strengthens my ties to Finland
Bo Hjelt is pleased to have returned the unique Artek chairs to Finland. "I remember that the chairs were in my childhood home. I was born in Finland but have lived abroad for 60 years as an international businessman. The donation strengthens my ties to Finland, and to Alvar Aalto's city of Jyväskylä", says Bo Hjelt. "It was in connection with a visit to the Alvar Aalto Museum that I came to think of the Artek chairs that I inherited from my parents Allan and Valborg Hjelt and I kept in a loft in Sweden."
"My father Allan Hjelt did as honorary consul for Finland in Italy promote cultural and economic cooperation between these countries. I have continued in my father's footsteps to develop Finnish industry and to promote international cultural exchange through the Allan and Bo Hjelt Art Foundation", states Bo Hjelt.
The Alvar Aalto Museum features Artek´s 1940´s interior, which includes a furniture donation from the Allan and Bo Hjelt Art Foundation. Photo Maija Holma, Alvar Aalto Foundation. Alvar Aalto Foundation
www.alvaraalto.fi