Simple, Structural with a Strong Presence
The Canvas Chair is one of the last pieces Børge Mogensen designed before his untimely death in 1972, and it has remained in our archives ever since – until now.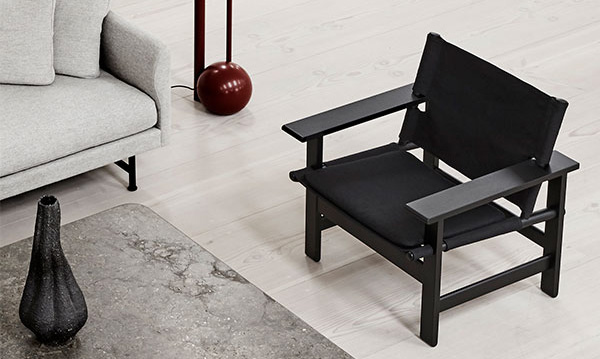 The chair embodies Mogensen's deep desire to create simple, structural forms where the material properties are optimised in perfectly proportioned designs. Avoiding anything flashy in favour of modest furniture.
Designed for Fredericia in 1970, it reflects the prevailing ethos at the time. A reaction to the vibrant colours and use of plastic often found in furniture from the 1960s, it echoes a more casual, down-toearth lifestyle, where value is given to basic forms and elements derived from nature. Values which are particularly relevant today in a world with growing concern about the environment, where we're seeing a preference for authentic experiences, such as a return to analogue versus digital.
Mogensen was truly ahead of his time with The Canvas Chair, which takes on even more relevance today, as an uncomplicated design in contrast to the complex world we live in. Along with its wide dimensions, allowing people to merge work and play in comfort.
The materials used to create The Canvas Chair were based on the available machinery at Fredericia's furniture factory at the time. Rather than see this as a restriction, Mogensen drew on his fascination with functionally-driven designs, sensitivity to materiality and quest for achieving the most comfort with the least amount of effort. The result is a flat canvas seat and back suspended between round pieces of wood, which are supported by rectangular pieces of solid wood as the frame. The contrast between the flat canvas, the round supports and the rectangular frame are enhanced even further by one of other Mogensen's trademarks – his use of strong horizontal and vertical lines.
While it's easy to recognise references to traditional Safari chairs and his famed Spanish Chair, The Canvas Chair is a distinctive design in its own right. Available in various variants that make it a timeless piece that's easy to envision in any modern milieu.