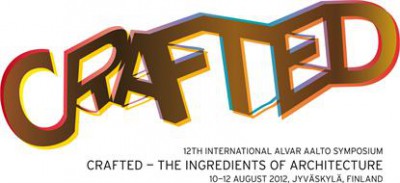 The Alvar Aalto Symposium is going to be held in the upcoming weekend, from 10 to 12 August 2012, in Jyväskylä. During the weekend, the symposium will bring together more than 300 architects, architecture critics, journalists, artists and students.
The Alvar Aalto Symposium serves as a forum to highlight some of the best examples of our built environment and to promote discussion and argument. The 2012 symposium theme, "Crafted – The Ingredients of Architecture", presents different ways in which simple building materials can be worked to create architecture.
"Our theme has attracted wide international attention. The symposium participants come from 24 countries and 6 continents. The high-profile lectures and related programme ensure that we are in for a most exciting weekend," says Esa Laaksonen, the director of the Alvar Aalto Academy.
The invited lecturers at the symposium include architects from around the world, whose approach to each design task is to offer a unique interpretation of the dialogue between a particular site, the developer and the material. They design their buildings with a consideration that extends to the finest detail, and with an emphasis on the characteristics of the chosen materials.
Speeches will be given by Yui and Takaharu Tezuka, who won an OECD award for the best educational facility in the world; the US-based architect Alan Organschi; and Mohsen Mostafavi, the dean and professor at the Harvard Graduate School of Design. The 2012 seminar will be chaired by professor and architect Pekka Heikkinen.
Adding spice to the symposium are the "design and build studios" of international architecture schools, which will explore the relationship between material, construction and architecture.
To coincide with the symposium, an exhibition presenting works by the Wood Studio at the Aalto University School of Arts, Design and Architecture will open at the gallery of the Alvar Aalto Museum in Jyväskylä. The bold and open-minded experimental wood designs by the Wood Studio, dating from
2000 to 2012, will be on show between 12 August and 14 October 2012.
The symposium is part of the WDC Helsinki 2012 programme.
More information on the symposium:
Alvar Aalto Academy:
Producer Mari Forsberg, mari.forsberg@alvaraalto.fi,
tel. +358 45 679 0920
Director of the Alvar Aalto Academy
Esa Laaksonen, esa.laaksonen@alvaraalto.fi, tel. +358 50 555 7330