Stockholm Furniture & Light Fair, February 7-11, 2017, offers a forum for knowledge and discussions within the area of design and architecture, Stockholm Design & Architecture Talks. The forum will have a theme this year of "Sustainability Thinking".
"Sustainability continues to be an important subject within design – among designers themselves, producers and consumers. We will discuss issues related to everything from the life of a design and products to equality in the industry and sustainable materials, production methods and architecture," says Cecilia Nyberg, Project Area Manager for Stockholm Furniture & Light Fair.
For the 2017 fair, Stockholm Design Talks will change its name to Stockholm Architecture & Design Talks, since architecture and the issues architects are currently facing will now become one of the central pillars of the program.
The program will highlight a mix of relevant debates and trends through lectures, panel discussions, trend lectures and pure inspiration. Profiled guests such as Dorte Mandrup, Jaime Hayon, Werner Aisslinger and Universal Design Studios will hold lectures and be interviewed on stage. There will also be an update on the discussion topic from 2016 – the development of Stockholm's architecture and urban profile – featuring among others the new City Architect in Stockholm, Torleif Falk.
Stockholm Design & Architecture Talks will be held February 8-11 in the fair's knowledge area next to Design Bar in Hall C. February 8-9 will be Architecture and Design Days, during which the primary focus will be on architects, interior architects, designers and buyers. February 10 is Furniture and Light Dealers Day, with a primary focus on dealers. February 11, which is the day the fair is open to the public, Stockholm Design & Architecture Talks will offer trend lectures and inspirational and knowledgeable guests.
Stockholm Design & Architecture Talks Program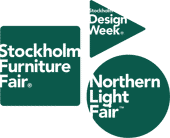 Spara