During 3daysofdesign, & Tradition had the exhibition Studies of a Table at Apollo Canteen, a hybrid art design exhibition, where five designers and design studios from around the world pushed the boundaries of what is considered the archetypal table.
Selected by &Tradition for their unique approach to exploring the traditional concept of this every-day household item, designers All the Way to Paris, Studio Raw Material, Teruhiro Yanagihara, Stellenbosch Art Foundry and Spiritual Objects, have also been chosen for their vision to construct a final product which represents their home countries of Denmark, India, Japan, South Africa and the United States.
After the design of each design, the objects were displayed at Apollo Canteen in central Copenhagen during 3daysof design.

After the exhibition, they will later be put up for auction, where the proceeds from each table will be donated to charities selected by the designers and design studios.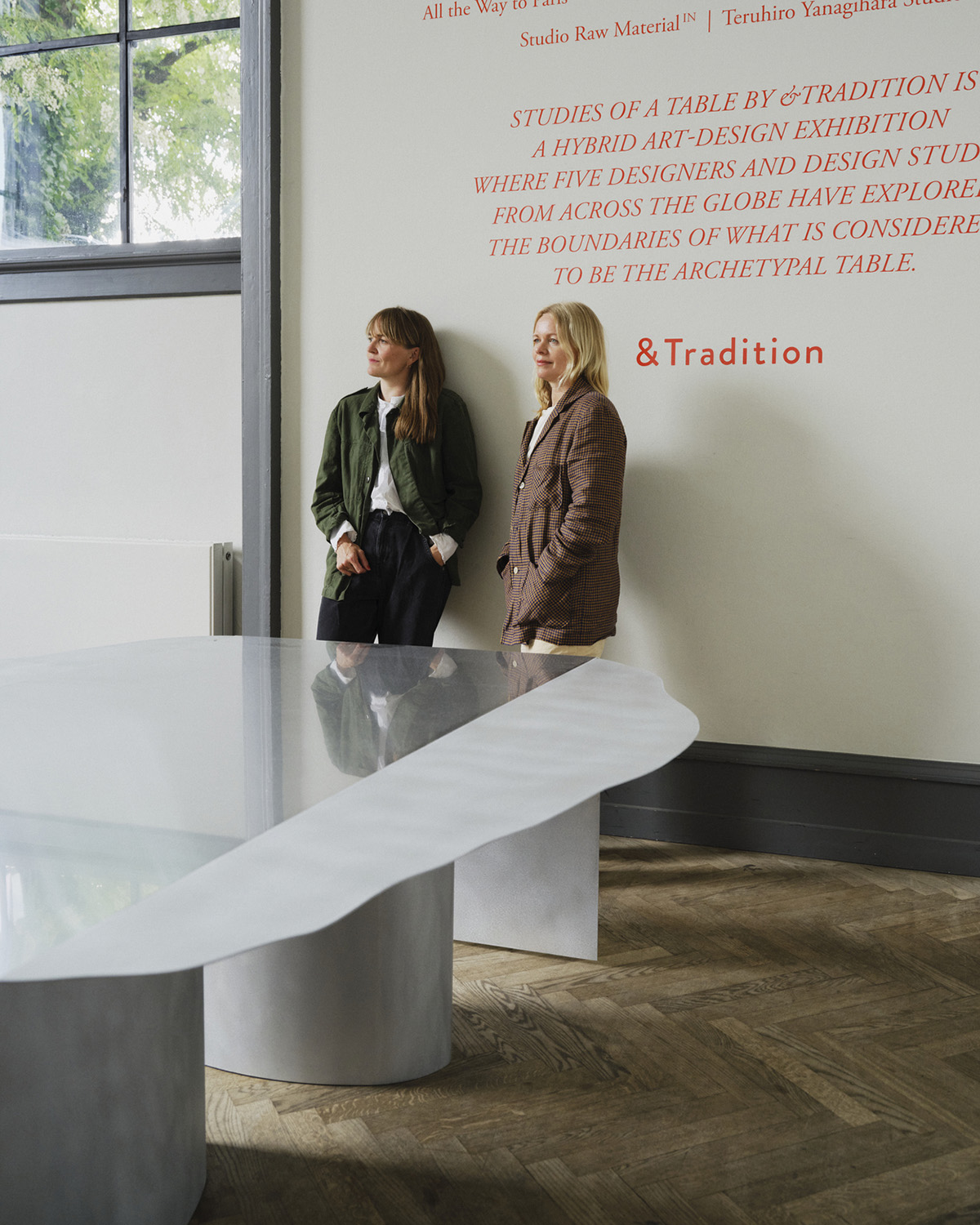 Table Cloth by All the Way to Paris, DEN/SWE
From constructing graphic identities and museum catalogues, to curating fabrics and interiors, founding partners Tanja Vibe and Petra Olsson Gendt of All the Way to Paris seek to eliminate the unnecessary by adopting a Scandinavian, no-nonsense approach to design.
Working with aluminium, a material chosen for its duality, Table Cloth fuses industrial expression with silky smooth tactility, unveiling both a harshness and a more poetic characteristic simultaneously. With organic fluidity at the design's core, the tablecloth appears to have fallen to one side in an unbalanced act, coaxing us to wonder what may have happened earlier that evening.

Khokhar by Studio Raw Material, IN
A collaboration between Priyanka Sharma and Dushyant Bansal, Studio Raw Material is an exploration of geology. Set in the desert plains of western India, the studio's aim is to express an experience of immersion in a landscape of the singular natural resource of marble.
Celebrating the idea and act of 'gathering', Khokhar is a table made from Dune Yellow marble peppered with prehistoric fossilised shells and sea creatures.
A visual representation of a deep exploration into past and present linguistic implications, Khokhar is a collection of unique stone slab fragments, assembled to provide abstract traces of their past.

Don't be a Square by Stellenbosch Art Foundry, ZA
A unique father and son enterprise, Stellenbosch Art Foundry is a micro foundry that focuses on casting high quality bronze work and sculptures. Based in Stellenbosch, South Africa, the duo's intention is to introduce the art of design through bronze casting to its audience.
With a playful desire to manipulate the status quo of conversation dictated by seating arrangements, Don't Be a Square came to fruition. A charming representation of South Africa's 11 languages, diverse culture and rich heritage – the meticulously constructed tetris of stainless steel, aluminium and bronze cubes in vivid tones sits visibly beneath a thick glass tabletop.

Éclair by Teruhiro Yanagihara, JP
Blending modern technology with serial production, designer Teruhiro Yanagihara mixes traditional and innovative aspects with the aesthetics and spirituality of Japanese culture, finding inspiration in art, food and everyday moments with family and friends.
Inspired by Kamishide – paper objects used to decorate Japanese shrines
– the Éclair table (from the French word for lightning) plays with several simple rectangular tabletop pieces, offset in parallel configurations. Crafted from an old-growth forest chestnut tree using traditional Sashimono techniques, Éclair is intricately assembled using complex wooden joints carved out with simple chisels and planers.

Tulip Table by Spiritual Objects, US
Spiritual Objects is the multidisciplinary design studio of Luc Fuller, a Los Angeles-based artist and designer. The studio's diverse output is an exploration of everyday objects, reinterpreted through constant, curious and optimistic acts of imaginative translation.
A physical manifestation of colour as an object, Tulip Table is crafted from laminated marine plywood, steel and lacquer, facilitating tone and form as its primary expression. Envisaged as an art piece which embodies both sweetness and optimism, Tulip Table incorporates colour on colour combinations presented in puzzle-like forms, adding a unique depth of field to the table once nested.