On behalf of Stockholm Furniture & Light Fair 2022, Marge Architects, in collaboration with Experience Curator Jenny Asp, has created the completely circular inspiration exhibition "Around the Corner" that generates faith in the future by highlighting innovations from different industries. Among those presented is a new collaboration between Norwegian Vestre and Danish BIG Architects, and HYBRIT, which has produced the world's first fossil-free steel.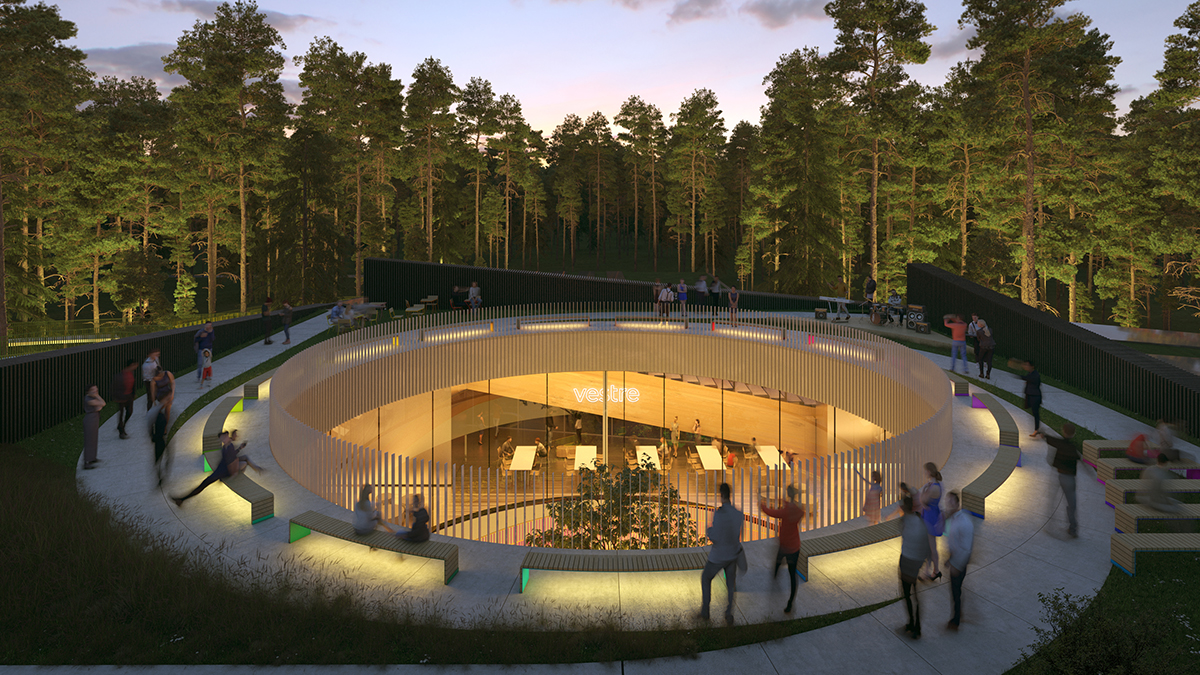 "We want to show the enormous strength in innovation that exists in our Nordic countries. Around the Corner is a multifaceted exhibition focusing on circularity where a number of sustainable innovations from the fashion, textile, architecture and construction industries are presented. The ambition is to serve as a breeding ground for new synergies where people and companies can be inspired regardless of the industry," says Sanna Gebeyehu, Concept and Product Owner for Stockholm Furniture & Light Fair and Stockholm Design Week.

Marge Architects and Jenny Asp
BEing Scandinavian is the overall theme for the upcoming edition of the Stockholm Furniture & Light Fair, a concept that explores deeper into the notion of "typically Scandinavian." The wholly circular exhibition, Around the Corner, with architecture firm Marge behind the concept and architecture is one of the initiatives that the fair has taken to investigate what we in the Nordic region are most known for. Marge has partnered with Experience Curator Jenny Asp, who has helped fill it with content.

"It was an honour to be asked, but my first thought was 'How sustainable is it to do an exhibit that might only last for a short period of time?' The answer was in the brief BEing Scandinavian and that what we do today will influence others all over the world. For us it is about how we make use of the earth's resources and how we act; not only in accordance with a budget and a timetable but in a broader time perspective," says Erik Hökby, Architect, Marge.

Renewable resources – beyond recycling
Marge's approach, backed by the BEing Scandinavian theme, led to having much of the initial work revolve around further understanding the subject of material flows; knowledge that resulted in a completely circular exhibit with only borrowed materials that had been previously used. The timber comes from the Danish initiative Gentrae, which with the help of government funding collects construction waste that is sorted and then sold. For the construction of the exhibit, Gentrae lent the necessary material, using raw materials that with fossil-free transport move between different contexts. This way the resources get a longer lifespan, beyond recycling.

"We have plenty of wood here in Sweden and that is an attractive material that touches more senses than the visual. The exhibit will, among other things, have the scent of wood chips and conifers. But even what we call renewable resources must be used to the maximum when we have it in our hands. With this exhibition we want to influence people, not the least ourselves and our colleagues in our own industry, to think differently and be inspired by new perspectives from other industries and not just look on as new trees are cut down," says Eva Salomonson Falk, Interior Architect, Marge.

The selection process – from start-ups to large companies
Content-wise, Around the Corner consists of a number of borrowed Scandinavian innovations from several different industries. The exhibition should be seen as a whole with Marge and Jenny Asp having worked with three different perspectives: people, society and the city. Each of these areas is represented in a number of innovations. Among others we will get to see the company Renewcell, which has developed the revolutionary material Circulose, and will launch Levi's 501s during 2022 – and HYBRIT, an initiative from Swedish companies, SSAB, LKAB and Vattenfall. With HYBRIT's technology, the world's first fossil-free steel has been produced in a pilot project and the first physical product, developed earlier this year, is a symbolic candleholder by designer Lena Bergström. Vestre and BIG Architects have the ambition to build the world's most sustainable furniture factory in the Norwegian forest, which will open in 2022 – a project that we will get to know in depth through this exhibit.
"For a while we had a list of one hundred different, noteworthy candidates, with the selection process focusing on selecting a limited number that will be presented in an interesting visual format. It requires an openness and curiosity from visitors to immerse themselves and see the synergies and possibilities to create new and innovative solutions within sustainability," says Jenny Asp, Experience Curator.
The Around the Corner exhibition will be held in the eastern section of the A hall at the Stockholm Furniture & Light Fair and it will be inaugurated in connection with the opening of the Stockholm Furniture & Light Fair on February 8, 2022.
More information
For the latest information on everything happening at the Stockholm Furniture & Light Fair and during Stockholm Design Week, follow us on Instagram: sthlmfurnfair (Stockholm Furniture & Light Fair) and StockholmDesignWeek.