…based on overlaps and shared visions
The Danish design company Skagerak has launched a new collaboration with the Swedish TAF Architects, whom links architecture with furniture and interior design in thought-provoking, playful and simplistic expressions. Together, the Scandinavians have brought the elegant table and bench set Overlap into life in dynamic contrast between rustic wooden planks and powder coated steel legs that overlap.
A new Scandinavian relationship has been established between the Danish design company Skagerak and Swedish TAF Architects, also known as just TAF. Behind TAF is a creative duo of the two designers, Gabriella Gustafson and Mattias Ståhlbom. Together, they have been working in the space between architecture and design, creating an impressive catalogue of modern Scandinavian classics in lighting, furniture and interiors since 2002. From their studio located in a refurbished bakery in the heart of Stockholm, TAF made international headlines when they released their Wood Lamp, a low-tech counterweight to the prevailing modern metal lamps. The design duo has also exhibited at MoMa in New York and are now part of the permanent collections at Sweden's Nationalmuseum and the Danish Design Museum in Copenhagen. Recently, TAF has been selected to help the Swedish Nationalmuseum with decorating its restaurant as part of a major renovation expected to be finished in 2018.
In their approach to developing design, TAF often finds inspiration from idea generation and dialogue with like-minded as well as and differently thinking actors. "Groups are usually far more dynamic and interesting than individuals, which has also been the case in our new relation to Skagerak", Mattias Ståhlbom explains.
To Skagerak, TAF's desire to create simplistic, modern expressions and their ability to reinterpret traditional types of interior in new and playful ways have been of great importance in the corporation.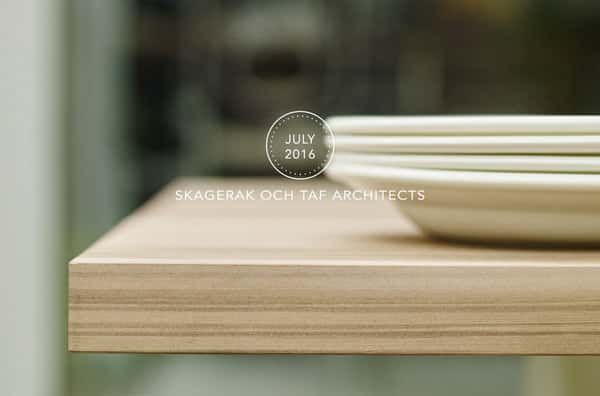 Overlap bench and table set
a joyful and hard-wearing material composition
The first viable result of the interplay between the Danish and Swedish design enthusiasts can be seen in the new sturdy bench and table set, Overlap, that brings rustic and modern elements together in an original expression. Overlap is made as a tribute to true companionship and the many memories we generate when spending time with those we keep close. The new furniture, which is well suited for both indoor and outdoor use, is named after the very special structure of the legs, which are crafted in powder coated and galvanized steel. Exactly as two pieces of paper folded on the middle and intertwined lengthwise, the legs overlap one another leaving the form open with curved edges. The wooden planks come from the Western Red Cedar which is characterized by its sturdiness and resistance towards bugs and insects, mould, decay and bacteria. Furthermore, Western Red Cedar is a light type of wood, which makes is easy to move and place both inside and outdoor when needed. As Overlap ages, the planks will take on a silver grey patina highlighting the rustic look and the many contrasts to the simplistic steel legs.
Owner and CEO of Skagerak, Jesper Panduro, welcomes the new relationship with the Swedish designers and looks forward to work closely together on new projects with TAF in the future.
"Mattias' and Gabriella's demand for quality in both design and materials corresponds well with Skagerak's headstrong principle of creating products which adapt to and shape the surroundings while withstanding the ravages of time.
Overlap Table
Designer: TAF Architects
Material: Western Red Cedar/ Steel
Colour: Silver White, Hunter Green
LxDxH: 220x90x74 cm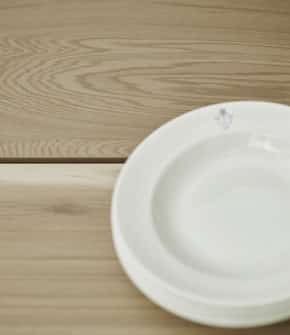 Overlap Bench
Designer: TAF Architects
Material: Western Red Cedar/ Steel
Colour: Silver White, Hunter Green
LxDxH: 200x36x43 cm