The art and industrial designer Sigvard Bernadotte, 1907–2002.
The image taking shape in the rearview mirror is of a multi-faceted artist. What first comes to mind is his work in silver. In the 1930s, he was responsible for the renewal of Georg Jensen's collection, and a contract between the company and the designer, signed in December 1930, has never been annulled.
Besides silver, Bernadotte has worked in such diverse materials as ceramics, glass, tin, plastic and textiles, to name a few. He has designed literary volumes, furniture and entire interiors. One of his earliest assignments was to design the poster for Sweden's first sound motion picture.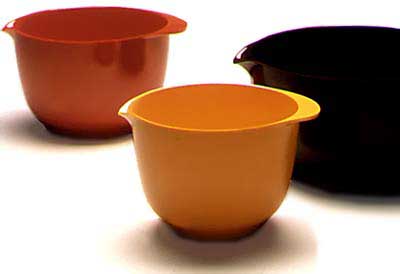 Bowls, design by Sigvard Bernadotte
Bernadotte's career in design divides easiest into two parts: one working with Acton Bjorn in Copenhagen, and one working from his own design office in Stockholm. A large number of designers were employed in both companies. Work in industrial design widened Sigvard Bernadotte's range – he was called on to design everything from thermos flasks to plastic kitchen implements.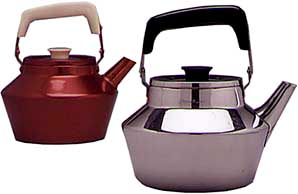 Coffee kettles, design by Sigvard Bernadotte
Bernadotte was one of the founders of the Swedish industrial designers' society, SID (Föreningen Svenska Industridesigners), and was for many years president of ICSID, the International Council of Societies of Industrial Design.
Few of the royal Bernadotte family have infiltrated everyday Swedish life to the extent that Sigvard Bernadotte has. The design establishment he founded attracts notice even today. His mixing bowls for the Danish house, Rosti, are still selling. If you should buy anything in chocolate from the Swedish sweets-makers, Marabou, you get with your purchase a free look at their logo, renewed by Sigvard Bernadotte in the '60s. Even the blue carriages on the Stockholm Metro were given their colour after consultation with the designer.
Sigvard Bernadotte began working with design almost 70 years ago, so the exhibition has many items familiar to Swedes for much of this century. His style has been described as elegant, with an eye to the wider, international scene, and at its best, characteristic of his royalty.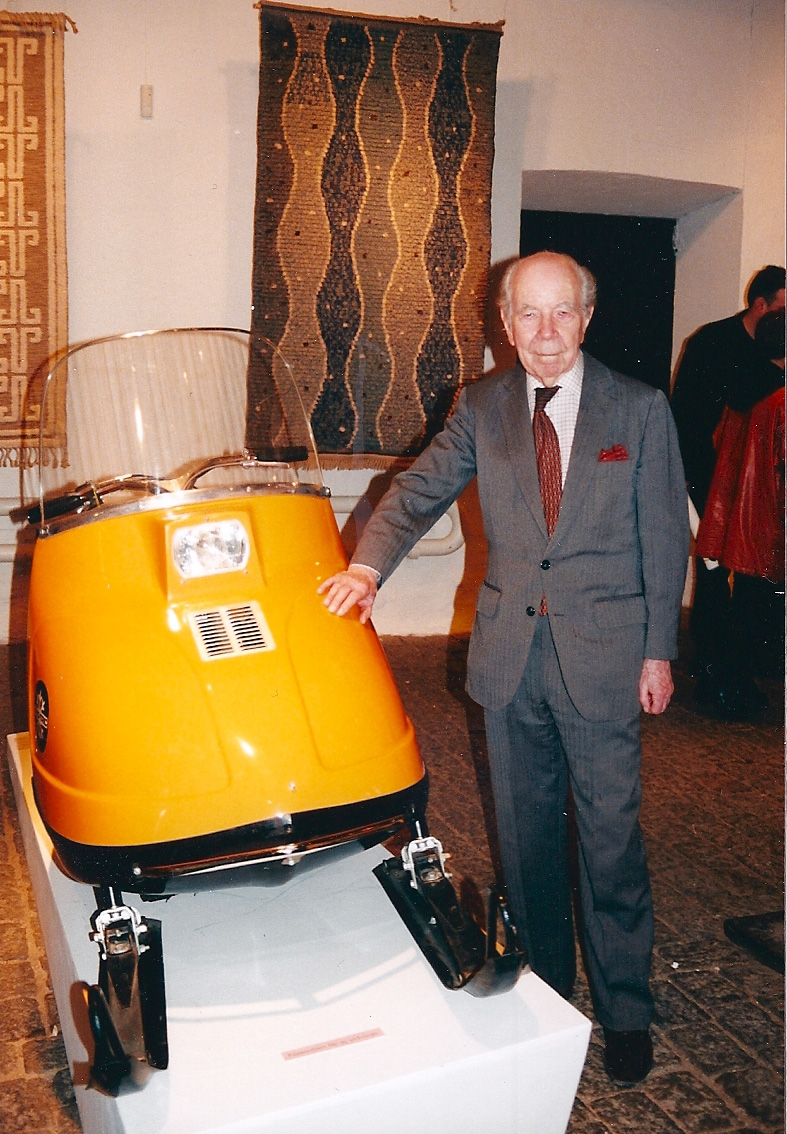 Sigvard Bernadotte at Form Design/Center 1997.
Photo: Ola Hollsten.