A sofa and two chairs, designed by Finn Juhl and nicknamed "The Elephant Furniture", have just been sold for a record price of DKK 4.03 million / € 542,000 (including buyer's premium).
On Thursday, the saleroom in Bredgade 33, Copenhagen, was the setting for a big evening in Danish design history, where Bruun Rasmussen sold a sofa and two chairs by Finn Juhl from 1939. The sofa set was presented at the Cabinetmakers' Guild Exhibition and was initially considered too much for contemporary taste. It was bought by the artist Mogens Lorentzen and has since been in the ownership of his family. However, no one in the world of design was aware of this. Just a few years later, pictures of the sofa were included in books about Danish design, but everyone thought it had been lost. It was therefore a unique piece of design history and cultural piece of heritage that was sold at auction, and the buyer of the furniture was a European collector who invested a total of DKK 4.03 million / € 542,000 in the sofa and the two chairs.
Frederik Bruun Rasmussen spoke from the podium about how proud Bruun Rasmussen was to be entrusted with the sale. Subsequently, the hammer fell at DKK 2,100,000 / € 282,000 for the sofa and DKK 1,000,000 / € 134,000 for the two chairs. To this can be added the buyer's premium making the combined price the highest ever for a set of Finn Juhl furniture.
Peter Kjelgaard, Head of Bruun Rasmussen's Department of Modern Design, says: "With this fantastic hammer price for the Finn Juhl furniture set, we once again see that the somewhat clichéd statement that "good design lasts" has been hammered home. It has been an amazing process; from the moment we received the furniture, had it restored, and now sold the set at a record price. I am very proud of the committed teamwork here at Bruun Rasmussen".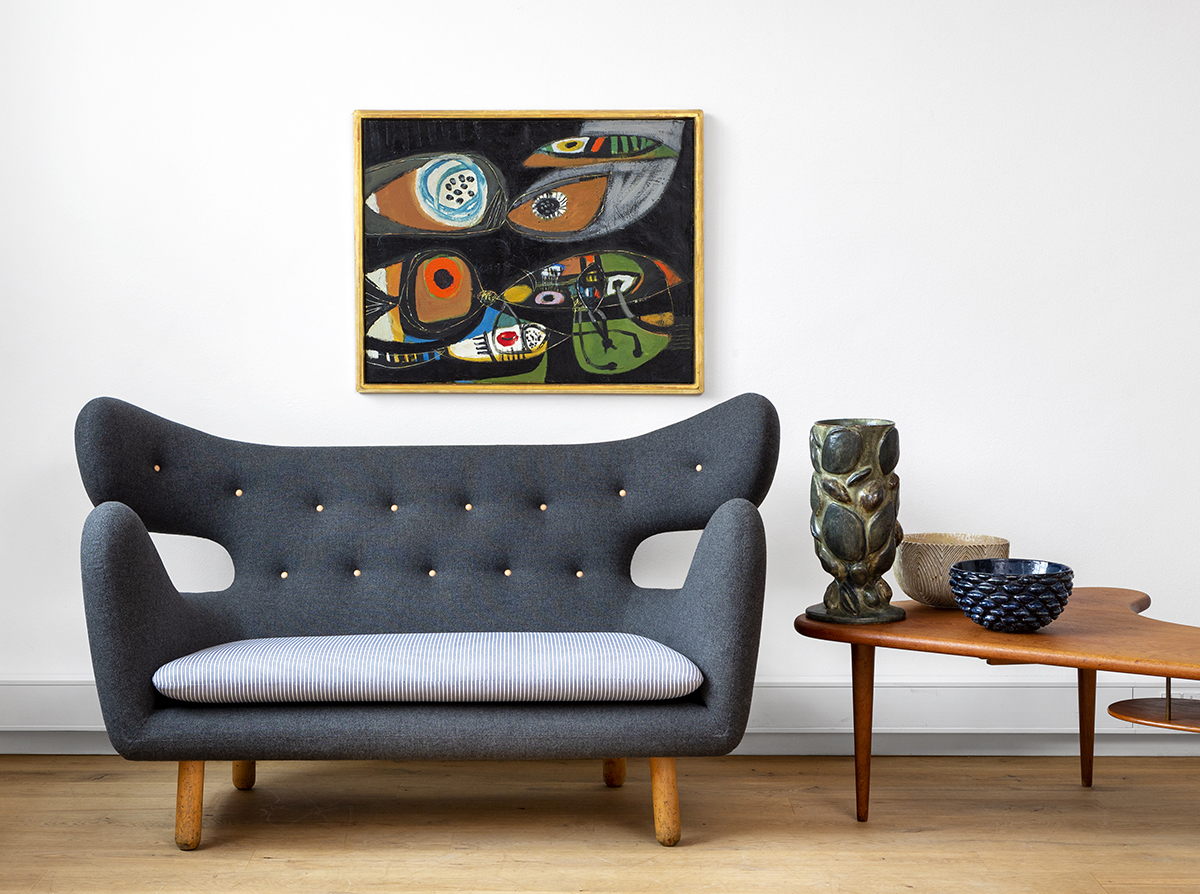 Too Much for Contemporary Taste
In 1939, there were many who considered even Kaare Klint's furniture a bit too modern, so it should come as no surprise that this set of furniture by Finn Juhl was seen as controversial and provocative in its day. The shapes are sculptural and organic with references to modern art such as the playful style of Jean Arp. In a review of the exhibition, the Danish newspaper Berlingske Aftenavis had the following comment: "The architect Finn Juhl has designed a very eccentric living room (…) The sofa is made in a strangely carved-out style. The peculiar furniture pieces are manufactured by Niels Vodder (…)."
The reaction was much more clearly positive, as the consignment of the furniture created a good deal of joy in Bruun Rasmussen's Department of Modern Design. Head of Department, Peter Kjelgaard, does not hesitate to call the furniture "the greatest treasure of Danish design".
"When I saw Finn Juhl's sofa, I could hardly believe my own eyes. I have worked with Danish design throughout my entire career, but this is the most interesting piece of furniture I have ever had in my care. The sofa is known only from photographs in literature, and everyone in the design world thought it had been lost for good. With this find, I now consider one of the great mysteries in Danish design history as being solved," says Peter Kjelgaard, Head of the Department for Design and Decorative Art at Bruun Rasmussen