Ray
Design by Indicum Inredningsarkitekter
Karl Andersson & Söner
Ray room divider (2022) is one of the results of a project to transform an office with fixed workspaces into one that offers greater flexibility in terms of the work environment. In order to satisfy ambitions to make full use of natural light in the premises, areas were separated by a trellis construction rather than solid screens. The wooden staves in the trellis create patterns of light, subtle contrasts and smooth transitions, while also fulfilling their primary function of dividing and partitioning the space in the room.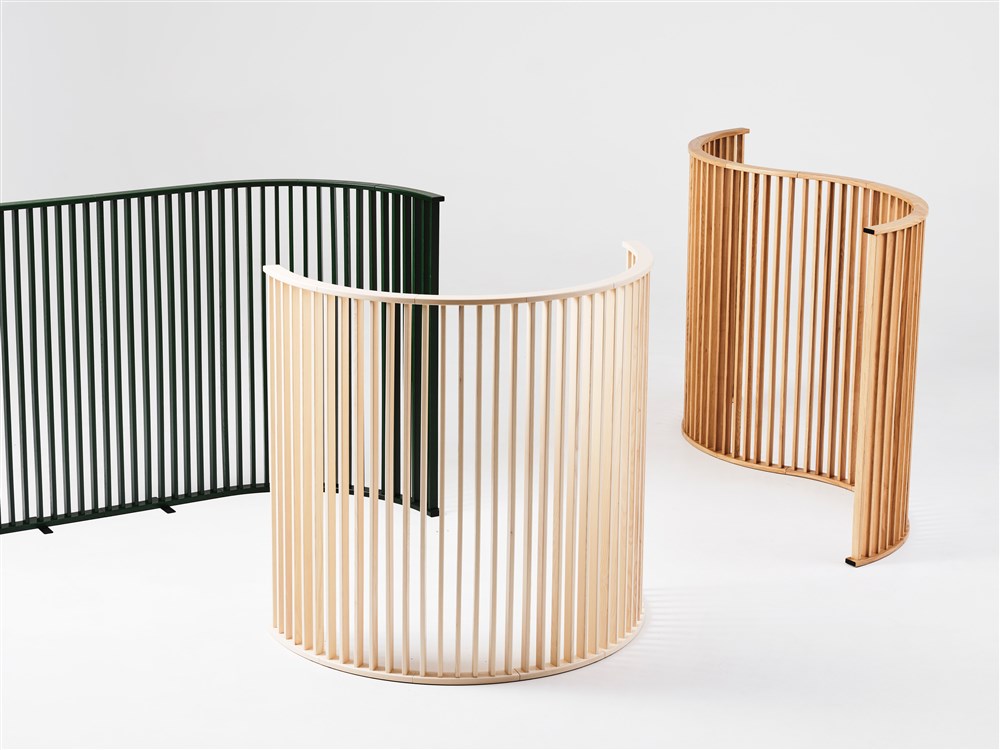 The name – Ray –  is inspired by the way the trellis construction filters the light and creates rays of differing intensity between the staves. Thanks to its curved structure Ray room divider stands steady and stable without any need to secure it to floor or ceiling. This makes it easy to extend in the same way as modular furniture. The curved form also means there is no front or back to Ray, ensuring that it always looks equally attractive from every point in the room.

Ray is the ideal solution for creating a room within a room. Simply add a combination of high or low seating, together with plants and the requisite lighting.
Ray room divider is 1600 mm high. It comes as a straight module 630 mm long, and as two 30° modules with a radius of 800 mm and 1400 mm respectively. For optimum stability certain combinations require a foot in powder-lacquered metal. If the modules are to be anchored to the floor, please note on the request / order. Each module is equipped with felt floor protectors. Modules are supplied assembled, ready to be linked with concealed link fittings. Ray comes in a choice of solid oak or ash, standard stains on ash and white glaze on oak or ash. End in metal black or white color. Hand tools are all that is required to simply separate the different modules.