PodWork Xpress for all mobile workers
Many people are mobile workers. However, sometimes it is necessary to stop and read emails or focus on other work tasks. The PodWork Xpress workstation has been designed precisely for this.
"PodWork Xpress is a compact workstation, which offers privacy and the opportunity to focus on work. It also allows more efficient use of space than conventional workstations designed for longer periods of work," says Kari Leino, Product & Design Director at Martela.
In addition to offices, PodWork Xpress is perfect for public spaces, such as airports, hotel lobbies and banks. The new workstation is available in standing- or seated-height.
"Visitors and travellers often need workstations that allow them to focus on their work in peace," says Henrik Kjellberg, Designer at o4i Design Studio.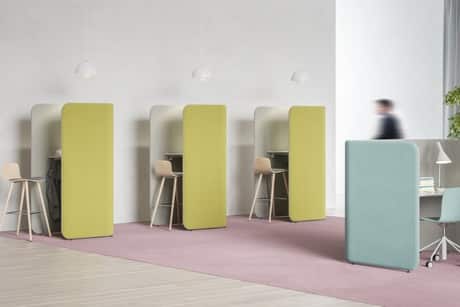 "For example, various types of self-service points are often placed right next to each other, so if you are familiar with data protection issues you may be reluctant to handle personal or confidential matters in these places," adds Leino.
The design language communicates the "express" nature of the workstation. Old-fashioned telephone boxes were the designers' source of inspiration.
"The design unites old-fashioned design language with the demands of modern work, making it easy for users to use the workstation. The design, which is soft and open like a bay window, is inviting and encourages people to stop by," says Kjellberg.
PodWork Xpress's fabric upholstery is available in several colours.
"Different colours can be used on the inside and outside, making it a striking feature in the work environment."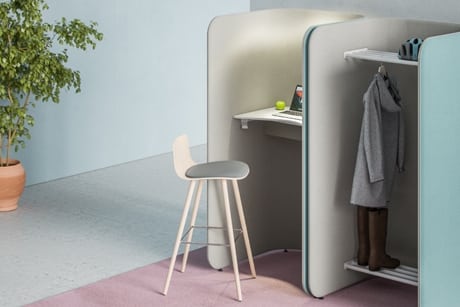 Versatile PodWork Xpress is also a place to store clothes
PodWork Xpress also functions as a clothes storage unit, with a high shelf, places for hangers and a shelf for shoes. This keeps clothes in order and out of view.
"There are plenty of attractive clothes racks available on the market, but their design is usually hidden under the hanging clothes. This makes the work environment look restless. PodWork Xpress calms the overall visual appearance of an open-plan space," says Leino.
PodWork Xpress works on its own and in groups.
"The option of combining a workstation and clothes storage makes public spaces more welcoming and flexible. Your coat won't get creased on a hotel sofa and your bag won't get dirty on the floor, and they are close at hand when it is time to move on again," says Kjellberg.
PodWork Xpress is the newest member of the Pod product family, which includes the PodWork workstations, the PodMeeting meeting space and group, the PodSofa sofa, which seats two, and the PodSeat easy chair.

Spara
Spara