Louis Poulsen celebrates 60th anniversary of Poul Henningsen icons
Six decades ago, in 1958, lighting design pioneer Poul Henningsen redefined modern illumination with three revolutionary forms: the PH Artichoke, the PH 5, and the PH Snowball. This year, Louis Poulsen celebrates Henningsen's contribution to design history with several special editions: the PH Artichoke in brass, and the PH 5 and PH 5 Mini in copper.
Throughout 2018, the PH Artichoke and the PH 5 will be celebrating six decades of transforming spaces with their thoughtful illumination and sculptural form. The PH Snowball, too, has existed since 1958, when it was exhibited alongside the PH 5 at the Danish Museum of Decorative Art. However, it was not until 1983 that the PH Snowball gained the attention of its counterparts and went into production. Today, all three designs hold iconic status in the Louis Poulsen collection, with the PH Snowball remaining available in classic white in keeping with its name.
The year 1958 was an incredible one for architecture in design around the world – and certainly in Denmark," says Rasmus Markholt, Product & Design Director at Louis Poulsen. "There was something in the water: Arne Jacobsen, for instance, created an array of design icons, which we produce to this day, for his SAS Royal Hotel masterpiece in Copenhagen. And Poul Henningsen lit up the world with three completely unprecedented pendant concepts. His thinking about the way design shapes light has informed generations of lighting designers, not to mention the Louis Poulsen story. So we are honoured to have this opportunity to showcase how relevant his captivating, organic forms continue to be in the modern world."
With today's interiors focusing increasingly on creating a warm, human ambience, the new metallic editions infuse precisely the right ambience and visual appeal, while making a statement of timeless elegance.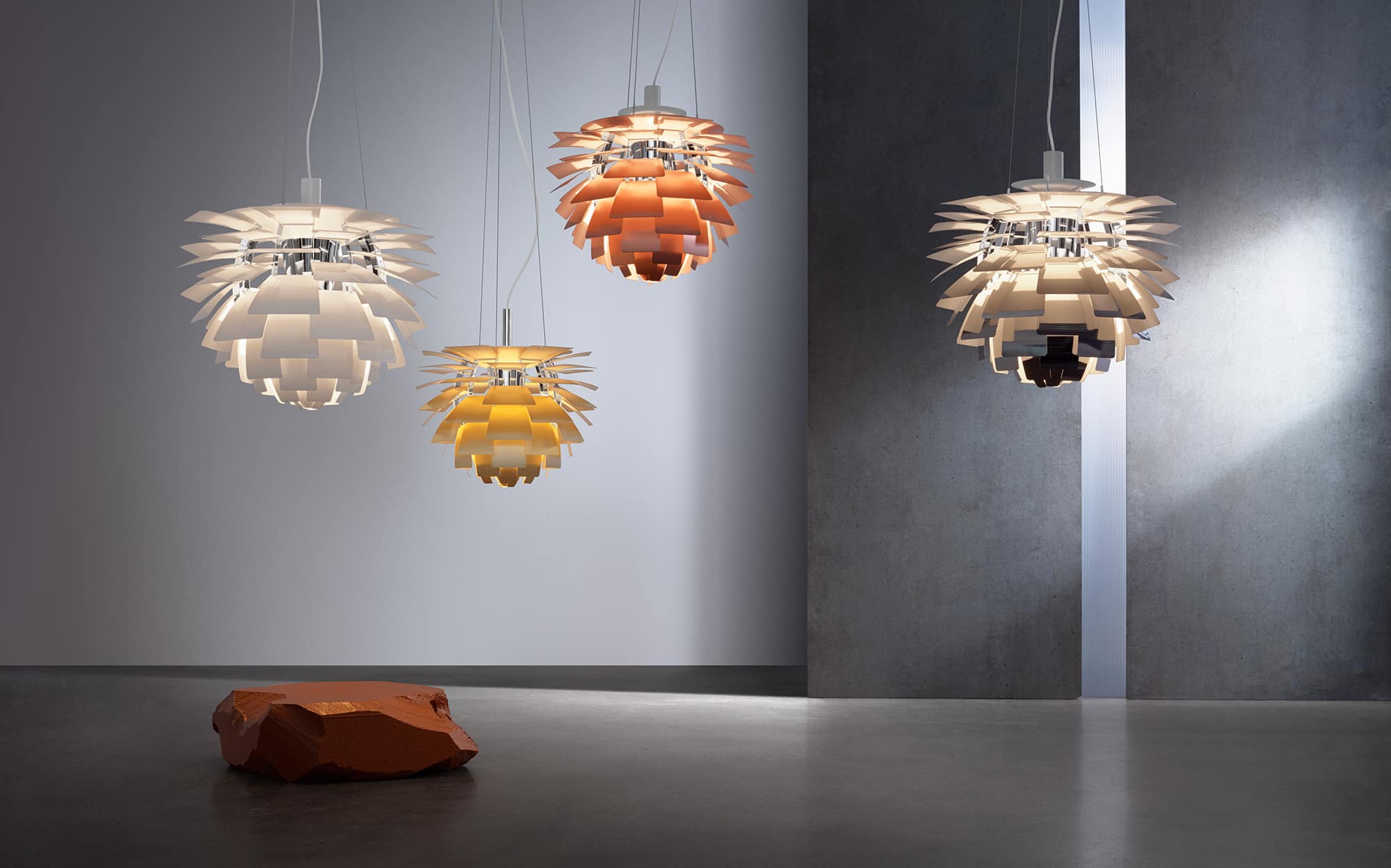 NEW: PH Artichoke in brushed brass
Originally conceived in 1958 for Langelinie Pavillonen, a modernist Copenhagen restaurant where it continues to enchant visitors today, the legendary PH Artichoke pendant has since made itself at home in public and private spaces worldwide. The sculptural design takes on new expressions with every new finish – while boldly and reliably infusing ambience into contemporary and classic interiors with its unique, nature-inspired form.
The PH Artichoke has been manufactured in metallic editions since its inception, but this is the first time the previously only custom-made brushed brass is becoming widely available. The finish gives the familiar form a fresh feel and invites the classic into a wider array of interiors. From entryways to living and dining rooms, master bedrooms to private workspaces, the PH Artichoke creates a simultaneously bold and human effect as it adapts to diverse environments.
"Over its 60 years, the PH Artichoke has been manufactured in countless hues and multiple metallic editions, and we are particularly happy to be able to celebrate this organic, nature-inspired form in the earth-toned brushed brass," says Rasmus Markholt. "There is a warmth and tactility to the finish that we think will make it a very welcome addition to private spaces, where the PH Artichoke can show its softer side."
Keeping the source of light hidden within layers of 72 leaves, the PH Artichoke uses LED bulbs to create soft, glare-free illumination. The brass edition will be available in all sizes.
The PH Artichoke in brushed brass will be available from September 2018
This special edition, available exclusively through 2018, will be engraved with PH's signature – PH Artichoke – 1958-2018 – Anniversary Edition, and a unique number. From 2019, the PH Artichoke will be delivered without the anniversary engraving.
NEW: PH 5 and PH 5 Mini in copper
Six decades after its initial unveiling, the PH 5 remains the bestselling design in the Louis Poulsen portfolio. To celebrate the anniversary of this beloved pendant, Louis Poulsen is releasing the PH 5 and its smaller counterpart, the PH 5 Mini, in commemorative editions that pair copper shades and white tiers.
The new metallic-and-white combination highlights Henningsen's shade system design and adds new dynamism to one of his most recognised forms, with the mirror-like copper tiers reflecting their surroundings. This new aesthetic also invites new decorative possibilities, adding to an already extensive array of PH 5 colours and finishes.
With natural tones guiding today's interior trends, the copper PH 5 and PH 5 Mini naturally join spaces seeking to create a warm, welcoming environment. The expression aligns with Poul Henningsen's primary goal of shaping light to bring warmth to spaces and people.
Unlit, the copper and white PH 5 and PH 5 Minis bring sculptural elegance to both intimate living spaces and gathering hubs like kitchen and dining areas. Lit up, they deliver gentle, glare-free LED lighting – with the copper finish creating added glow. As always, the design is stunning on its own – yet compact enough to be used in multiples.
The PH 5 and PH 5 Mini in copper and white will be available from September 2018.
About Poul Henningsen
The master of light – The profoundly influential and daring designer, architect, author, and cultural critic Poul Henningsen left his mark on many areas of Danish thought and design, and built a legacy that remains integral to Louis Poulsen's work to shape light.
Henningsen first saw electric light in 1907 and dedicated most of his life to taming and refining the then-new phenomenon. His lifelong collaboration with Louis Poulsen began in 1924 . In 1926, seeking to reduce glare and enhance illumination, Henningsen developed his revolutionary three-shade system, achieving softly diffused lighting that was pleasing to the eye and created more comfortable and inviting spaces for work and life. The designer's partnership with Louis Poulsen went on to give the world such classics at the PH 5, the PH Artichoke, and the PH Snowball.
Henningsen's pioneering work with the relationship between light structures, shadows, glare, and colour reproduction – and his fascination with the human need for both darkness and light – remain the foundation of Louis Poulsen's lighting philosophy. Spara
Spara
Spara
Spara
Spara
Spara