PH 5 Retake
The fixture provides a comfortable, glare-free light, based on the principle of Poul Henningsen's reflective threeshade system, which directs the majority of the light downwards. It emits a lateral light as well as illuminating itself, providing a soft radiance from within its core. The fixture is a retake on a classical PH 5 and has been stripped of all its previous paint, thus appearing raw and untouched. The bare metal inner shades give a particularly gentle light reflection, delivering a warm and cosy ambience. The lower shade is furthermore fitted with a frosted diffuser glass to ensure that the downward directed light is 100% glare-free.

Environmental Product Specification
This product is compliant with the requirements contained in the European Directives, RoHS Directive 2011/65 and 2015/863. This product is designed so that 100% of the product can be disassembled and reused.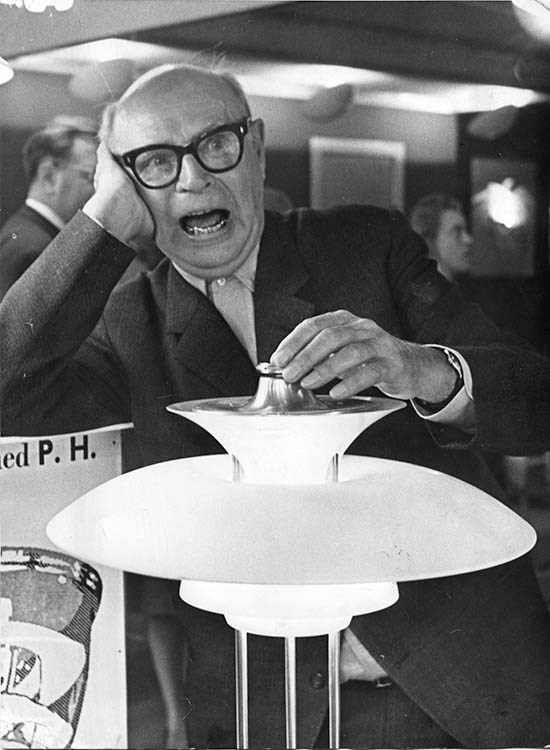 Information
The shades may appear with smaller irregularities, crookedness and dents. Please note that the metal surface is treated with a dry lubrication to prevent further patination. The lower steel shade will corrode over time unless it remains further treated. If preferred, applying a dry lubricant every now and then will help maintain the original raw- metal finish. Mounted over the dining table in a small, hip city apartment kitchen—or in a row above a long kitchen table in a classic and stylish house—the PH 5 Retake provides a cozy ambiance with a truly modern edge. Merging retro with contemporary, the PH 5 Retake is also a perfect fits for sharp up-and-coming retail environments, bars, and restaurants.
Poul Henningsen
The very influential Danish designer, architect, writer, and cultural critic, Poul Henningsen (1894-1967), has had a huge impact on Danish thinking and design. His legacy is an integrated part of Louis Poulsen's endeavor to shape light.