This year is a special year. Not only is it the centenary of Yngve Ekström's birth. It is also the 60th anniversary of his breakthrough exhibition at NK; an important step on his way to becoming one of Sweden's most important furniture designers. We are celebrating this with the relaunch of his Palett table from the NK exhibition in 1953 – in a numbered edition of 100 pieces.
1953 was a magical year. Yngve Ekström won first and third prizes in the Handicraft Society's model competition. Yngve had founded ESE (as Swedese was called back then) just eight years previously, together with his brother Jerker Ekström. Although the first years were tough going, they had already put together a solid collection – with orders coming in from as far afield as the US. On top of that, they received an invitation from the one of the most prominent interior designers of the time, Lena Larsson at NK. The NK-Bo exhibition was a big hit, and earned him important recognition.
At NK, customers got a chance to see the most important pieces of furniture in Yngve Ekström's collection. One new addition was the Thema chair, which, in order to facilitate shipping to America, was designed with the same knock-down solution that a completely different furniture company from Småland would later become world famous for… Yngve Ekström was in many ways ahead of his time. Another innovative piece was the elegant and artistic Palett coffee table. Ingeniously organic in shape, it was interesting whether placed on its own, or in dialogue with a second table.
As a tribute to Yngve Ekström and his contribution as an epoch-making Swedish furniture designer, we are relaunching the Palett in a limited, numbered edition. The Palett has a laminated wooden top with masur birch veneer and birch legs. The size is 580 x 460mm with a height of 410 mm. And the number – well, there's a hundred of them!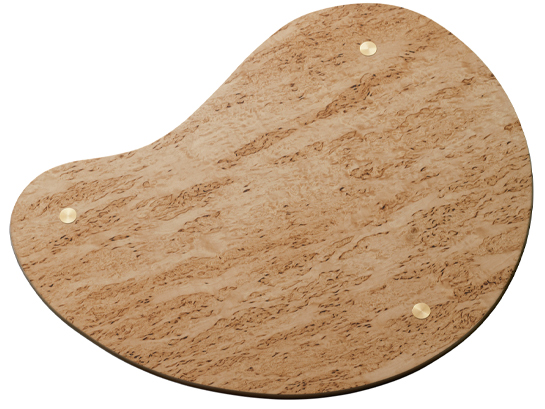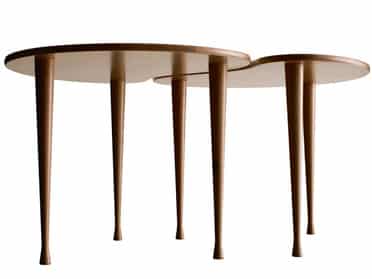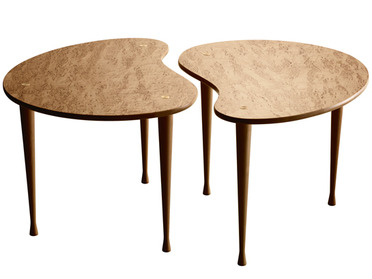 Jubileumsbord i numrerad upplaga
I år är ett speciellt år. Inte nog med att det var 100 år sedan Yngve Ekström föddes. Det också 60 år sedan han slog igenom med en egen utställning på NK, ett viktigt steg på vägen till att bli en av Sveriges viktigaste möbelformgivare. Detta firar vi med att relansera Palett från NK-utställningen 1953 – i en numrerad upplaga om endast 100 exemplar.
1953 var ett magiskt år. Yngve Ekström vann första och tredje pris i Hemslöjdsförbundets modelltävling. Tillsammans med sin bror Jerker Ekström hade Yngve drivit sitt ESE (som Swedese då hette) i åtta år. Även om de första åren var tuffa hade de redan en gedigen kollektion – och beställningar även från USA. Därtill kom en inbjudan från den dåtida maktfaktorn – inredningsarkitekt Lena Larsson på NK. Utställningen på NK-Bo blev en stor succé och ett viktigt erkännande.
På NK fick kunderna se det viktigaste av Yngve Ekströms kollektion. En nyhet var stolen Thema, som för att kunna skeppas till Amerika såldes i samma typ av knockdown-lösning som ett helt annat möbelföretag från Småland senare skulle bli världsberömt för … Yngve Ekström var på många sätt före sin tid. En annan nyhet var det eleganta och artistiska soffbordet Palett. Så genialt organiskt format att det är intressant både som solitär och när två bord får tala med varandra.
Som en hyllning till Yngve Ekström och hans gärning som epokgörande svensk möbelformgivare relanserar vi Palett i en begränsad och numrerad upplaga. Palett är tillverkat i lackad masurbjörkfanerad lamellträskiva och ben av björk. Storleken är 580x460mm och höjden 410 mm. Och antalet – ja, de är ju hundra!
Swedese Möbler
PO Box 156, Formvägen
SE-567 23 Vaggeryd
Sweden
Tel + 46 (0)393 797 00
Fax +46 (0)393 122 44
info@swedese.se