Welcome to Örnsbergsauktionen 2013. The artist operated auction house for studio produced, independent design and craft in Örnsberg, Stockholm.
Today, it is more important than ever to find new spaces for conversation, different forms of distribution; and to recast the ways in which craft and design are disseminated. We need greater diversity, more and different people, and new geographies. Practices are retooled, altered and do not always fit comfortably the existing structures. A design individually created has no given audience or given system of distribution. The traditional suit is not seldom too tight for contemporary, interrogational craft.
Auctioning is no simple business. It entails both display and show. Today it is popular entertainment. Auction sites attract numerous vistors. Almost every television channel has its own auction show. Artists have also become interested in this form of marketing. The best known example is probably Damian Hirst, who auctioned off a whole show in 2008 through Sotherby's. Hirst exceeded earlier sales records. The Örnsberg Auction proposes the auction as a proper platform of communication for contemporary form and design. Using integrity and consistency as criteria of selection, the Örnsberg Auction has assembled a wide set of articulations from different generations and various places. It is an interesting proposition.
Christina Zetterlund
Professor in Craft History and Theory, Konstfack University of Arts, Crafts and Design
Happy Bidding!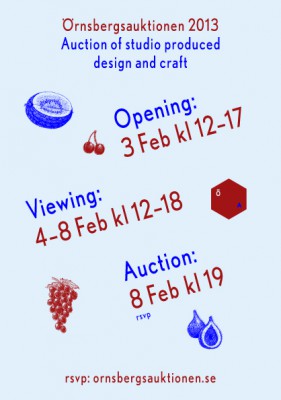 Photography by Viktor Sjödin