Omni, stools and table by Cecilie Manz
Omni, stools and table by Cecilie Manz
Omni by Danish designer Cecilie Manz consists of a set of organically shaped stools and a table that reminds us of the beautifully controlled chaos we encounter in nature. Through great craftsmanship and use of natural materials, Omni will offer an alternative resort of informal meetings and spread a poetical warmth to public environments.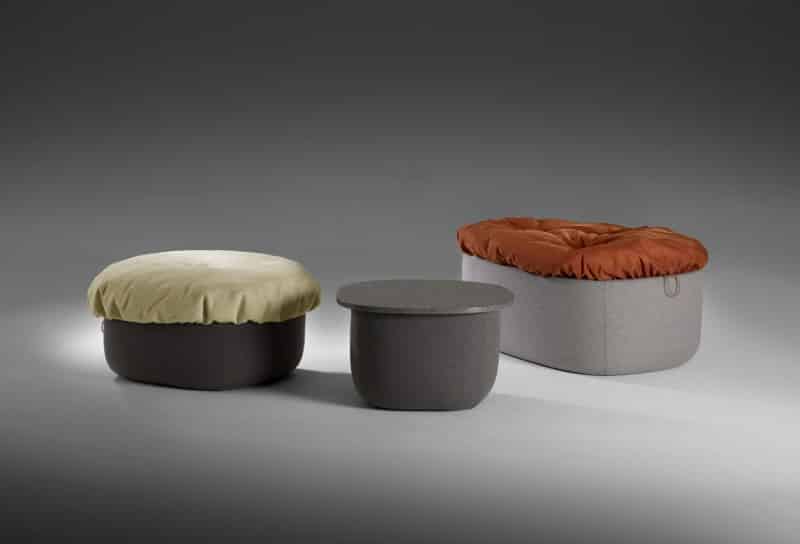 – Work places today are more than commercial office spaces and conference rooms. Many informal meetings are held outside of the traditional work space in what you would call a "no man's land", and this is where you will find Omni. It's an alternative place to gather around and meet.
The product development team at Offecct have together with Cecilie Manz in great detail examined furniture where hard and soft surfaces meet. Omni consists of a table which also functions as storage unit with a table top made of stone. The stools are made in three sizes with different heights and smooth organic contours. Textile surfaces covers the top of the stools and seems to have grown on them, like soft moss on stones.
– The stools and table of Omni can randomly be put together and form an inviting landscape with a center point, like a formation of stones around a pond or fire. A place for people to temporarily settle down, place your belongings and relax.


OFFECCT AB
Box 100
SE-543 21 Tibro
Tel: 0504-415 00
Fax: 0504-125 24
E-post: support@offecct.se