Luca Nichetto inaugurates with a design and art installation
Swedish furniture and design company Offecct is establishing itself in Milan. The new meeting arena will open during the Salone del Mobile with an art inspired presentation of Offecct´s and Luca Nichetto´s new chair Phoenix. The exclusive installation was originally made in collaboration with Sweden's leading auction house Bukowskis.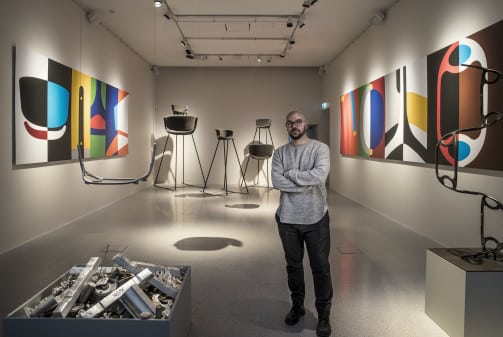 Designer Luca Nichetto at Phoenix art installation at Bukowskis in Stockholm
In partnership with the Italian Forum Progetti Offecct now establish itself in Milan. Offecct CEO Kurt Tingdal stresses that the new arena will be an active meeting place for discussions about design, sustainable interiors and attractiveness, rather than a traditional showroom.
– Showrooms where the visitors just look at furniture have played out their role. Here you can come to get knowledge and inspiration, to talk and meet other people, he says.
During the Salone del Mobile the Phoenix chair is presented in an exclusive installation created by the Italian designer Luca Nichetto. It was first developed to be shown at Sweden's leading auction house Bukowskis and had world premiere during the Stockholm Furniture Fair in early February.
– I started with the chair's shape and used that to create a playful art installation, with inspiration from Robert Rauchenberg, says Luca Nichetto.
Phoenix has already received much attention and won the Form Award as the year's best sustainability project at the Stockholm Furniture Fair. The chair is a result of Offecct Lifecircle philosophy and designed to have a long, flexible and sustainable life cycle.
– Phoenix refers to the bird of ancient greek mythology that constantly resurrect from it´s own ashes. I think that the chair is a good manifest product for the sustainability philosophy I share with Offecct, says Luca Nichetto.
Opening hours and address
10 am and 5 pm, Tuesday 4th-Friday 7th of April.
Via Magolfo 21, Milan.
If you'd like to book a meeting at other times, please contact
Emma Lans: emma.lans@offecct.se or +46 708 257 538.


Spara
Spara
Spara
Spara
Spara