Ovalia Egg Chair
by Henrik Thor-Larsen.
July 2016.
Nationalmuseum has recently acquired a plastic easy chair by Danish designer Henrik Thor-Larsen (b. 1932), who worked in Sweden. The black egg-shaped chair was launched at the Scandinavian Furniture Fair in 1968 under the name Ovalia and became an instant hit. It was also manufactured in other colours. The chair was made by Torlan in Staffanstorp, Sweden, and sold internationally up until 1978. The design was then revived in 2005.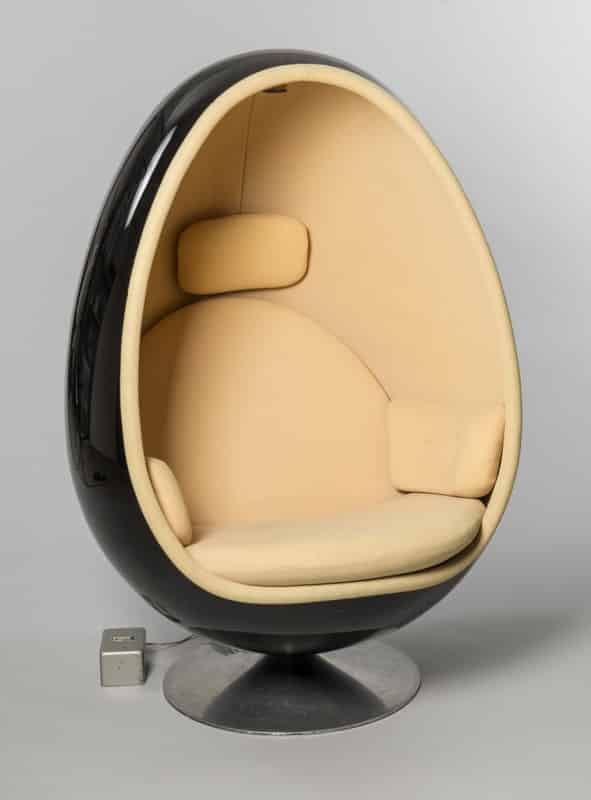 The chair that Nationalmuseum has now acquired is amongst the early examples, having been purchased by leading furniture store Silverbergs in Malmö in the late 1960s. It comprises a black, glass fibre reinforced plastic shell, with an interior upholstered in beige fabric and an aluminium foot. Unusually, the chair has an integral light fitting with transformer – later chairs often had built-in speakers instead. The chair's design and materials are typical of the forward-looking optimism of the 1960s and can be seen as a Swedish-Danish response to Finnish designer Eero Aarnio's Ball Chair, which had been launched at the Cologne Furniture Fair two years earlier in 1966.
The acquisition was made possible due to a donation from the Barbro Osher Foundation. Nationalmuseum has no budget of its own for new acquisitions, but relies on gifting and financial support from private funds and foundations to enhance its collections of fine art and craft.
Inventory number: NMK 19/2016

Spara
Spara
Spara
Spara