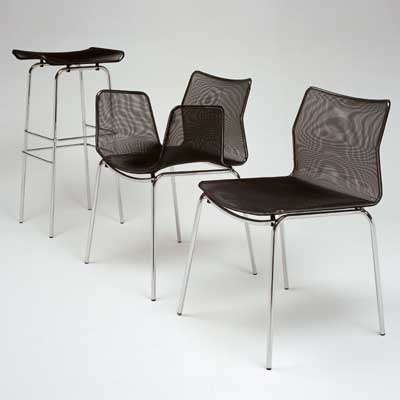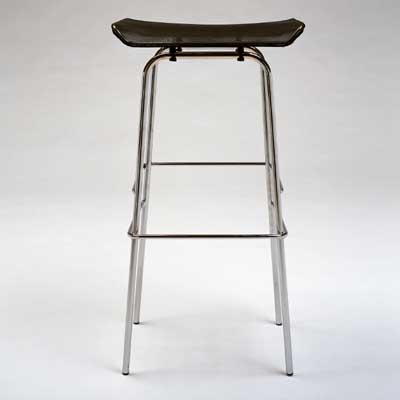 SHIRT
Stackable chair, stackable armchair and stool for tall and short.
Design Lars Pettersson, 2001.
Shirt series has a skeleton of computer free-bent steel and a seat of transparent, especially weft, stretched
polyester textile in black or white. Seat of 10 mm round steel covered with transparent polyester textile.
Legs of 16 mm steel tube.
Light to carry and soft to sit on!
Stackable chair.
H 770 x W 510 x D 510 mm. Seat height 440 mm, depth 395 mm , width 420 mm.
Stackable armchair.
H 770 x W 510 x D 510 mm. Seat height 440 mm, depth 395 mm, width 420 mm, with armrests 510 mm.
Barstool for tall and short.
H 815 x W 420 x D 310 mm. Seat height 795 mm, depth 310 mm, width 420 mm.
Shirt is available from autumn 2001.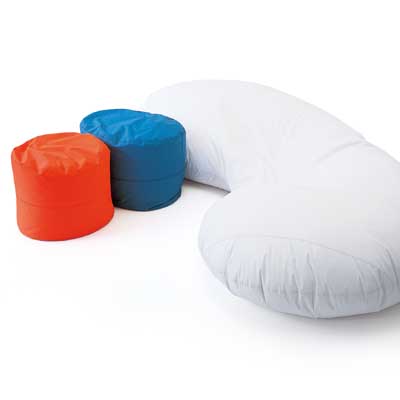 BOB.
Bean bags in three sizes,
Design Monica Förster 2001.
Bob is made of a single sided flat rubberized polyester which is an exceptional airtight material. In the
combination with the filling Bob responds perfectly to your body and
gives a feeling of sitting in pure vacuum!
Descripton: Small H 450 x W 550 x D 450 mm. Medium H 450 x W 700 x D 510 mm. Large H 450 x W
2900 x D 1300 mm. Washable cover made of rubberised polyster in white, high visible orange, turqouise,
dark brown and silvergrey. Filling of polyterm beans.
Available from April 2001.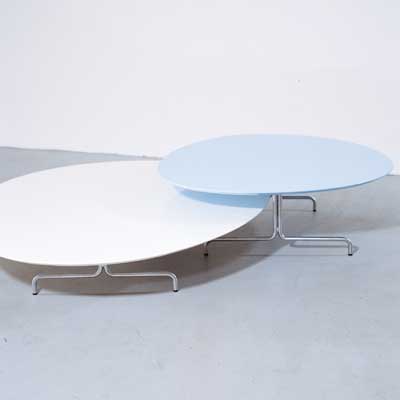 SHE.
Sofa table
Design Johanna Egnell 2001.
Soft formed tops in MDF. Base mat chromium plated, tops painted white (0500)
or turquoise (0530-B10G) in high gloss finish. Available in two sizes:
Small high table. H 335 x W 900 X D 1100 mm.
Large low table. H 255 x W 1100 x D 1390 mm.
SHE is available from late spring 2001.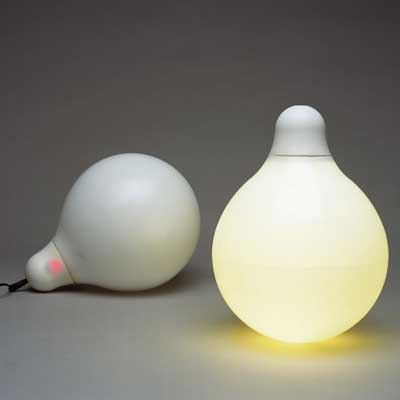 LOAD.
Portable rechargeable lamp.
Design Monica Förster, 2001.
An opal portable lamp with round soft shapes that can used cordless anywhere, just as your mobile phone! Load is made of rotation moulded polyeten that feels nice and soft in your hand. Thanks to the combination of material and shape Load is also almost shook proof. The rechargeable battery gives 5 hours light. Description: H 315 x Ø 233 mm.
Available from Autumn 2001.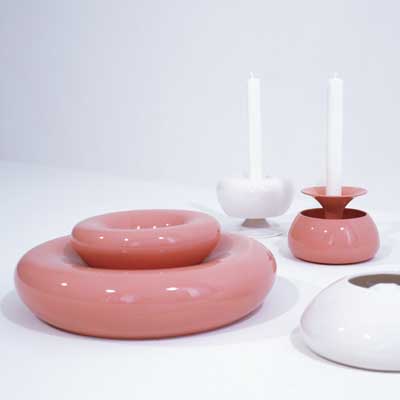 MORF.
Set of reversible ceramics.
Design Karim Rashid, 2001.
A playful set of reversible ceramics in organic shapes. Bowl, ashtray and candlestick
In a range of fresh colours.
Large Bowl. H 80 x Ø 321 mm.
Small bowl/ashtray. H 75 x Ø 201 mm.
Candlestick. H 114 x Ø 158 mm.
Morf is available from autumn 2001.