Uglycute – Sherwood and Odysseus
20 March – 22 April 2023
Gus Gallery, Stora Skuggans väg 10, Stockholm
Open by appointment and Saturdays 12:00-15:00
This exhibition presents a table and a chaise longue that are born out of two restaurant interiors made by the Stockholm based architecture and design office Uglycute. To reveal building materials' true nature is often at the centre of Uglycute's practice, but this time they have instead begun from the idea of disguising and imitating materials. Two of Uglycute's key methods constitute the foundation for these furniture; to comment on or changing values in different design contexts; to achieve the quality of something unfamiliar and indefinable.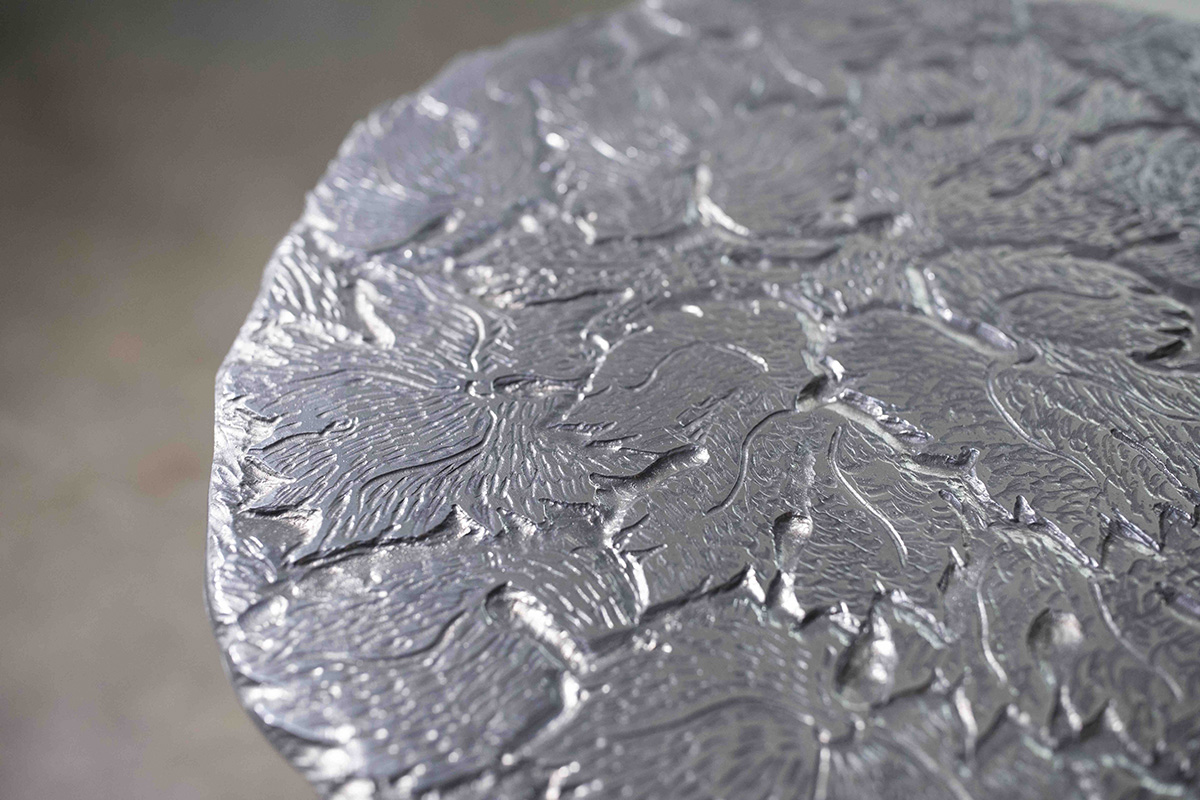 Metal table N°1 Sherwood
In 2015, Uglycute created the interior for Woodstockholm, a combined showroom and restaurant in Södermalm in Stockholm. When the chambre séparée in the restaurant needed a door for a wine storage, Uglycute wanted to reevaluate the standard glass door with glued-on metal handles. Inspired by the Parc des Buttes-Chaumont (1867) in Paris and the "faux bois" (fake wood) technique, Uglycute sculpted a handle to mimic a grapevine, which was then sand cast in aluminum. The tactile handle gave birth to the idea of creating an entire table that could clearly manifest the aesthetic potential of relief or "alto relievo", as opposed to the prevalent rational and smooth surface.
Metal table N°1 Sherwood
Edition: Limited to 25 + 2 prototypes
Measure: Radius 650, height 720mm
Material: Sand cast aluminum
Design: 2015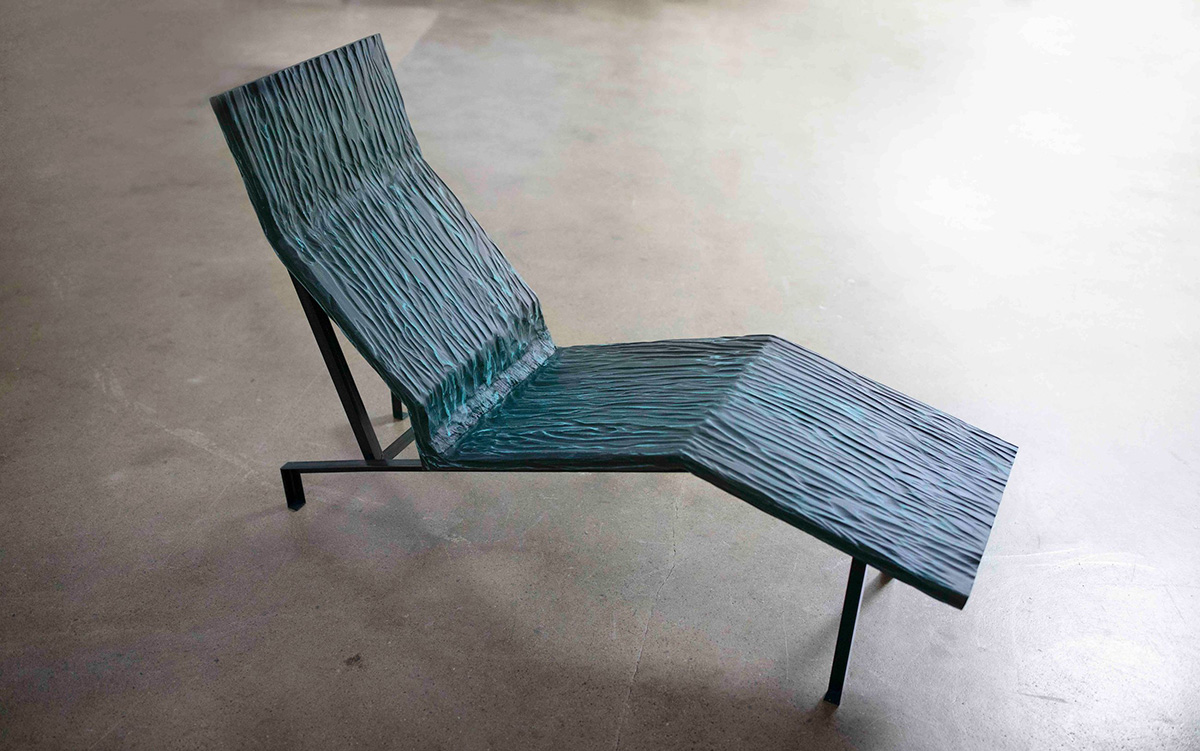 Chaise longue N°1 Odysseus
In 2022 Uglycute designed the interior for the speakeasy adjoining restaurant Bananas in Södermalm, Stockholm. The bar was clad with wooden panels sculpted and treated with plaster, lacquer and wax to mimic aged bronze. The result was an unfamiliar look, which in Uglycute's practice means that you have got it right. The same process was used to make a recliner on a metal base. In an interior design context, the chaise longue is a luxury furniture item used equally for recreation and as a sign of wealth. Through an indefinable surface, Uglycute has created a chaise longue that plays with our notions of what kind of furniture it is: in this case, an obvious piece of jewellery for the room just as much as a functional piece of furniture.
Chaise longue N°1 Odysseus
Edition: Unique piece
Measure: Length 1450, width 500, height 970mm
Material: Lacquered steel, painted pine
Design: 2023
About Uglycute
Uglycute is an architecture and design office based in Stockholm. It was founded in 1999 by Markus Degerman (artist), Andreas Nobel (interior designer), Jonas Nobel (artist) and Fredrik Stenberg (architect) as a reaction to the then prevailing homogeneous design climate in Sweden. By creating furniture and interiors that questioned norms in taste, class and quality, Uglycute was a driving force in broadening and renewing the definition of design in a Scandinavian context. Since 2010, Uglycute consists of Jonas Nobel (1970) and Fredrik Stenberg (1971) who consistently continue to question and investigate the systems behind the final product and its effects on society, through theory and practice. Working on commissions from Swedish and international companies and institutions, Uglycute designs furniture, office and restaurant interiors as well as temporary pavilions, and conducts lectures and workshops. www.uglycute.com
About Gus Gallery
Gus Gallery is an international design gallery in Stockholm initiated in 2023 by curator Gustaf Kjellin. Its purpose is to develop, document and exhibit designs that gives new perspectives on our present and future. The gallery is currently situated in a converted earth cellar in Norra Djurgården with support from The Robert Weil Family Foundation.